When I saw little Princess pick out her dress this morning I just had to get snapping and link up with Ickle Pickle's new  #BOOTD.  The sun definitely seems to be showing an appearance so the summer dresses are coming out in force.  Today's outfit is a Monsoon Dress in shades of yellow with pastel stripes.  The cutest part about this dress is the butterfly embroidered in flowers.  It has the feel of a care free spirit running through the meadow which sums up little Princess a treat.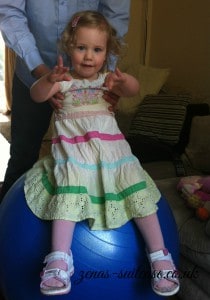 This dress was a part of a Girls Clothes bundle I bought from Ebay, so sadly you won't be able to get hold of it today.  I buy a lot of bundles from Ebay, and have been fortunate to get some wonderful clothes from some great brands.  I supplement them with new clothes which mostly ends up being vests, tights, shoes and the odd coat or cardigan.  I've found this the most cost effective way of dressing her.  On average I aim to pay about £2.00-£2.50 per item (incl p&p) when I'm bidding on bundles, and always leave my bidding until the last minute to ensure I get the best deals.  If a bundle includes shoes and/or coats I'll pay a bit more.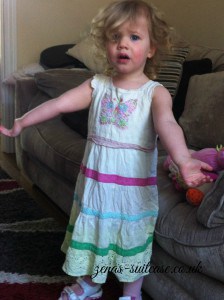 I hope you'll agree that this really suits Princess and her lovely curls.  We accessorised this morning with some pretty summer sandles from George at Asda which cost £9.00 (new), a Peppa Pig hair clip (which will no doubt be removed from the hair by the time she's had breakfast) and this lovely floral Monsoon summer hat modelled with her best smile and cheeky monkey face.  I found this little gem in my local Cancer Research shop for £2.99.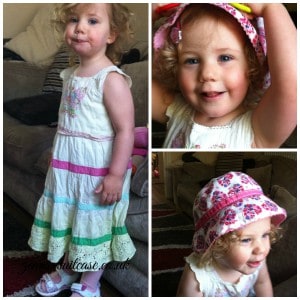 It's worth having a look on Ebay for clothes, and I can promise you you'll save yourself a whole heap of money if your prepared to sift your way through the listings.  I've had a haul of dresses from Monsoon, Boden, Next etc turn up this week that I would never have purchased from new but that I can't wait to dress her in!