This week marked a very small, but significant event in our house.  We have reached the point where we can bath Princess and little Pudding together.  Our lives have become a little bit easier, for now any way.  As all us parents know it can be two steps forward and three steps back with children.  But bathing at least will be a simpler task.
Not only will it make our lives easier, but it gives the girls something they can enjoy together.  Princess really enjoys going in the tub with her little sister, and you can see them bonding right in front of your very eyes.  Bathtime has helped us bond with our babies, now it's helping them bond with each other.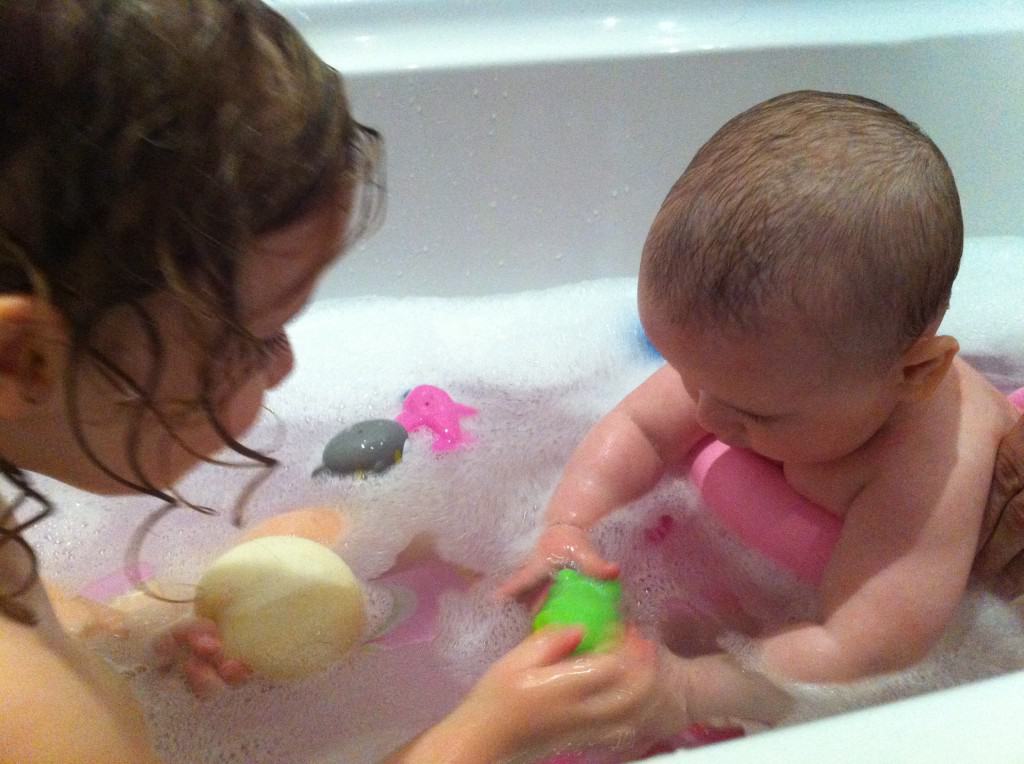 To help us celebrate our parenting progress the lovely people at InfaCare are giving two of you the chance to win a bumper bottle of its ultra-mild Baby Bath and its new Night Time Baby Bath.
Gorgeously gentle the original Baby Bath has been a firm favourite with mums for decades.  Mums trust InfaCare for their baby's delicate skin because it's so ultra-mild.  In fact mums say it works brilliantly on little ones with allergies.
Now there's the new InfaCare Night Time Baby Bath to gently clean and care for your baby's skin, ready for a restful night's sleep.  In trials 70% of mums said InfaCare Night-time Baby Bath is ideal to use as part of baby's bedtime routine, as the fragrance helps baby relax.  And of course the more relaxed your little one is, the more likely he is to go to bed easily and fall asleep quickly.
InfaCare Night-time Baby Bath is clinically tested, reassurance for mums that the formulation isn't irritating on delicate baby skin.  Plus, it is pH balanced, so it matches the natural pH balance of your baby's skin and hair, making it super kind and gentle on even the most sensitive of skins.
If you're not lucky enough to win you can find InfaCare in Asda and Boots.  You can find out more at www.infacare.co.uk  and keep in touch to hear the latest on price promotions and competitions with Infacare on Twitter and Facebook
To enter the competition, just complete the Rafflecopter below and GOOD LUCK!
a Rafflecopter giveaway

Win competitions at ThePrizeFinder.com – See more at: http://www.theprizefinder.com/content/win-1-2-infacare-baby-bath-bundles#sthash.lMBkxB3M.dpuf