This week I was lucky enough to meet the team behind WaterWipes.  I've got lots to tell you about my interview with them, but that will be coming in a later post.  In the meantime, I could not wait to share this amazing giveaway with you.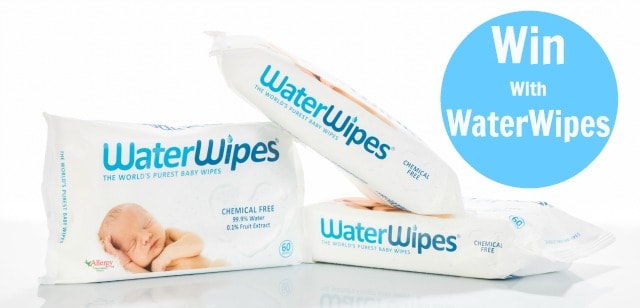 Here's A Few Words From WaterWipes On Their Chemical Free Wipes
Nothing in the world is as delicate or as precious as your baby's skin.  A newborn's skin is five times thinner than an adult's skin and is much more sensitive too.  Yet, despite this, without knowing it, many of us expose our babies' skin to chemicals every day, stripping baby's skin of its vital moisture, leaving it irritated and sore.
WaterWipes are the only wipes in the world that are as gentle on your baby's skin as pure water.  Scientifically formulated to be as kind to delicate skin as cotton wool and cooled boiled water – but much more convenient – the only ingredients used are 99.9% purified water and 0.1% grapefruit seed extract … and that's it.
Most parents change their baby's nappy up to 10 times a day.  Imagine wiping unsuitable ingredients on your baby's skin 70 times per week, and then locking them in with a nappy. WaterWipes are suitable for babies with other sensitive skin conditions, such as eczema or psoriasis, which is why they are the only wipe ever to be approved by Allergy UK.
WaterWipes Giveaway
WaterWipes have been kind enough to offer an amazing giveaway for my lovely readers readers:  a three month supply of WaterWipes.  I'm so excited about this as I really want parents to try these wipes on their babies and toddlers.  I'm completely sold on them and have just made a bulk purchase on Amazon as I believe they are going to kinder to my children's skin than anything I've used to date.
If you want to be in with a chance to win this great prize, just complete the rafflecopter below and GOOD LUCK.