The Caves Of Nerja are a breathtaking phenomenon of natural beauty, and they were a place I was keen to share with my daughter on our recent trip to Costa Del Sol.  This was possibly a little on the ambitious side as there are over 400 steps inside the caves.  They   stretch over 5 kilometres, that's quite a lot of ground for a 3 year old to cover.
Despite the physical challenge, and a little uncertainty about the darkness, she faired pretty well and I was able to show her one of the most amazing things I think she will ever see.  The Nerja caves are home to the world's largest known stalagmite, with a 32 metre high column measuring 13 metres by 7 metres at its base it's pretty spectacular.
This picture probably doesn't do the cave justice, but to give you an idea of it's size, behind the column on the left you can see a rail with lighting.  This is the pathway you take around the caves during the visit.
After our visit to the Nerja caves, we took the tourist train back to Nerja for lunch.  By this point my own legs were suffering after pushing my daughter up hill for 3 kilometres to visit this fabulous attraction and walking round it with her.  Lunch came as a very pleasant reward afterwards.  A glass of vino may have also featured, just to spur me on for a difficult afternoon ahead at the beach 🙂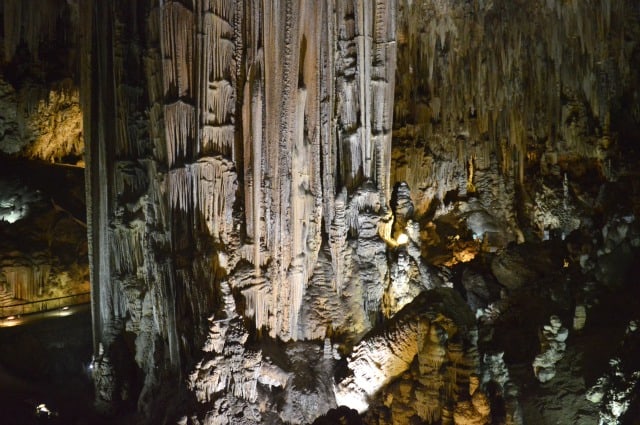 If you missed last week's photo, you can catch up with it
here
.