Eureka! Children's Museum has been on our days out bucket list for quite some time. I was first introduced to Eureka! about a year ago when I was lucky enough to be able to offer Zena's Suitcase readers the chance to win a family pass.  At the time I wasn't able to visit myself with Little Pudding being just a baby, but fortunately we were lucky enough to receive another invite.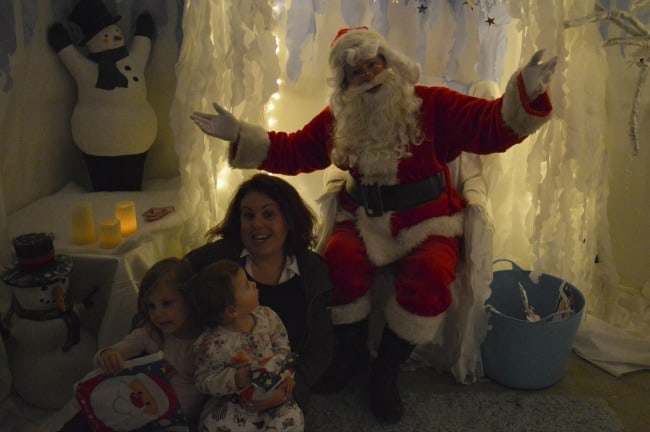 I'm so glad we waited too, as now the girls are a bit older they got so much more out of visiting the children's museum and we got to enjoy a very special bloggers Christmas party.  With a fun packed day planned for us, I was more than happy to make the drive from Nottingham to Halifax to see what all the fun was about.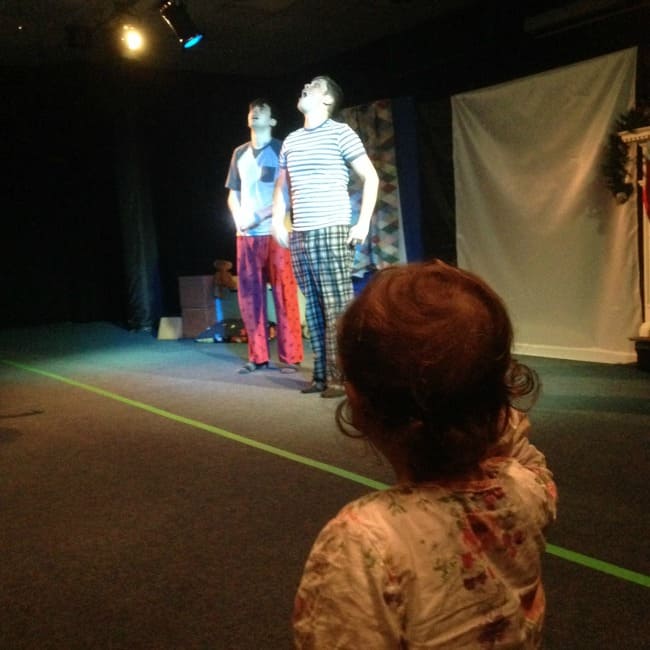 Visiting Santa At Eureka! Children's Museum
First of all we were treated to an exclusive performance of the Eureka! Museum Christmas show.  In true Eureka! style this show was fun and interactive.  The children were all captivated by this charming story of two brothers and their adventures the night before Christmas.  We all enjoyed it very much indeed.
After the performance we were off to visit with the big guy himself.  Santa was up in his Grotto along with his elves waiting to see all the children that were at Eureka! Museum. We had a lovely time visiting the Grotto and the children received some lovely toys.  Princess is using her Santa torch every night, and Little Pudding is very attached to her reindeer toy.
Learning At Eureka! Museum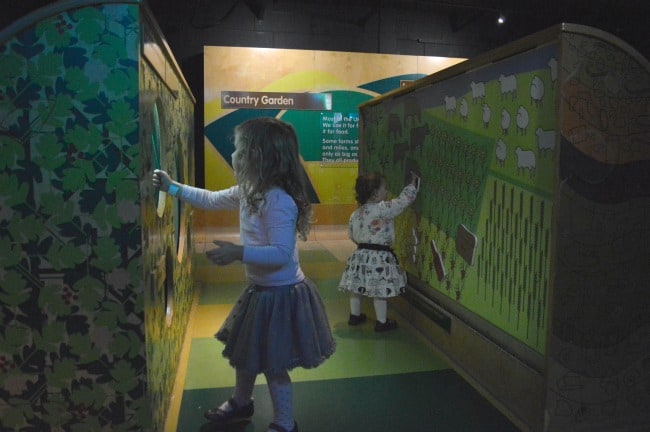 Eureka! Museum was everything I had hoped for and more in terms of a day out for the children.  There was so much for them to do and explore.  The museum brings the world around them to life in a way that they can understand and enjoy, and these little girls definitely made the most of it.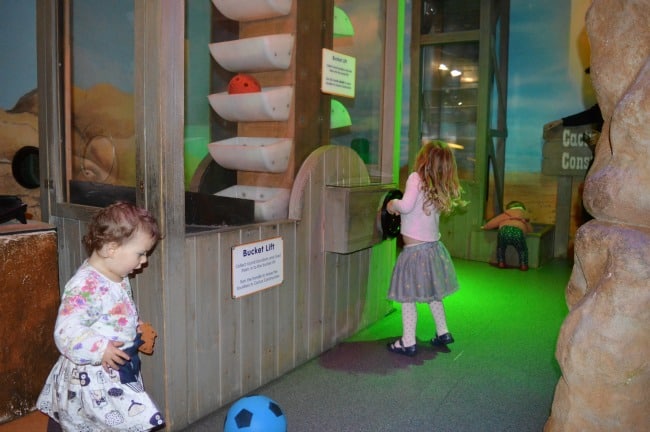 They are really starting to enjoy playing together, so Eureka! was the perfect environment for them to spend time together.  There was so much hands on stuff for them to get involved with, there really wasn't a dull moment.  They teamed up with another little girl in the desert area and got a right little system going to move the boulders around.
Activities At Eureka!
As a part of our blogger Christmas event, we were also treated to some fun activities.  We met everyone in the conservatory and were treated to making fairy tales and science experiments.  The girls were delighted to get involved with the story telling and craft activities.  I've never seen them sit still for quite so long!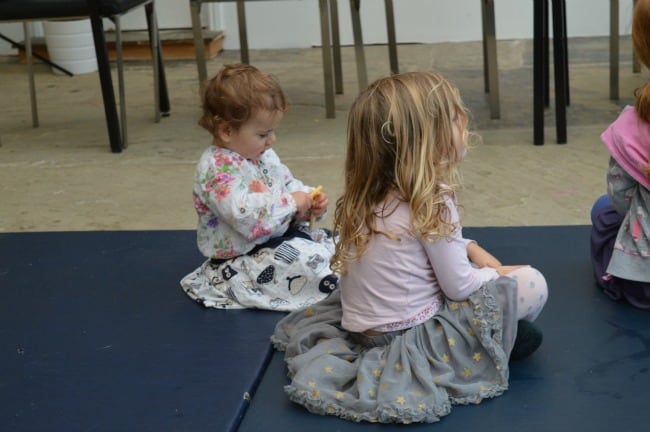 After they had covered themselves in glitter it was back to the museum for more exploring.  Our first stop was the shop with children's size shopping trolleys and checkouts.  These were a big hit.  I've never seen a trolley filled so fast.  That's one serious shopping face isn't it?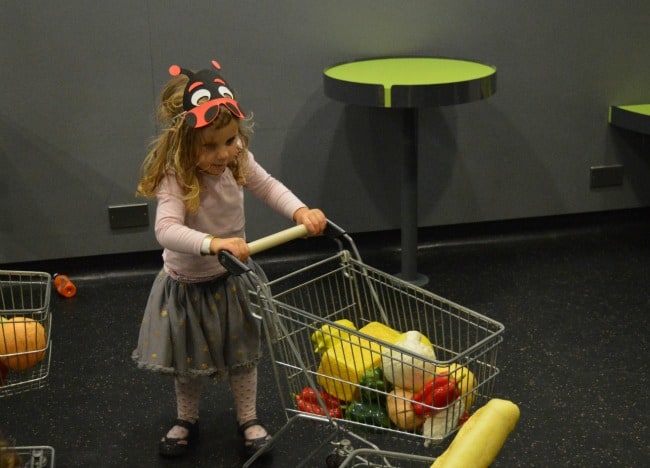 After I'd finally convinced them to leave the shop we stopped off at the garage.  I think they had more fun here than they did in the shop.  Princess loved driving the big lorry, and there were lots of other cars to play with.  Her favourite part was filling them with petrol.  This was role play at it's best.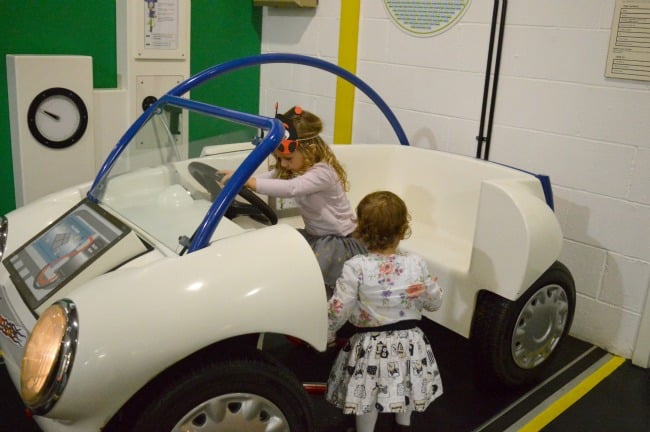 All About Me at Eureka! Museum
After a lot of hard work, I convinced the girls they needed to visit the All About Me area of the museum.  I was quite excited about visiting this area as I know it's a part of the museum that Eureka! are particularly proud of.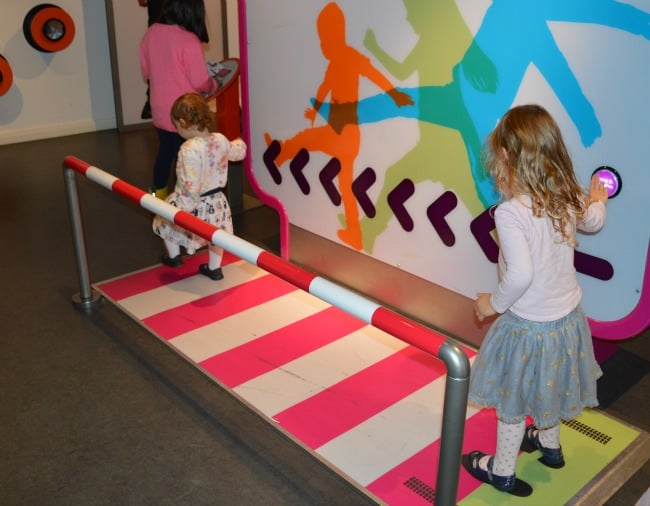 The baby area was particularly realistic and Princess enjoyed giving the pregnant mother her scan, and feeling her tummy move when the baby kicked.  This was particularly realistic!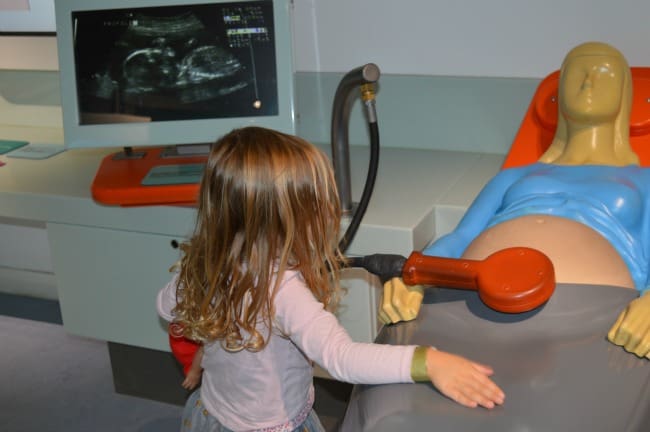 Every zone in Eureka! has a lot to offer children of a variety of ages.  I can see why it's such a great day out, and if I lived nearer it's somewhere I'd visit with the kids a lot.  The girls really didn't want to leave, and in fact there were some tears and tantrums when we had to head to the car.  I promised them I would take them back one day, and we would love to show there Daddy what fun Eureka! Children's Museum is too.
We were provided with complimentary entry to Eureka! Children's Museum, Christmas Show and Santa's Grotto in exchange for this post but all thoughts and opinions are our own.