While I was planning my trip to New York I spent a lot of time searching on Instagram for great places to eat.  One restaurant that really caught my eye was Sugar & Plumm.  The photos that their customers were sharing of their food were amazing.  I knew it was somewhere teen and I had to try.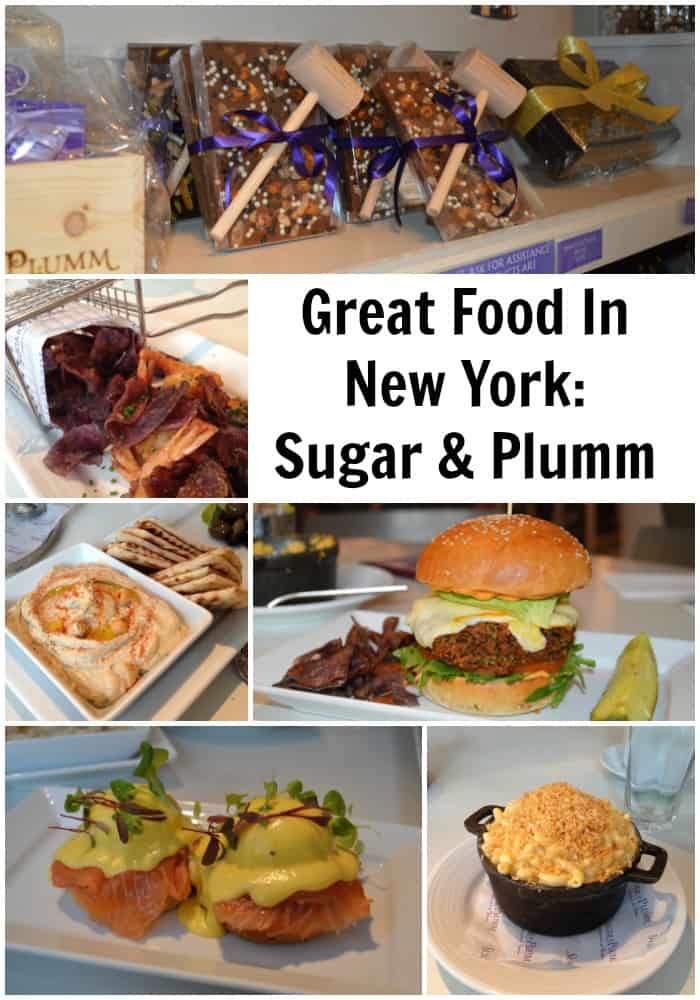 Sugar & Plumm Restaurant Review 
I was lucky enough to be invited to Sugar & Plumm to join the owner, Lamia Jacobs for a lunch date.  I was very excited and I knew this was going to be a highlight of our trip to New York from the get go.
Teen and I had had a rocky introduction to New York City.   You might also remember me sharing with you the issues we had getting to Sugar & Plumm in this post.  Teen was on the verge of not talking to me, but then he experienced Sugar & Plumm and all was forgiven.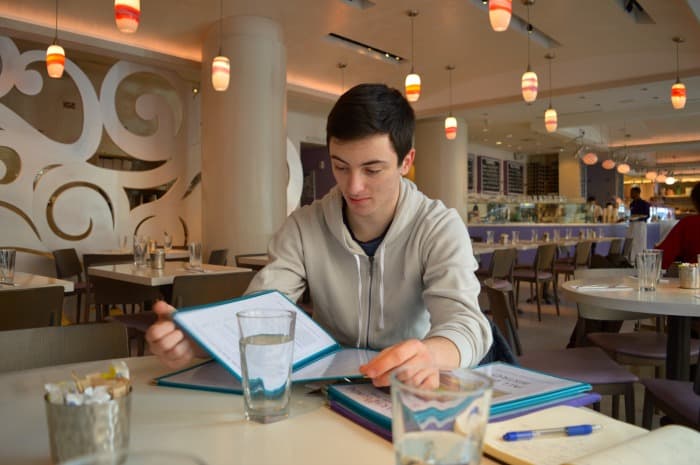 Walking into this american bistro is like stepping into a dessert dream.  There is a touch of the Willy Wonka about the ambience with the candy cane mosaics and sweet like lampshades.  This is all married perfectly with the lilac pastel tones that are familiar to regular visitors at Sugar & Plumm.
Meeting Mrs Jacobs
On talking to Mrs Jacobs it soon became apparent that Sugar & Plumm was her baby and she was very much involved with the design and running of this fantastic family bistro.  As a Mum to four daughters herself, she had realised there was a distinct lack of nice family friendly places to eat in New York.
It was something that my son and I had noticed.  The family friendly restaurants in New York serve your standard burgers and fries, but that isn't always what everyone in a family wants to eat.  Even when you are out with your children, you still want to enjoy nice food and this is where Sugar & Plumm come in.
The Restaurant Was Packed
This restaurant serves amazing food and has something for the whole family.  During our visit, the restaurant packed out for the lunch service.  It soon became apparent how popular this restaurant was.
There were several generations of a family enjoying a birthday party, couples being whisked back to their youth over lunch and plenty of Mums like me with their children of various ages.  The atmosphere was happy and uplifting.  The smiles on the children's faces said it all when they saw their Plumm Sliders or Mac & Cheese.  The birthday cake reveal was a particular highlight for the young lady celebrating her special day.
What Did We Eat At Sugar & Plumm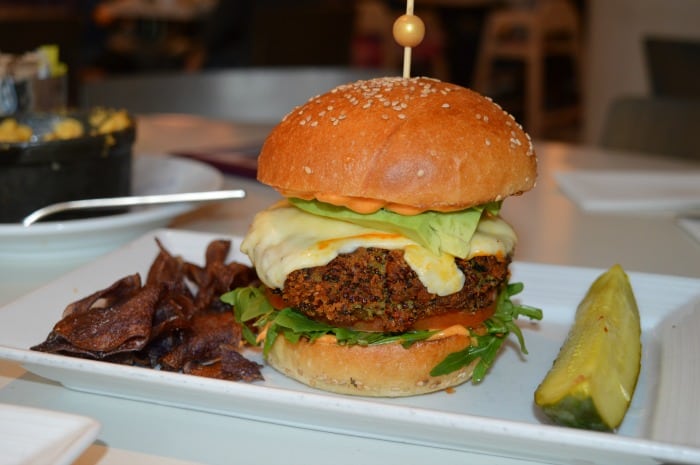 Just take a look at this burger.  This is the mighty veggie burger, and it really hit the spot for teen.  It probably goes down as one of the best he's tasted.  Add to this the black & white milkshake made from Sugar & Plumm's own ice cream and you have one very happy boy indeed.  Good food fixes everything doesn't it?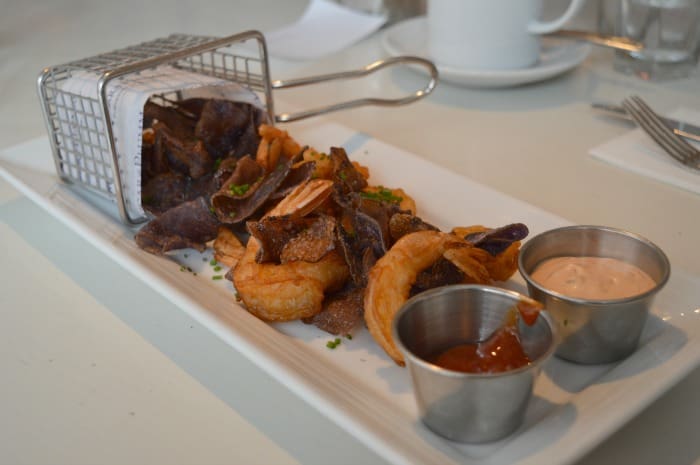 I couldn't resist the Shrimps & Chips.  This was amazing.  The prawns, as us Brits would call them, were so fresh and tasty.  The batter was light and crispy and the homemade chips were amazing.  I cannot fault the presentation either.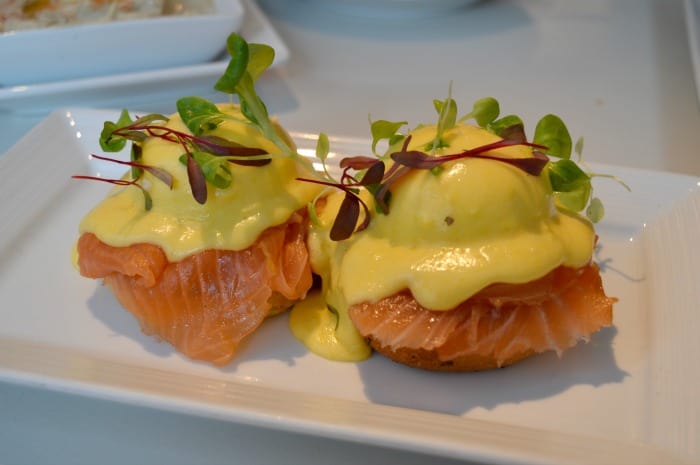 The Eggs Benedict is also not to be missed.  All the ingredients are great quality and the chefs at Sugar & Plumm work hard to perfect this Hollandaise sauce.  Lamia explained that she bought in chefs from Las Vegas to work with her as she was focused on bringing great quality food to her customers.  This has definitely paid off.
Another dish that  really stood out for me was the Yummus.  The homemade hummus is the smoothest and tastiest I have ever had.  Served with pitta and olives it's a great sharing dish and is a big hit with customers of all ages.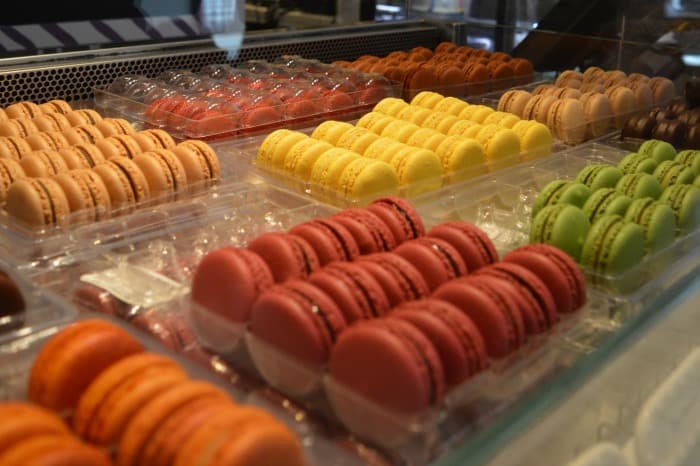 But I have to tell you about the macaroons before I mention anything else.  These little beauties are amazing and teen ending up buying a selection to bring home for his girlfriend.  He definitely earned some brownie points with this present.
Now, I was expecting these to be good but they were actually beyond good.  I have tried macaroons from Ladurée in Paris but these blow them out of the water.  Crisp on the outer shell and soft and light in the middle they are cooked to absolute perfection and come in an array of flavours.  If you visit Sugar & Plumm you really must try at least one.
The Sugar & Plumm Shop

Sugar & Plumm isn't just a bistro but it is also has a lovely gift shop.  If you are visiting New York and are looking to bring something back for your friends and family you really can't go far wrong that paying Sugar & Plumm a visit.  The chocolate is made from the best quality ingredients and is some of the best I've ever tasted.  Every product in Sugar & Plumm is a quality product and really worth paying a little extra for.
Recommendation
If you are visiting New York or if you are a local even, I can throughly recommend a visit to Sugar & Plumm.  I really don't think you will be disappointed.  It has such a great selection of food to match all tastes.
One of my son's favourite meals is tomato soup with a cheese sandwich.  He was pretty impressed with Sugar & Plumm's version.  If your tastes are simple, or you want something a little more refined I can guarantee you will find it at Sugar & Plumm.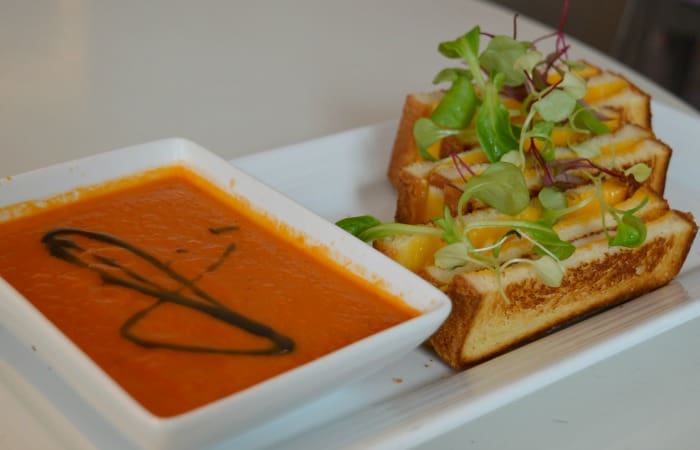 We were guests of Sugar & Plumm but I was more than happy to share this blog post about our experience and all thoughts and opinions are my own.
Sugar & Plumm is located at 377 Amsterdam Avenue on the Upper West Side in Manhattan.  It's a few blocks away from the American Museum of Natural History.  Food prices start at around $12.