On bank holiday Monday we bundled the car full of kids and headed to Geronimo Festival at Harewood House near Leeds.  I had been asked to be an ambassador for the festival a few months back and was so excited about going and taking the family.  I've shared on my blog some of the exciting things that were going to be happening at the event, that had been hailed as the UK's Biggest Children's Festival.  With such great aspirations, I was expecting great things from our day out and looking forward to sharing my Geronimo Festival review.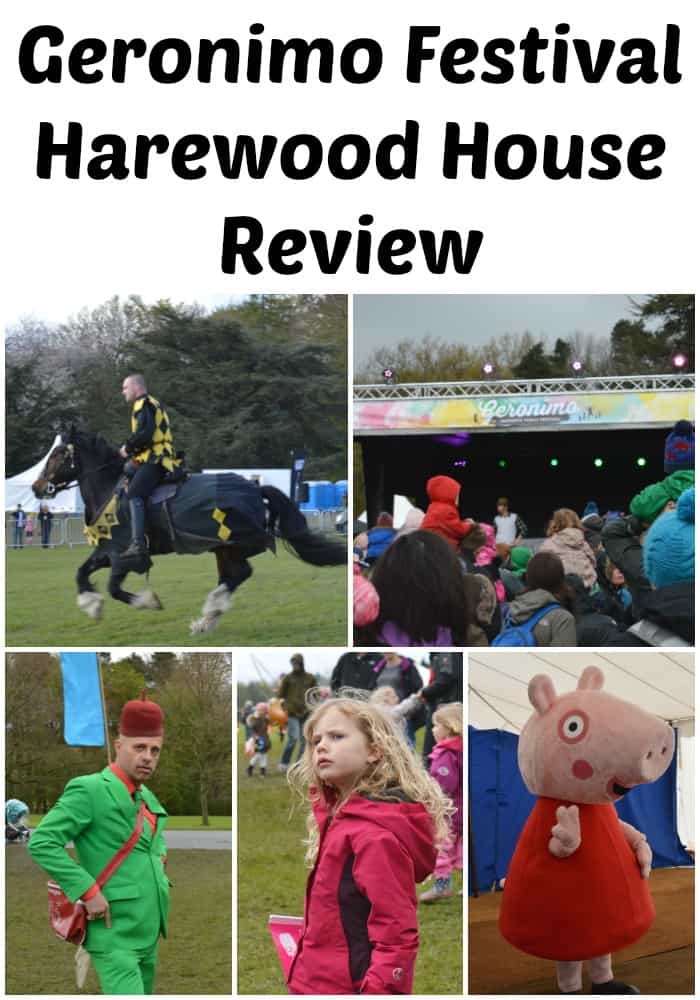 Geronimo Festival Got Of To A Bad Start
When we arrived at the festival, I was completely unaware of all the events that had taken place on the first day of the festival.  It wasn't until I bumped into another blogger that I became enlightened as to what had happened.  Now, I think it's fair to say that the second day of the festival was a completely different experience.  In fact, in terms of numbers of people there I was really surprised about the lack of attendance.  I guess some people decided to give it a miss if they had been keeping up with the press, which I have to say worked in our favour.
Arriving At Geronimo Festival
We arrived at around 11am and drove straight in.  It was clearly a good time to arrive.  We headed to the ticket entrance, and there were no queues there either.  We had press tickets so we just walked through more or less.  It dawned on me as we got into the event that we weren't given a program.  I didn't think much of it, and decided we'd just wing it.  Going with the flow is sometimes the best way to enjoy something.
The Stage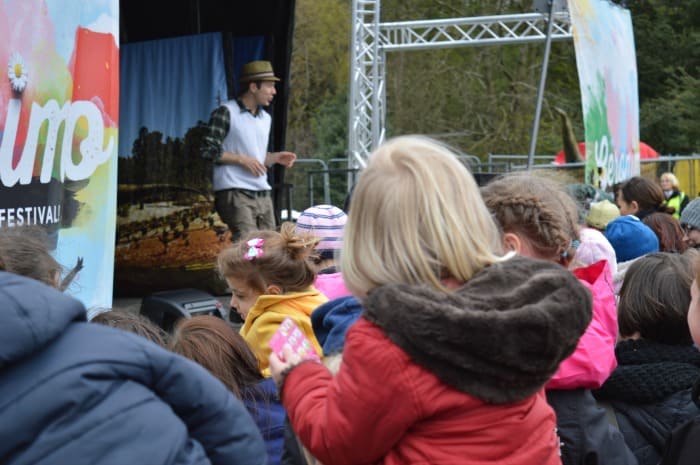 As we walked towards the event, we met a singing nun riding a piano.  I do like to see whacky things at festivals and this put a smile on all our faces after the long drive from Nottingham.  Things were looking promising for a good day out.
We saw Mr Bloom on the big screen and, as my husband pointed out, I screamed like a groupie 'It's Mr Bloom!' We started to walk in the direction of the big screen, to realise the stage he was on was actually no where near it.  It was on the other side of the festival. We changed course quickly and took the girls over to see what the CBeebies character was up to. Unfortunately they couldn't see a lot as the stage was really low, and all the parents had their kids on their shoulders.  Mr Bloom was awesome, but if you were 3 feet tall or under all you got to see was everyone's legs.
The Heavens Opened
We looked around for some lunch, and just as we purchased our chicken wrap and chips the heavens opened.  There was quite a downpour but we made it to an activity tent just in time.  Our hearts sank as we thought that was going to be it for the rest of the day.  We aren't fans of soggy kids, and thought we would be heading home fairly quickly.  Fortunately the weather was kind to us, and the rain stopped and the sun even made an appearance.  Geronimo Festival was back on.
The My Little Pony Friendship Tour Bus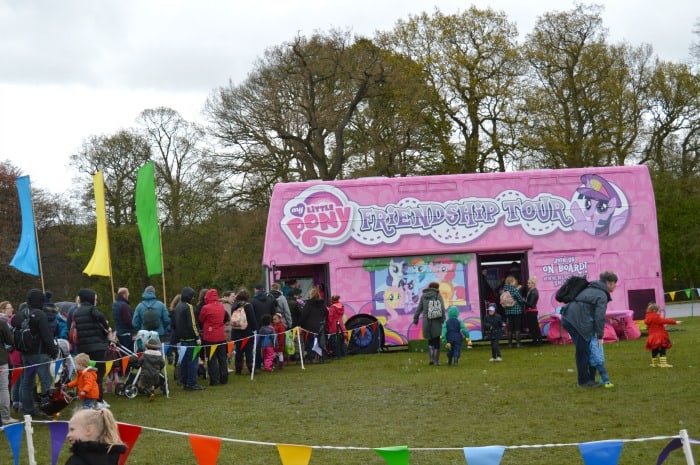 Princess spotted the My Little Pony tour bus and decided we had to queue to see what was on it.  This is where Geronimo Festival went down hill for me.  We joined the queue and it soon became apparent that no one was moving very quickly.  We stood in the queue for over an hour and a half.  During this time Daddy and Little Pudding went to the craft tent twice, watched the motorbike show and saw the dog event.  They also managed to lap the festival.  He told me they had a great time.
I was really disappointed in the way they expected us to queue for the My Little Pony Bus while at a festival.  We missed out on so much while having to wait.  All it needed was a time slot system to tell people to come back at half hour intervals.  I gave the staff my feedback, so I hope they take it on board as it was too long for a little girl to wait.
When we got on the bus, there were toys to play with, games to play on the iPad and colouring.  You could also get your face painted and have a photo taken.  Princess didn't want to do either of these things, but at least she was given a small My Little Pony collectable toy.  I was glad to get off the bus to be honest, as I wanted to see more of the festival.  We caught up with Daddy and Little Pudding and we watched the horse jousting display.
Jousting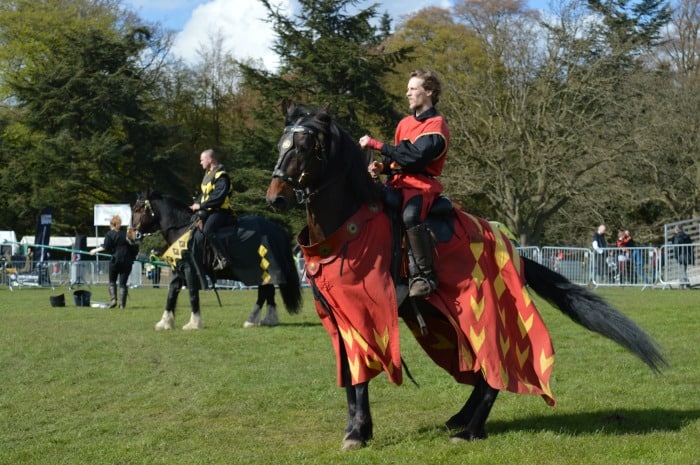 I have to say, this was a pretty awesome show.  The horses were big, powerful and pretty spirited.  Their riders were brave and skilled showing us jousting and tricks.  It was definitely a highlight of the day.
We managed to catch a bit of Andy's set and the kids stood a better chance of seeing him as he's a little bit taller than Mr Bloom.  Tyrannosaurus Rex even made an appearance from 65 million years ago which was a nice touch.  The performances were all great, it's just a shame that we didn't see more of them.
Under 3's Area
We found the under 3's area, completely by accident.  Daddy had taken Little Pudding back to the car earlier to change her nappy as it wasn't obvious where the baby area was.  When we did find it, we stumbled across a meet and greet with Peppa Pig and a play session with Tumble Tots.  The kids loved the gymnastics session, but only got 5 minutes play as it closed after they had done one circuit.  If we had had details of the times, we could have planned our arrival a little better.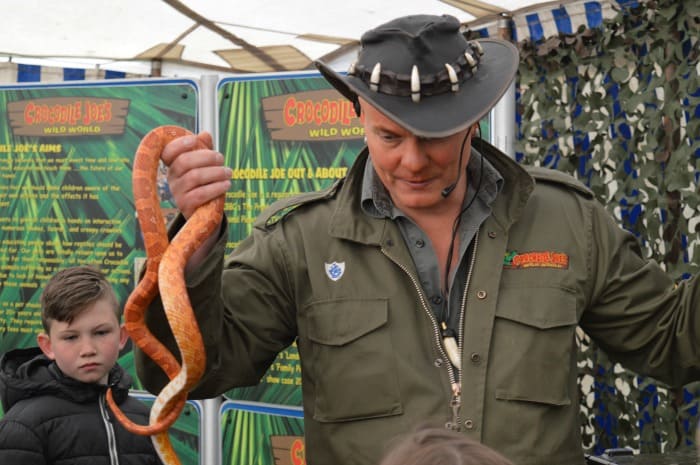 We discovered the zip wire, and other cool activities aimed at the older children, but the girls had to be content with rolling down the hill.  Little Pudding couldn't quite master it, but she gave it a good go.  We found a tent with Crocodile Joe's Wild World in.  Princess loved this, which surprised me.  She was fascinated with the centipede and even got to hold the snake.  That's the second member of the family to like getting up close and personal with snakes.  Rather them than me any day.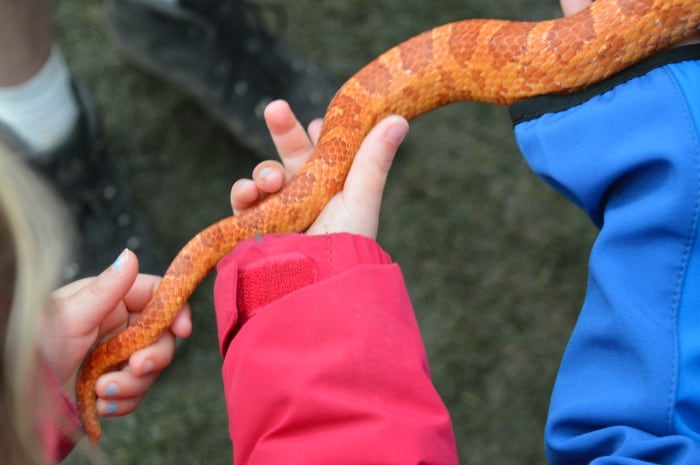 Faced with a long drive back to Nottingham, we decided it was time to head home.  Daddy had quite enjoyed his experience as he had got to see more of the festival than me.  I was still grumpy about queuing for the My Little Pony Bus.  He enjoyed the things that he had seen, but could see lots of room for improvement when it came to the organisation.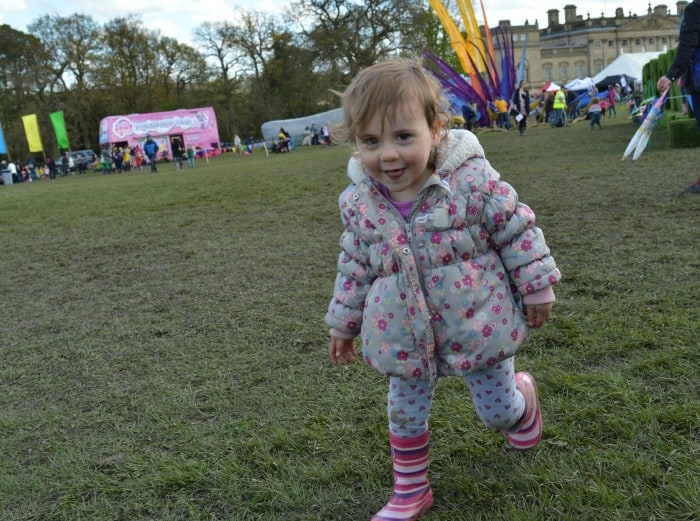 We did have a good time, and I think that may have also been down to the smaller numbers compared to the amount of people who had turned up on the Sunday.  I think Geronimo Festival has great potential to be a fantastic day out for the family, but it needs to be planned better.  It felt a bit amateurish if I'm honest.
I would expect a festival like this to have event programs, clear signs and directions for people to follow as well as plenty of events staff to help people out where needed.  It is only the second year of Geronimo Festival, and it was the first time at Harewood House so there are bound to be some teething problems.  Our kids enjoyed their experience, and it did feel like they had tried to cater for everyone, they just need to organise things a bit better.  I'd be happy to go again, as I'm confident that things will be improved for Geronimo Festival when it arrives at Tatton Park and I'm sure that next year will be even better.
We were provided with a complimentary family ticket in return for my Geronimo Festival review, but all thoughts and opinions are our own.