You might remember that a few weeks ago I introduced you to the Tengi Messenger App.  For the last 2 weeks me and a group of other bloggers have been putting it through it's paces as official #TengiBloggers.  It's been cool keeping up with Mel from Diary of a Jewellery Lover, my bessie Kaz from Ickle Pickle's Life and Travels and Aby from You Baby Me Mummy.  There are ten of us all together, but rather than list them all here I'll drop a note at the end of the post so you can see who took part.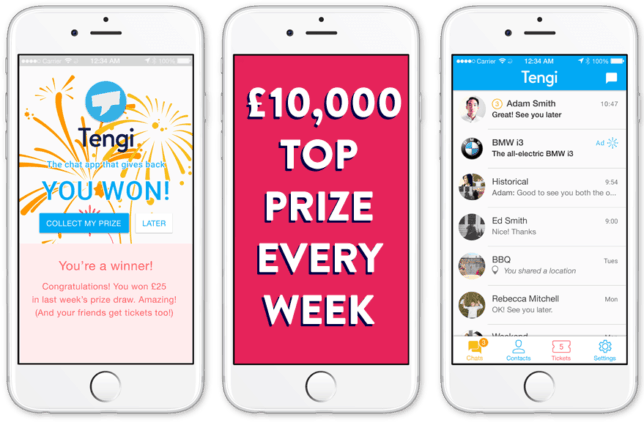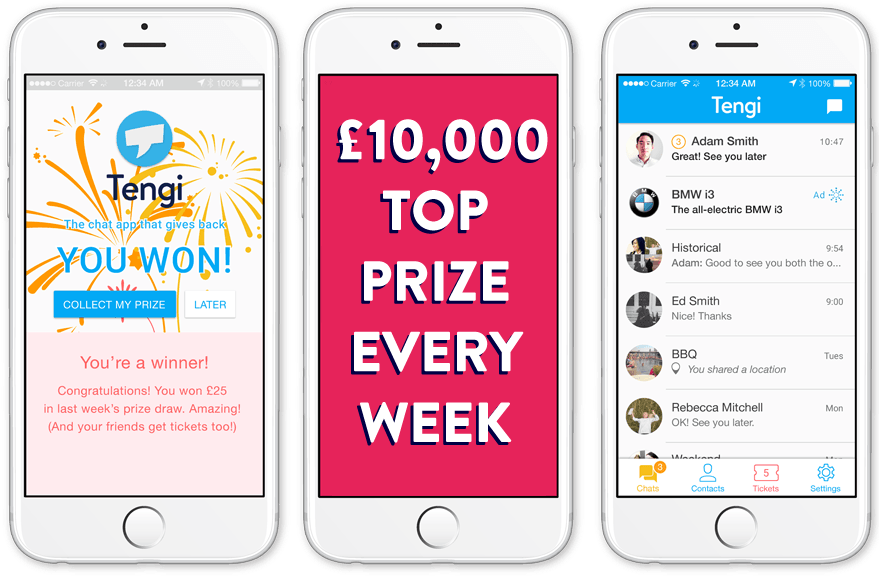 Tengi App Challenges
As a part of our two week review we were asked to complete some challenges.  The first one caused quite a bit of controversy amongst the group.  It would take quite a lot of wine and camera phone free zone before I could be convinced to take part in a #sellotapeselfie so I have to admit that I bailed.  Hey Duggee agreed to take my place for the first challenge, I can't believe how willing he was.  I was even greeted with a Argh Woof! I'm forever indebted to him.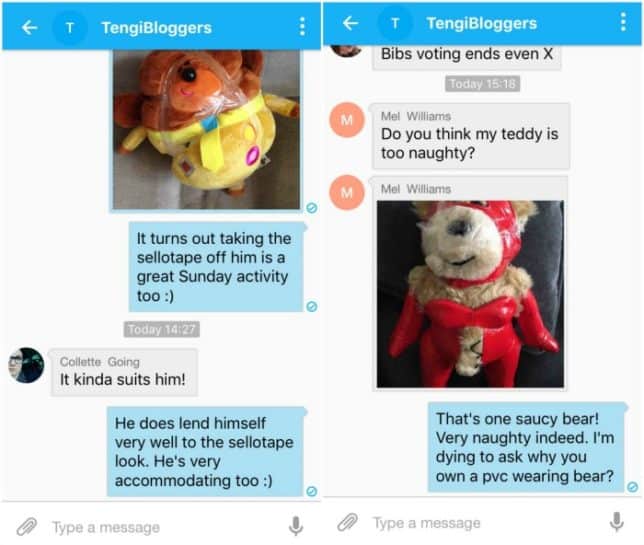 The following challenges were far more acceptable and didn't require copious amounts of wine or beer to take part in.  We had a right old giggle sharing our cheesiest jokes.  My daughter has some corkers, but they only make sense to her at the moment.  I loved Colette's joke from We Are Going on An Adventure and Amy from Mr and Mrs T  Plus Three had me in stitches with hers.
Our morning shots were a sight for sore eyes or super cute.  If you ask a group of parent bloggers to share their first picture of the day there's bound to be some sleeping kids in the frame.  I particularly like'd Donna's from What The Red Head Said. Mine was a pretty sad face.  I had a bit of an accident earlier in the week and was faced with looking after two children with a twisted ankle and a bad leg.  My face stayed like that pretty much all day.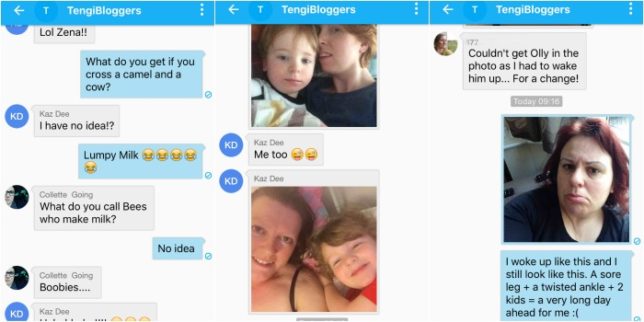 What Do I Think Of The Tengi App
First off it's free.  I am a big fan of the free word and really don't like paying for apps.  An app has to do something major to convince me to part with my cash.
Tengi generate's it's money through advertising, so I'm pretty confident that it will remain free.  In the list of chats it shows you a clearly marked ad.  If you don't want to read it, you don't have to.  If it's something that is of interest then you can tap on it and get more information.  They just become a part of your messenger lists.
It's really easy to use for sending text, picture and audio messages.  I've been using it to keep in touch with my son while we are on holiday.  He still chooses to ignore me, but I can see that he's received the message so I'm hoping  that means he's OK.
Free Prize Draw
The cool thing about the app is that every week it enters you into a prize draw to win up to £10,000.  You earn tickets by having friends in your contact list sign up to the app, chatting on the app and by just leaving it installed on your phone.  I think that's pretty cool to be fair.
I didn't experience any negative issues using the app, but I know that some bloggers found their battery life was drained during the two week trial.  That wasn't my experience though.
I will probably keep the app installed on my phone and will continue to use it sporadically for keeping up with my son as he's blocked me on Facebook and to keep in touch with other friends too.  After all, who doesn't want a chance of winning £10,000.  I certainly wouldn't say no.
If I had to pick one thing I didn't like about the app it's the name.  I don't know what it is about the word 'Tengi', but it sounds like something my 4 year old would make up.  It just doesn't sit right with me, but that's just a personal thing I guess.
Do you have the Tengi App installed.  I'd love to hear if you've had a win!
The Tengi App is free to download from all the app stores.
The rest of the Tengi Bloggers are:
Emma from Life According To Mrs Shilts
Kate from Family Fever
Lucy from Hello Beautiful Bear
This is a collaborative post