Hello readers!  How are you all?  I hope you have had a fantastic weekend and that the weather has been kind to you.  Here in Nottingham it's been a little on the wet side so when I was thinking about what photos to share with you this week, it had to be of the beautiful sunrise I was privileged to see on my recent cruise with the Norwegian Epic.
Last weekend, I was lucky enough to fly to Barcelona and join a group of bloggers and journalists on a press trip to see what life was like sailing with Norwegian Cruise Line.  I had set my heart on catching the sunrise whilst on the ship, and here are the two that I got up for.  Sunrise at sea took place at 6.03am and at around 5.20am as we headed towards Naples.  By the third day the early mornings and late nights caught up with me I'm afraid.
If you ever take a cruise, and you don't mind an early start, getting up to see the sunrise is a truly beautiful and calming experience.  I really enjoyed seeing the sun pop over the horizon when we were at sea, it was so tranquil and unspoilt.  It made for a perfect peaceful moment in a world that has so many of the opposite.
Watching the sun burst over the mountain as we headed towards Italy was another beautiful experience, but we had to wait a little longer for the sun this time.  Sunrise was about 20 minutes earlier, but it took a bit longer for it to come into view because of the hills we were approaching.  Despite the wait it was still stunning.
This week you have two photos to enjoy, from my time at sea.  Do keep an eye on the blog over the next few weeks as I share more about my experience of Freestyle Cruising and life on board the Norwegian Epic.  If you have any questions about cruises, leave me a comment below or contact me on Twitter or Facebook and I'll do my best to answer them.
Sunrise At Sea
Sunrise  – Heading towards Naples, Italy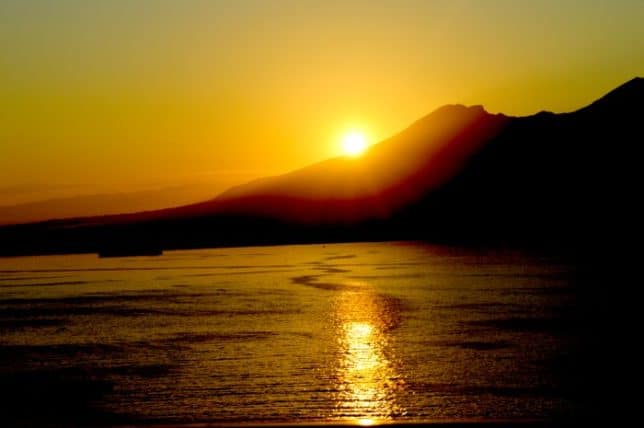 If you would like to see more photos from my Mediterranean Cruise, head over to my Instagram account and follow me there.
To take a peek at my last weekly photo from the Luminarium, click here.