Buddy Balls have landed in our home and I have to admit we are a little bit in love with them.  We were recently sent a Buddy Ball by Mookie and at first I was sceptical.  It's a soft toy, and we are more than a little bit over run with soft toys in this house.
Buddy Balls are a collection of soft toys with a difference though.  Firstly, they were designed by Max.  Max is a kid, and he wanted to create a toy that would appeal to children of all ages as well as boys and girls.  I love that Buddy Balls is inspired by a child's creation.  Max's parents saw potential in their sons creation, and so Buddy Balls were born.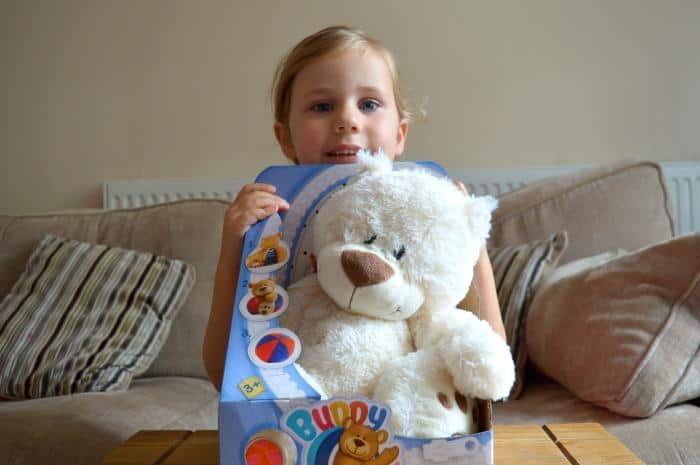 We received Lily, but there is also Max, Eva and Sam to collect.  Our Buddy Ball was so super soft and cuddly, you couldn't help but think he was going to be different from other bears from the outset.  When a 4 year old is faced with a soft cuddly bear, that is also very cute, it's akin to love at first sight.  She thought Lily was adorable and they were best of friends from the word go.
Lily isn't only a soft toy though.  She is the perfect place to hide your special toys away from your little sister who always wants to play with all your stuff.  When you unzip the back of Lily, there is plenty of room to stash your favourite things.  No one would think of looking in the teddy, would they?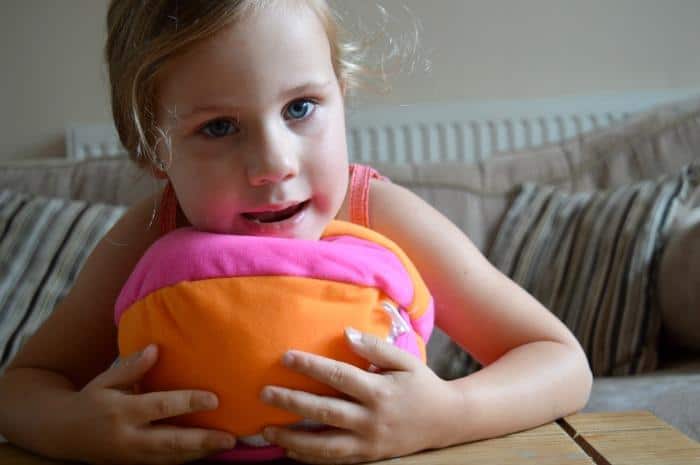 When Lily isn't being the keeper of special toys, she can turn into a soft ball.  Her foot shows you the clue, and when you unzip her and carry out a few swift manoeuvres you have the perfect ball to play indoors and out with.  Now that Princess has mastered the art of changing Lily from a bear to a ball and back again, she is swapping her from one to another constantly.  Since Lily's arrival, she has also been every where with us.  She waited poolside with me while Princess took her swimming lesson.  She's been to the park, and also got to see some real animals at the farm.  She's a well travelled Buddy Ball all ready.
Buddy Balls Giveaway
After seeing Princess's reaction to her Buddy Ball and seeing how quickly she is bonded with Lily, I think Buddy Balls are going to be a big hit. I can see Buddy Balls turning up at sleep over parties all over the country stuffed with secret toys and the odd piece of candy.  Pillow fights will become a thing of the past, as there will be a bunch of kids with several soft balls to play with and a set of parents asking 'where did all those bears go?'
Because Buddy Balls are so super cute, I've managed to get hold of one of the collection to giveaway to a lucky Zena's Suitcase reader.  If your child still loves cuddly toys, this is definitely to competition for you.  Just enter via the rafflecopter below and good luck!
Competition ends 30th August 2016.  Other T & C's apply.
We were provided with a Buddy Balls Soft Toy in exchange for this post, but all thoughts and opinions are our own.