Now that the weather has turned, it feels OK to mention the 'C' word.  I hope that is OK with you as I've got a great giveaway for you today.  Get ready for a Christmas extravaganza like you've never seen before because the BEST EVER CHRISTMAS SHOW is on its way to an arena near you and I've got a family ticket for 4 people to giveaway to a venue of your choice!
What The Producers  Say About The Best Ever Christmas Show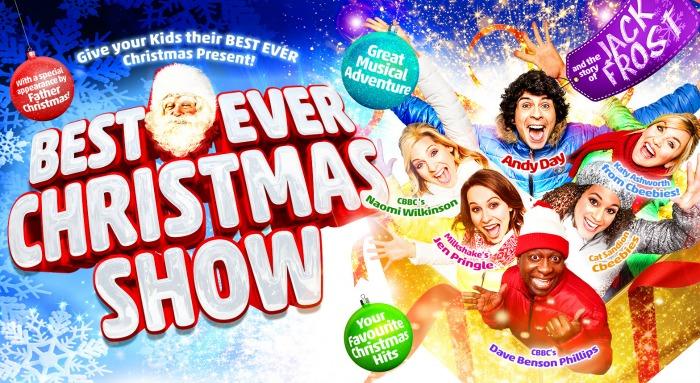 A big, brilliant, fun-filled festive extravaganza with songs, snow and of course Santa.
Bringing this brand new spectacular to life are some of the best-loved names in pre-school television including CBeebies' Andy Day, Katy Ashworth and Cat Sandion, along with Jen Pringle from Milkshake! as well as top children's presenters Naomi Wilkinson and Dave Benson Phillips.
It's Christmas Eve, the busiest day of the year in Christmastown and it's time to join some familiar Christmas characters and make some new friends.  Jack Frost, Princess Twinkle and the residents of Christmastown excitedly prepare for Santa's arrival, however wicked Queen Glacia has a different idea, as she casts an icy curse on Jack!
This winter adventure journeys to the Crystal Cave, through the moonlit forest and into the lavish Royal Palace meeting good-natured goblins, troublesome trolls and magical puppets along the way. Will Jack and his friends save Christmas before Santa arrives?
Don't miss the sing-along, dance-along, clap-along, snow-filled Best Ever Christmas Show coming to an arena near you.
The Best Christmas Show Ever is written by Will Brenton (CBeebies Live!, Justin & Friends, Tweenies) and brought to you by the Award winning producers of  the UK's leading pre-school Arena  spectaculars  Thomas & Friends, Noddy Live,  and Tweenies Live! you  can look forward to a top quality, unforgettable Christmas experience.
Best Ever Christmas Show Giveaway
The Best Ever Christmas Show tour kicks off on 17th December and will be visiting Manchester, Liverpool, Newcastle, Glasgow, London, Cardiff, Leeds, Nottingham and Birmingham.
If you would like a chance to get your hands on these tickets, and add some extra magic to your Christmas this year just complete the rafflecopter below! Thanks so much for stopping by and good luck to all those who enter:
For ticket prices and tour details visit: http://thebesteverchristmasshow.com/ and for the latest show news visit our Facebook page www.facebook.com/besteverchristmasshow