There has been a lot of change in this house recently, and while it has mostly been very positive, there was bound to be some fall out.  Princess started school, and her big brother left for university.  You might also remember that there was changes with gymnastics and also we joined a new swimming class. The changes in the household also meant there was a change in the sleeping arrangements, and Princess and Little Pudding moved into the big bedroom together.
They have loved sharing a bedroom, and bedtime has gone a lot more smoothly than we anticipated. The problem we seem to be having is keeping them there.  Somebody wakes up in the night, and before you know it Mummy & Daddy are experiencing that late night horror that is 'invasion of the little people'. It's not ideal squeezing everyone into bed when there is work and school to get up for. Do you have nights like this in your house?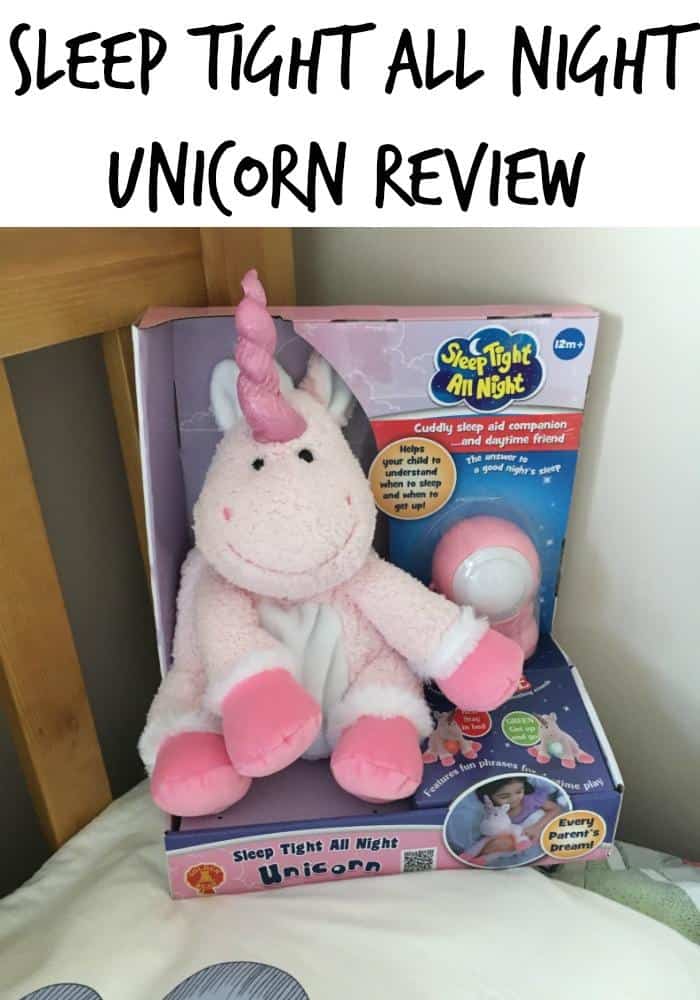 Sleep Tight All Night Unicorn Review
As you might already know, we are a fan of sleep aids, and we received the Sleep Tight All Night Unicorn from Golden Bear to try and help with our bedtime disturbances.  We decided that the unicorn would be a good soother to give to Princess as she has always needed a comforter to go to sleep and still sucks her thumb, especially at night.  We also thought we could explain the way the lights work to her so she knew how the unicorn would help her.
The Sleep Tight All Night range from Golden Bear includes 4 different toys, including a teddy, puppy, Iggle Piggle and the unicorn.  The toy is suitable from 12 months old and is really easy to set up.  The sleep timer that you insert into the toy is set for how many hours you would ideally like the child to sleep for. You can set it to play one of the 5 soothing sounds, which includes crickets and rainfall etc.  When the unicorns tummy is squeezed his tummy glows red and the soothing sounds start to help the child return or go to sleep. If it is time to get up, the tummy glows green and you might get one of the fun daytime messages too.
Using the toy with an older child, we found she was able to tell us which sounds she liked better and set it to her preferences.  With a younger child, you might have to work through which sounds they respond to best.  There is also an option to have the sounds muted and just use the the lights to indicate when it's time to sleep and when it's time to get up.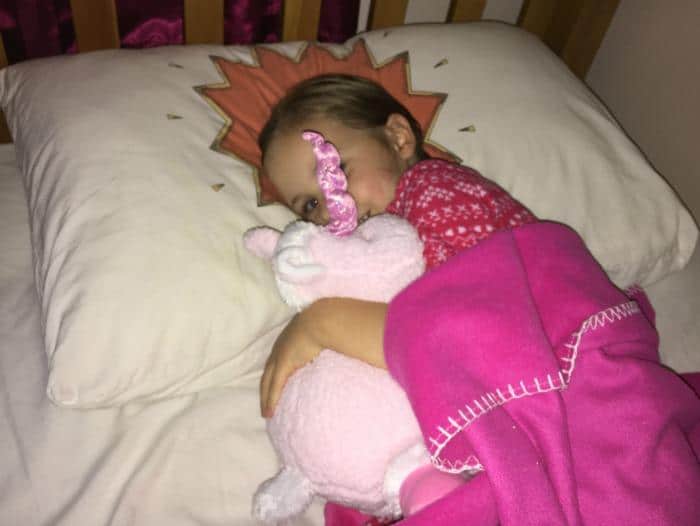 We are still very much in the early days of using this toy, but I do have high hopes that it is going to help us settle the girls into a full nights sleep over the next few weeks.  It ticks all the boxes in terms of being cute, easy to set up and responsive to a child when they wake during the night.  We have always been a family that feels it's equally important to respond to a child's needs during the night as much as in the day, and we hope the Sleep Tight All Night Unicorn will come to meet our daughters needs if she continues to wake during the night.
Sleep Tight All Night Golden Bear Giveaway
In true Zena's Suitcase style, I've been lucky enough to secure another Sleep Tight All Night Golden Bear toy to giveaway to one of my lovely readers.  I'm really looking forward to giving away one of these super cute toys and I'm confident it could make a real difference to your sleep time routine.  Just enter via the rafflecopter below.  Thanks for entering and good luck.  Competition ends 1st November 2016.  Other T&C's apply.
We were provided with the Sleep Tight All Night Unicorn for the purposes of this review and I have been compensated for my time.