We made the final stop of our family road trip at one of our very favourite family days out.  Drayton's Magical  Christmas opened on 19th November and is welcoming guests all the way through to 31st December.  We visited Drayton Manor's Magical Christmas last year, and it's very much becoming apart of our Christmas traditions.
When the girls found out we were stopping at Drayton Manor so soon after the Fireworks Spectacular they got very excited.  They love the festive feel of Thomas Land covered in snow and brimming with Christmas festivities and decorations.  Kids just love it, and I know a few people outside of my blogging circles that go every year.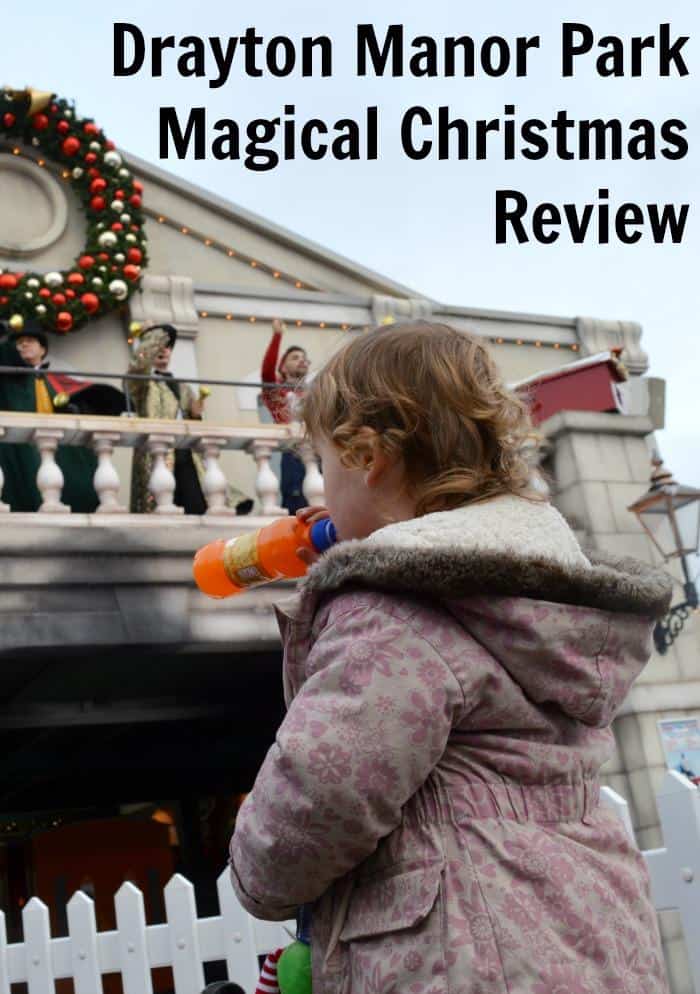 When we arrived, our first stop was to find out what was happening with the Christmas Arts & Crafts.  Most weekends throughout Drayton's Magical Christmas children will be able to visit the Education Centre at the zoo and make Christmas decorations that maybe used as enrichment toys for the many animal inhabitants at the park.  The zoo is fully open during Drayton's Magical Christmas, and is also home to some very special guests this year.  It looks like some of Santa's reindeer are hanging out near the Castle Of Dreams for visitors to pop by and say hello to and thank them for all their hard work.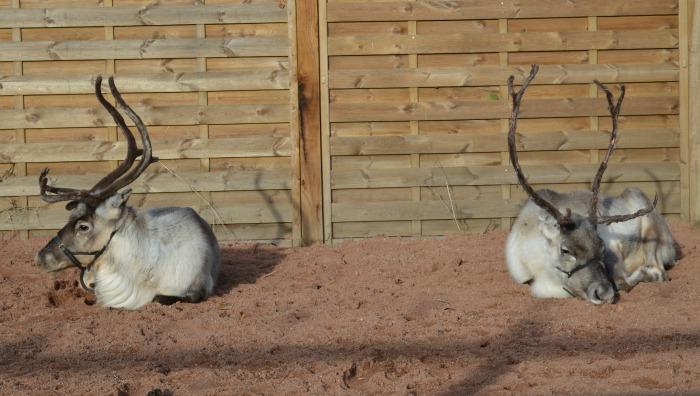 One thing we love about Drayton Manor at Christmas, is the very special tree.  It's a great place to stop for a picture opportunity with the family, and every half an hour guests are treated to a magical light show set to music.  We always make sure we catch it at least once during our winter day out.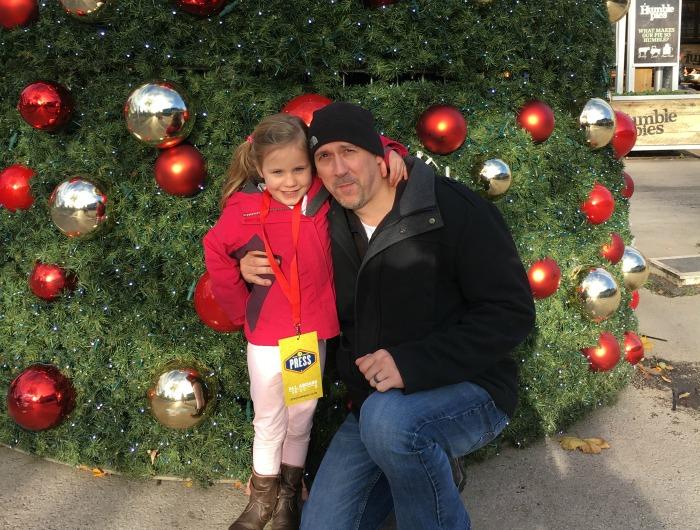 What Rides are Open at Drayton Manor at Christmas?
Thomas Land is the main attraction open at Drayton Manor Park during the Christmas celebrations.  You will find Winston's Whistle Stop Tours in full swing, Toby's Tram Express providing lots of thrills and our personal favourite Jeremy Jet's Flying Academy plus lots more besides.
In the main park the following rides are open:
Carousel
Jolly Buccaneer
Ben 10 Ultimate Mission Roller Coaster
The Polar Express 4D Experience
Bryan Works Museum
Tiny Tots Play Farm
The family friendly rides are very much the focus of Drayton's Magical Christmas, which means fewer crowds and a great family day out for smaller children in and around Staffordshire.  This year, there is also an indoor ice rink that you can go to at no extra cost.  I wouldn't say it's a very big rink, and it would be nice to see a few more Christmas lights to brighten it up, but it did seem like a lot of fun.
Drayton's Magical Christmas What's On Guide
There are lots of activities going on during Drayton Manor's Christmas event to get you and your children in the festive spirit.  If you are planning a day out to Thomas Land, here's what's on offer.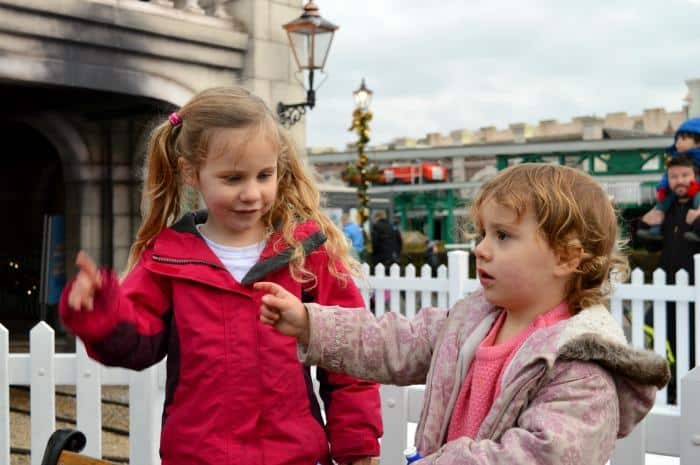 Write A Letter To Santa
Pop along to the Thomas Land Shop and purchase a letter writing pack to send your wishes of to Santa.  Pop your very special letter to Santa into Percy's Postbox and he will personally deliver it to the big man in time for Christmas.
Thomas Land Balcony Show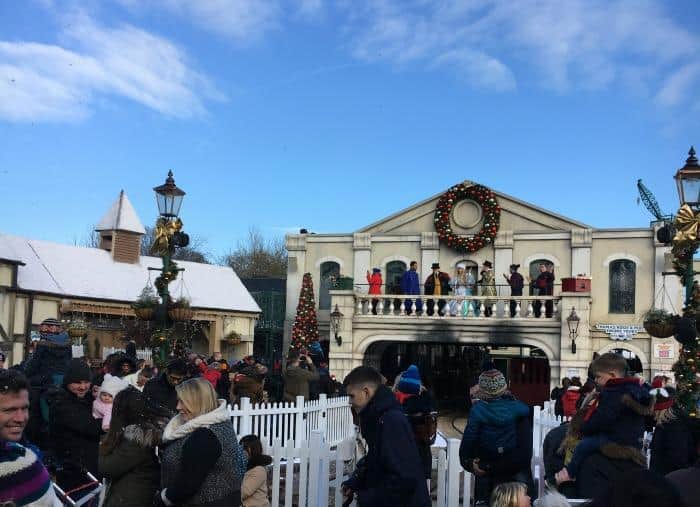 My daughter loved the Christmas themed Thomas Land Balcony show and ended up watching it twice.  With the Fat Controller, the Fungineers and some very special guests you are in for a very magical time indeed.
Christmas Parade & Fireworks
Drayton Manor like to finish things off with a bang, so make sure you don't leave Thomas Land until you've seen the Parade, which starts at the Band Stand in Thomas Land and takes you to the Christmas tree for one final festive show.  This is shortly followed by a festive firework display suitable for young children over the lake in Drayton Manor Park.  What a great way to end the day.
Can You See Father Christmas At Drayton Manor Park?
No festive celebration would be complete without a visit to see Santa would it?  You can upgrade your standard ticket to include a visit to Santa during your day out.  If you are a Season Pass Plus holder, you are entitled to visit Drayton's Magical Christmas as many times as you like during the festive season, and you can also book one visit to Santa, but you must arrange a time slot either via the call centre or by speaking to guest services on the day.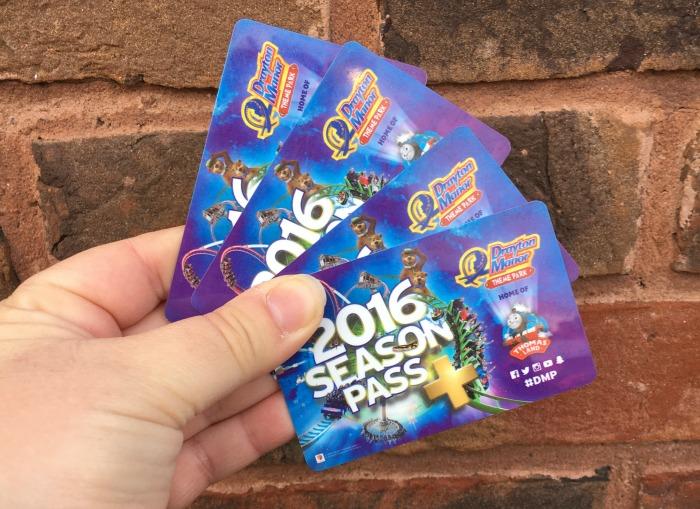 We did see Santa during our visit, and he was on very festive form, spending a lot of time talking to the girls and giving them a lovely present to take home.  You can also have your photo taken with Santa and your pictures are available to purchase when you leave the Castle of Dreams.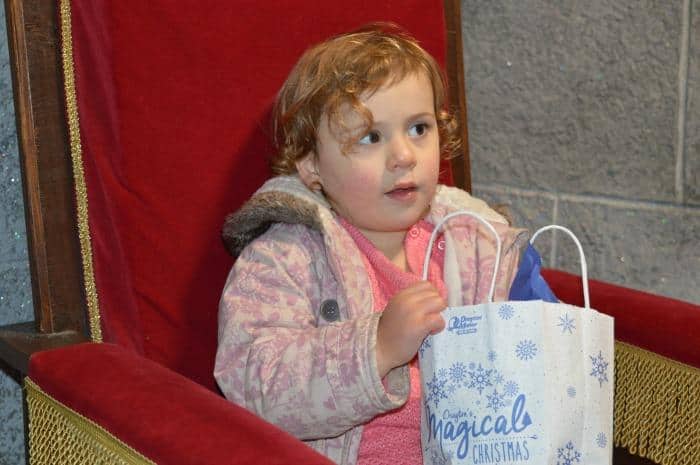 We had a lovely day as a family at Drayton's Magical Christmas, and wouldn't hesitate to go again, and again and again.  It's one of our favourite events in Drayton Manor Park's calendar and we would have no problem recommending it to other parents, family or friends.
We are blogger ambassadors for Drayton Manor Park and receive Season Plus Passes for our role.  We were guests of Drayton Manor Park for the purposes of writing this post but all thoughts and opinions are our own.