Keeping kids busy when we are travelling or at home is a constant challenge for us.  Someone once said to me 'It's ok for your kids to be bored sometimes', my reply was, 'have you seen how much these guys fight when they are bored, keeping them busy is the only answer!'
We love activities that will help pass the time on road trips and plane journeys and not cause to much mess.  We also love activities that are easy to set up and mess free.  I was first introduced to the Aquadoodle range when my last daughter was born.  Her big sister really struggled with the new arrival and having the Disney Princess Aquadoodle mat was great for her at the time.  I had a creative toy that I could set up in minutes and  she had something to play with that distracted her from how she was feeling about her baby sister.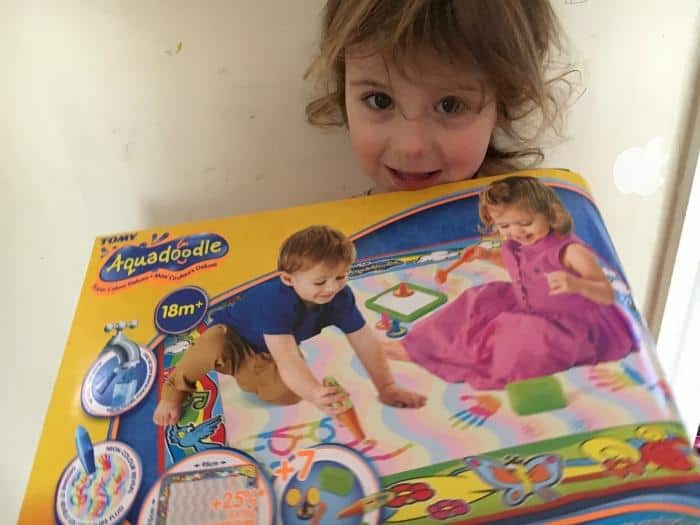 Tomy reached out to us again recently and asked if we would take a look at Aquadoodle Colour Travel bag and the Super Colour Deluxe Aquadoodle set.  I was really interested in the new designs and curious to see what the kids made of them after having such a success with the first one.
Super Colour Deluxe Aquadoodle
The Super Colour Deluxe Aquadoodle was a big hit as soon as it came out of the box.  It's got some great features and it's a lot of fun to play with.  The Aquadoodle mat is bigger than standard sets, so there was plenty of room for both the girls to play with it.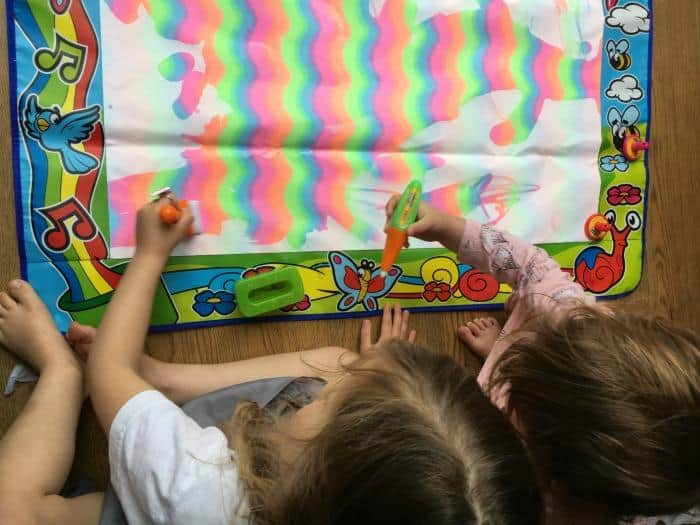 It's super colourful too, and when you 'draw' on it the cool neon rainbow colours show through.  Seeing the different colours made the toy a lot of fun for them.
We really loved the accessories that came with the set as well.  There are 7 all together including 3 stamps, a water tray you can use for hand prints or the stamps, and a paintbrush style tool with a non-spill pot.  There was also the Aquapen that you can fill with water in the usual way.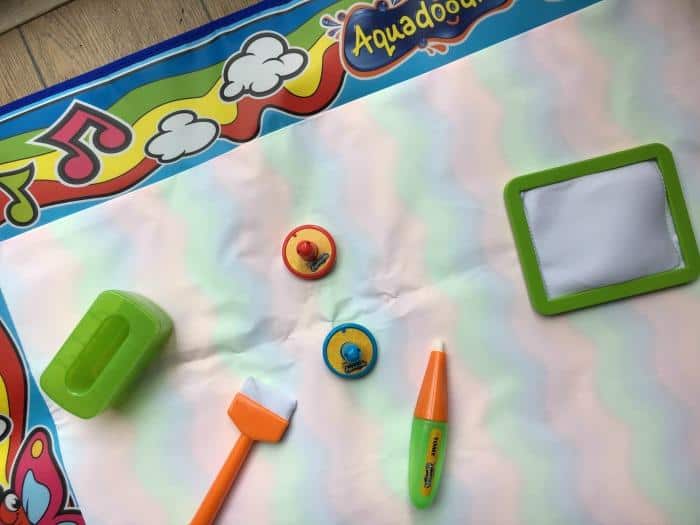 We were super impressed with the mat and the range of tools it came with.  It made for a great creative play experience, with very little mess at the same time.  How many wins are there there everyone?
Aquadoodle Colour Travel Bag
We put this to the test on our recent holiday to Butlins and it made a great toy for keeping them busy on the trip to Minehead.  It was very popular with both the girls who are aged 3 and 5 years old, and to be honest we should invest in another one because it was something they both wanted to play with.
The Aquadoodle Travel Bag opens like a book and comes with a pen that you fill with water.  We always have water in the car when we are travelling so keeping the pen topped up wasn't an issue at all.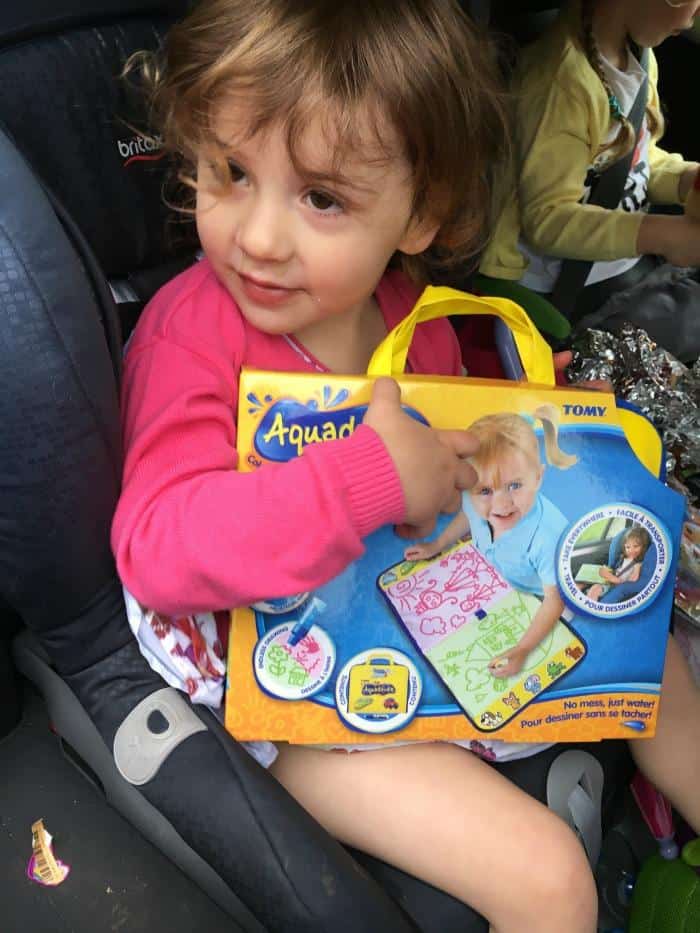 The size of the travel bag was great for the girls as well.  Folded up it didn't take up to much room, and when it was opened to play with there was enough space to draw a picture while holding the bag on the knee. It's definitely a toy that will be coming on our travels regularly from now on, and is a good investment for families who take a lot of road trips.
Aquadoodle Super Colour Deluxe + Colour Travel Bag Giveaway
As the summer holidays will soon be upon us, wouldn't it be great to get your hands on the Aquadoodle Super Colour Deluxe set and the Aquadoodle Travel bag?  These are the perfect toys for keeping kids busy both at home and away and I've got both to giveaway to one lucky Zena's Suitcase reader in this latest giveaway.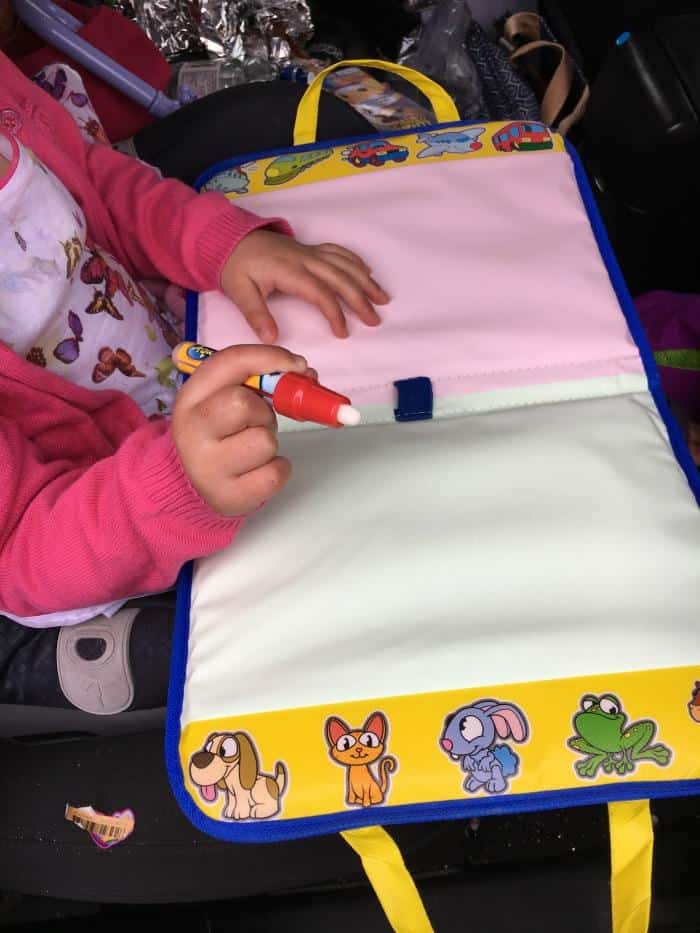 If you would like to be in with a chance of winning this great set from Tomy, just complete the rafflecopter below for a chance to win.  Giveaway ends 6/7/17.  Other T & C's apply.
Feeling lucky?  You can enter another competition here.
We were provided with the Aquadoodle Super Colour Deluxe Set and Colour Travel Bag in exchange for this post but all thoughts and opinions are our own.