My daughter said something really worrying to me recently.  She was talking about school and she said, 'they have books at school with information in and I don't like them'. Overall she hasn't taken well to reading, and finds practising at home a bit of a chore.  We use all sorts of tactics and treats to get her to read at home regularly with varying degrees of success.
The school holidays were starting to worry me, as potentially there is going to be some setback in the progress we have made with her reading skills.  I was desperate to find some books that would help us keep up her reading skills and show her that books can give us many inspiring things to enjoy.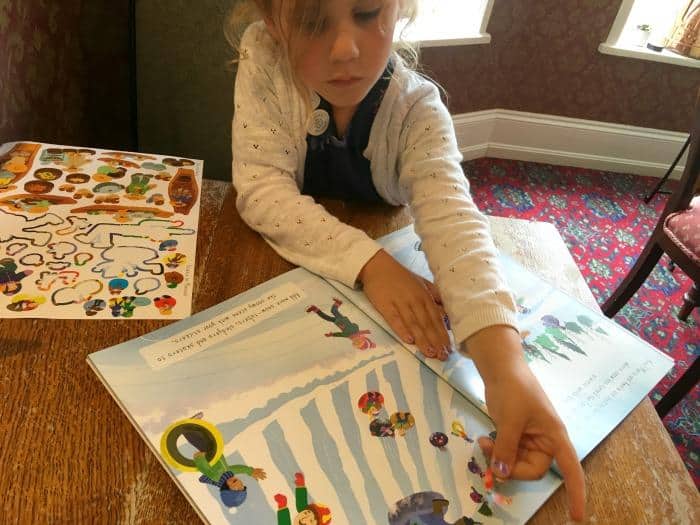 Seeing as she loves to travel with us, the obvious place for me to look was Lonely Planet Kids.  They offer a fantastic range of children's reading, learning and activity books focused around travel to fuel your little explorers passion.  I was delighted when Lonely Planet Kids agreed to send my daughter a selection of books from their range to help inspire her over the summer holidays.
We took our Lonely Planet Kids collection on our recent road trip to use to keep her busy if we were having a meal or just relaxing in our hotel room.  The Lonely Planet Kids books we were sent were:
Let's Explore… City
First Words – French
Amelia's Maze Adventure
The Round The World Quiz Book
Backyard Explorer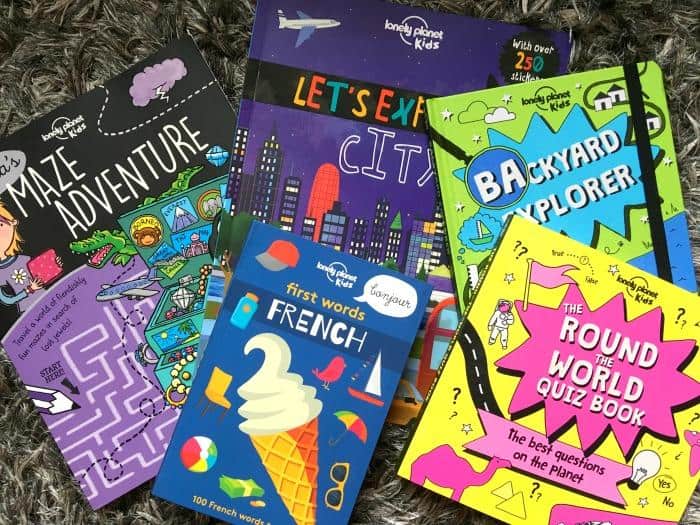 Let's Explore… City
I think this was our favourite book, and we would definitely look to getting other titles from this series.  The book is based around Marco and Amelia who like to go on adventures.  In this book they visit lots of different cities including New York, Sydney and Tokyo.  Each page features a different city and some key facts about the destination.  There is also an activity for each destination which might be stickers, a puzzle or spot the difference.  The illustrations are bright and colourful and it's a great book to help children think about different cultures and places across the world.
First Words – French
This book is a lovely introduction to the French language for your children.  The book contains 100 words and is really visual with lovely illustrations to help children with remembering the different words.  On each page there is the English word, the French word and also the pronunciation to help build the basic skills.  The following page has a lovely illustration to go with the word.  It's a lovely book for children who are likely to be spending a lot of time in France and because there is so few words in it it definitely doesn't feel like reading.
Amelia's Maze Adventure
My daughter liked to use Amelia's Maze Adventure book when we were travelling in the car.  The lovely mazes and illustrations really captured her imagination and the book is packed full of puzzles to keep kids busy anywhere.  Each maze is based around a different theme or destination for example snorkel scramble or Taj Maze-Hal!  The character and illustrations really help bring the book to life and it's packed with oodles of travelling facts to learn along the way.
Backyard Explorer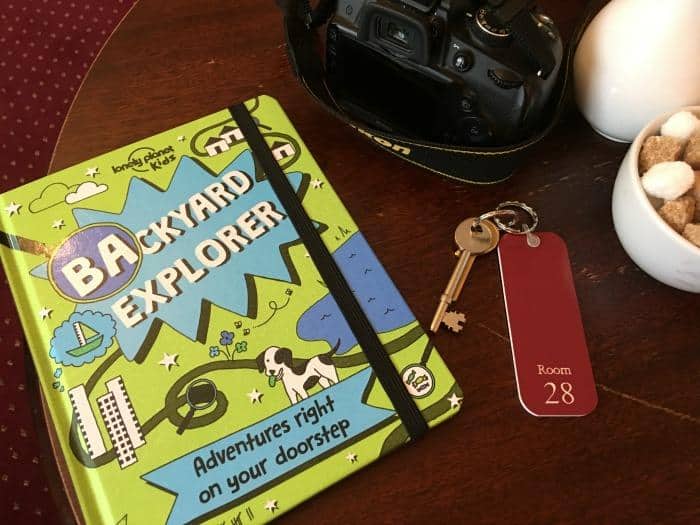 This hard back book is excellent for inspiring children to explore the area where they live.  You don't need to travel far to have an adventure and this books helps children to develop the skills to notice and appreciate their surroundings, wherever they are.  Each page contains a different activity, and children get to fill the book with their observations and discover things like how streets get their name, record and observe the weather and the characteristics that make up the place where they live. This is a perfect choice for keeping kids busy when they are at home during the school holidays.
The Round The World Quiz Book
This is a super fun book that the whole family can get involved in to find out how much you really know about the world you live in.  There are three levels to the book, newbie, rookie and genius so that all levels of ability can get involved.  The questions are fun and inspiring and if answered correctly you gain points as you work your way through the book.  There are multiple choice questions as well as true or false statements to answer and also lots of puzzles that keep the book varied and interesting.  It's a great book packed with lots of facts and information in a fun family friendly format.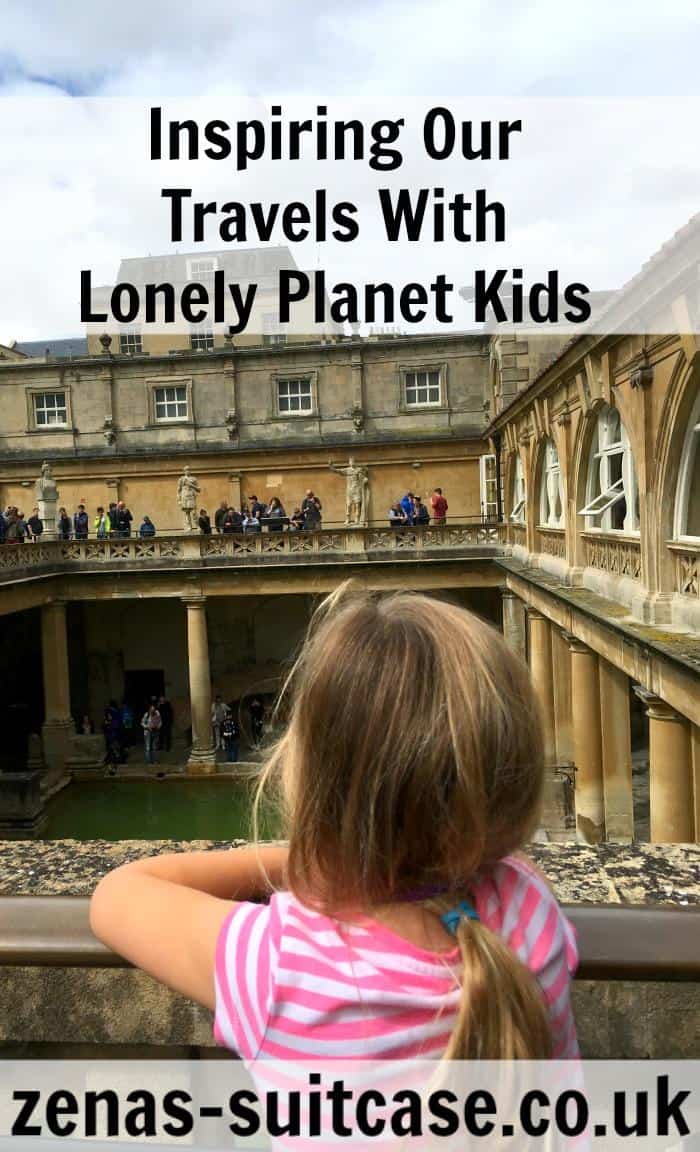 Lonely Planet Kids Book Giveaway
We have really enjoyed getting to know the Lonely Planet Kids book range and my daughter has enjoyed all of these titles.  She has no idea that she has been working on her reading, writing and investigative skills along the way as they have been such fun.  We are definitely going to be using more of them in the future to help both our children foster a strong love of travel and appreciate the different destinations and cultures that exist around the world.
Lonely Planet Kids have very kindly agreed to giveaway a set of these inspiring kids travel books to one very lucky Zena's Suitcase reader.  If your child enjoys travelling and is really curious about the world, then I would love for you to enter this giveaway for a chance to win.  All you need to do is enter via the rafflecopter below.  There are lots of chances to enter, and the more you complete the greater your chance of winning.  Good luck everyone! Competition ends 5/9/17.  Other T & C's apply.
a Rafflecopter giveaway

Feeling lucky?  Why not enter another fantastic giveaway here!