This is week 29 of a difficult pregnancy.  This week has been very a difficult week! I'm sure I've had more pins in me than a pin cushion!  My resilience is pretty low any way, so going through the mill lends itself for an unsettled time all round.
First it was the midwife, with that viscous Anti-D jab.  She assured me it had been out of the fridge for a while and wouldn't sting quite so much.  It STUNG!  And she wanted blood!  Enough already I thought.  But what can you say other than, 'Prick Me!'.   There was sugar in my pee too, great!  This is going well.  She didn't stop there, she also wanted to chat about why I'd been seeing the doctor so regularly, she wanted bloody tears too!  She'll be after sweat next.  Week 29 was the first time I met my named midwife.
Then bring on the glucose test.  I have to say, twitter came up trumps for getting me through hanging around the hospital on my own for 3 hours.  So, no food, nothing but flat purple lucozade to drink, more blood taken, and quite a bit of hanging about.  Oh, and more sugar in pee!  By now I was starting to feel quite sorry for myself.  So can you blame me for tucking into this within 20 minutes of leaving that wretched hospital…I didn't feel in the slightest but guilty when the table next to me ordered salad nicoise.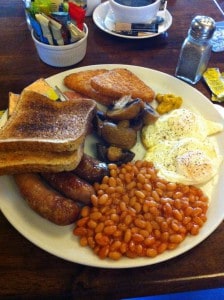 So the full english was bound to set me up for the doctors later.  Wrong!  After all that blood, more tears.  And more, and more! The next day, and the day after and so on.  As well as each day getting physically harder and harder.  Don't walk too quick, don't sit too long, don't pick up Princess, don't bend too much.  Resist all nesting instincts as it will only result in aches and pains.  Watch little Princess go off to nursery everyday, when I really want  to be spending some time at home with her before the baby arrives.  We just are not going to get that special time.
So, with all this, I completely mislaid my mojo.  I keep losing it, at alarmingly regular intervals.  It's definitely unsettling, I'd quite like to keep hold of it for a while .  It did make a reappearance after antenatal exercise class.  We are all Mummy's dealing with some element of pain in pregnancy.  Some lovely Mummy's go, and chatting and sharing our experiences is such a tonic.  I'm no exercise freak, but I wouldn't miss it for the world.
It had definitely resurfaced by the time Teen was due at his Duke of Edinburgh Award presentation.  I'm so proud of him for seeing this through.  He still volunteers at The Children's Air Ambulance charity shop that he started as a part of this award.  It's all good stuff for his University application.
With my mojo back in the room, for the time being anyway, I could give my blog some attention.  I've learnt some new things, found some new groups and I'm enjoying exploring this amazing community.  There's so much to learn, it takes my mind off so much.  No matter what comes next for me, I hope that I keep writing.  I can't wait to capture our up and coming milestones, Princess's 2nd Birthday, my (to old to mention) birthday, the arrival of the new baby,  the Teen's GCSE results and perhaps a holiday as well as everything in between.  Things seem quite unsettled some days and I struggle with even a walk to the park, but nothing lasts for ever, does it?