Being in the same room with Princess I get a sense she's thinking about something else.  Her eyes are wondering until they fix on the next thing or thought that might hold her attention.  I definitely get a sense she's to busy to talk to me, but we shall see how it goes.
 Despite her indifference to me I can't help but be captivated by her innocent beauty, the wild ringlets, flushed cheeks and electric blue eyes.  These charms allow her to hold everyone's attention with very little effort, even at the tender age of 2.  If however, you are lucky enough to get a smile,or even a gentle laugh she really does come to life.
This is definitely one of the most challenging interviews I have ever done, there's no point in preparing as Princess will soon become tired with the predictability.  It's think on your feet time, in the hope she feels I am worthy of her innermost thoughts.
'Now that your rapidly approaching your 2nd birthday, it would be great if we could capture some of the milestones in your life.'  Princess looks to the giant TV that doesn't appear to overwhelm the well stocked play area and clearly states, ' NO!  Where's Mr Tumble?'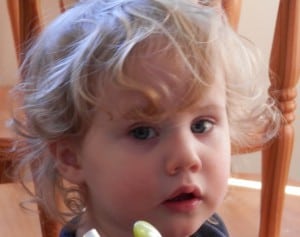 This isn't a great start, remember she's 2, I clearly need to refine my approach.  'Do you like Mr Tumble, Princess?'.  Princess loves baby signing and proudly shows me the action for her favourite TV character.  I have been reliably informed by a source close to Princess that she is going to see Mr Tumble at CBeebies Live in April.  I can see why she's going!  She appears to be very persistent about watching Mr Tumble.
If that TV goes on, this interview is over, and I have no content!  Apparently, Princess is often heard reciting her favourite songs when no one is looking.  She makes up a few words (but then don't we all). I'm told when Princess knocks out a verse of "Twinkle,Twinkle Little Star'  it's one of the sweetest things you'll ever hear.  'Would you like to sing for us today, Princess?'.  This is also met with a flat 'No', our little star is becoming increasingly impatient!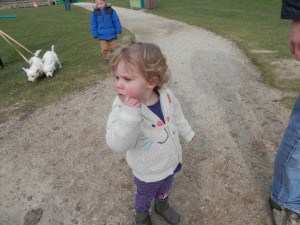 I can feel my nerves tingling as Princess spots Upsy Daisy across the room and makes a dash for it.  'Is it true you like the slide, Princess?'.   She stops and looks at me, 'Yes, Slide!' and motions her hand as if descending her favourite apparatus.  'Big Slide', she repeats as all those descents seem to flash before her eyes.  Phew, she's back in the room, but she's not letting go of  Upsy Daisy anytime soon.
'Do you have any plans for your special birthday, Princess?'  I ask while I've still got her attention.  I'm not ever so sure that Princess does thinking ahead, she appears to be very in the moment.  Fortunately, her Butler (aka Daddy) advises that she will be seeing  Granny and Granddad at a special Birthday buffet and going dancing with her friends at a secret venue where  Johnny and the Raindrops will be headlining.  This seems to capture her attention, and she demonstrates the famous Princess hip wiggle that has been papped at various nursery get together's.  I feel honoured.
The dance only lasts a moment, before she signals to her Butler with both arms in the air that she wants 'Up'.  Once she is securely placed in Butler's arms looking down at me, her thumb is inserted firmly in her mouth, and she is letting me know this interview has come to an end.  She has a very busy schedule these days.
"Thank you Princess, Mummy has really enjoyed chatting with you today.  Could I have a kiss?'  She gets a clear 'No' out without her thumb even moving, and that distinct turn of the head that I've heard so much about.  Perhaps I'll get one at bedtime.
Happy Birthday Princess!