I was so excited about the weekend as I'd heard I was going to Princess's house. It was her birthday, and she was going to be 2. I love birthdays. I'm so lucky because I get to go to everybody's birthday at The Wishing Well.  That's where I live when I'm not visiting the children for their birthday.

The Daddy picked us up from nursery. I was packed and ready to go, I don't like to keep anybody waiting. Princess held me really tight so I knew I was going to be in was in safe hands.
When we arrived at Princess's house, I made myself at home and got to know some of the dolls a little better while she had her tea. I love meeting new friends. I asked the Mummy to take a picture.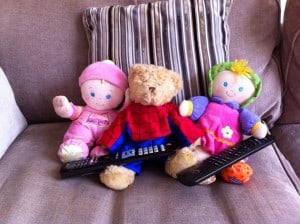 When Princess had finished her tea we got cosy on the sofa and had lots of cuddles. We watched 'In the Night Garden' together before bed. She told me it was one of her favourite programs.  I've seen it a few times now.
At bedtime, she wrapped me up in a blanket but I struggled to get to sleep as I spent hours wondering what we'd be getting up to for her birthday. Princess said there was a lot planned, but it was all a surprise.
The next day, Princess's family were busy getting ready for her grandparents coming. This meant Princess and I got to play together all morning.  This was fun, Princess has so many toys, but not quite as many as nursery.
When her grandparents arrived they brought presents AND cake. Princess got an easel and some chalks. She really loved them and started playing with them straight away.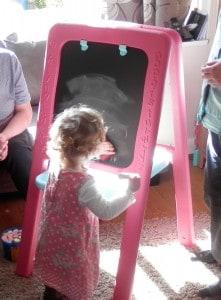 There were lots of sandwiches and treats. Her cake had the Tomliboos and Macca Pacca on. Princess loved it, and we all had a piece before we went to the park. I'm not sure how we kept going, as there was no time to nap. It was to exciting! When we got there, Princess went on the slide, a lot! I think she likes it.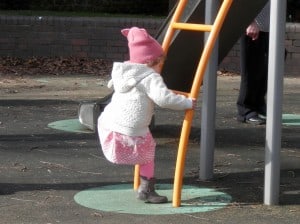 After we said goodbye to Princess's grandparents, it was nearly bedtime and Princess said we had more things to the next day! I was even more excited, but so tired too. I was asleep as soon as my head hit the pillow.
Princess had to give me a nudge in the morning so we could get up and open her presents. She got a lovely dolls house, a very pink bike with Peppa Pig on it and a cradle for her dolls.
Afterwards, Princess, her very big brother (I've never seen such a tall brother), the Mummy and the Daddy all headed into town. We were going to a Sci-Fi convention. I'm so glad I wore my spider-man outfit, I was convinced I'd have the best outfit there.
This bit didn't quite go to plan, and Princess's Mummy and Daddy were very cross about the long queues, so we all went to get something to eat instead. We did get some cool photo's though. The cars were so shiny, but you weren't allowed to touch them.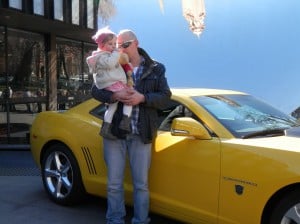 After lunch we drove home, and Princess and I were so tired we fell asleep in the car. We needed a nap as we were going to meet Princess's friends and go to a gig. I wasn't sure what a gig was, but it sounded like fun.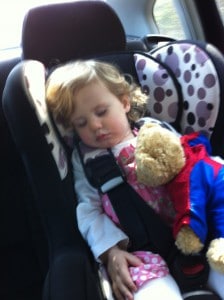 After a quick nap, we went to a place called the Poppy and Pint. There were a lot of other children there, which was lovely. I really like children.  They give the best cuddles.  
We went upstairs and we saw a band called Johnny and the Raindrops. They played really cool music, and all the children danced. There was a lot of jumping up and down. Apparently this a a gig. I like gigs, so if anyone else wants to take me to one I know I'll like it. Princess and I got to have a dance together which was great.
I really enjoyed Princess's birthday. We had lots of fun, I can't wait to get back to nursery and tell everyone all about it! Princess's Mummy told me she is going to write about me on the internet too. She writes a blog about their family, and I'm going to star in it for Princess's birthday. I could be an internet sensation!