As a parent the thing I want most for all of my children is to be happy.  I don't mind how they get there and I'll support whatever path they wish to take, but understanding what makes us happy along the way will help them I'm sure.  A lot of parents say the same thing, and we all invest a lot of time and energy in encouraging our children to be happy, but do we get it confused with other things like success or material gain sometimes? When we first have children we spend money on new toys and trendy pushchairs to make ourselves and our babies happy so when do we get confused of what's success?
It got me thinking, how do we encourage our children to be happy, now and later on in life.  What makes us adults truly happy?  Is it the new dress, the new car?  These do give us an element of instant gratification, but do they make us happy?  I'm not sure they do in the long run.  When did you last feel truly happy?
Princess had a play date the other day and her friend bought her favourite Dolly with her.   Of course Dolly caught Princess's eye, she was bigger than her Dolly and reminded her of her favourite from nursery.  She waited for her friend to discard the Dolly and went into make her claim.  'My Dolly' she proclaimed, triumphant.  By this time Princess's play date had moved onto the pushchair.  The satisfaction of acquiring the Dolly was incredibly short lived and I think you might guess what happened next.
Us adults experience the most prolonged feelings of happiness  when we do something for someone else.  When we lend a hand, when we have a dinner party, when we give a gift.  Not only do these things make us happy, but they make those around us happy too. Happiness is infectious!  When are children are happy, we are too, right?
Princess seems her most content when she is helping, sharing or giving and I don't think this is just a girl thing .  She is at her happiest when she is sharing an activity either with me or her friends.  She loved making Easter Bunnies at the weekend and painting with Mummy.  Her favourite role play activity is running a cafe.  She loves to make everyone tea and cake and will spend hours serving us.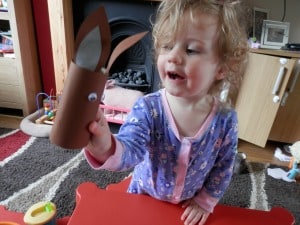 She enjoys taking care of her Dolls, feeding them and putting them to sleep.  This is an activity that I've questioned a lot as I don't want her to feel it's her 'role' in life, but in the context of enjoying caring, it makes her happy.  The issue isn't whether she should do it, but should boys be encouraged to do it more because of the feelings of happiness it encourages.  It's not just her dolls she likes to take care off, she likes to give an upset child a hug or the toy they've dropped.  These things bring the most genuine smile to her face, she is happy.
All this has left me thinking that the secret to helping our children be happy is helping them enjoy the little things, helping people, sharing, giving and being kind.  Obvious, right?  This isn't just for girls and it's certainly not a weakness as I can see the true feelings of happiness it gives Princess, and that it gives me as an adult.  There is a place for success, achievement and wanting a lovely home and nice things, but these aren't to be confused with what makes us and our children happy.  You could have all these other things but never feel truly happy if you didn't understand where happiness comes from in the first place.
I'd be really interested to know how you encourage your children to be happy, please leave a comment, all are read and I do my best to reply or pop over to your blog in return.