So this will be the last bank holiday before the new baby arrives, and as much as we want her here it's also a time to enjoy our family just as it is.  What better time to be a #MorrisonsMum.  I'm really hoping my waters don't break just yet 😉
I set myself a #MorrisonsMum mission of trying to feed the family for the entire weekend with the budget of £80 generously provided by Morrisons with good quality food that everyone would enjoy.  It had to be easy to prepare too, as at 37 weeks pregnant I was not feeling the love for slaving over a hot oven, but still feel special.
My first challenge was to get this 37 week bump round the store for our bank holiday shop. No mean feet I can tell you! Our local store isn't an overwhelming superstore so bump and I managed it, slowly but surely. It gave me time to take in all the price cuts that everyone is going on about.  Morrisons have definitely made an effort to bring some every day essentials down in price.  The Super Hoops were a real bargain at £1.39 and my 2 year old ate 3 bowls full in one sitting, so they really can't be bad!  All kids will love these for their breakfast, or any other time of day for that matter.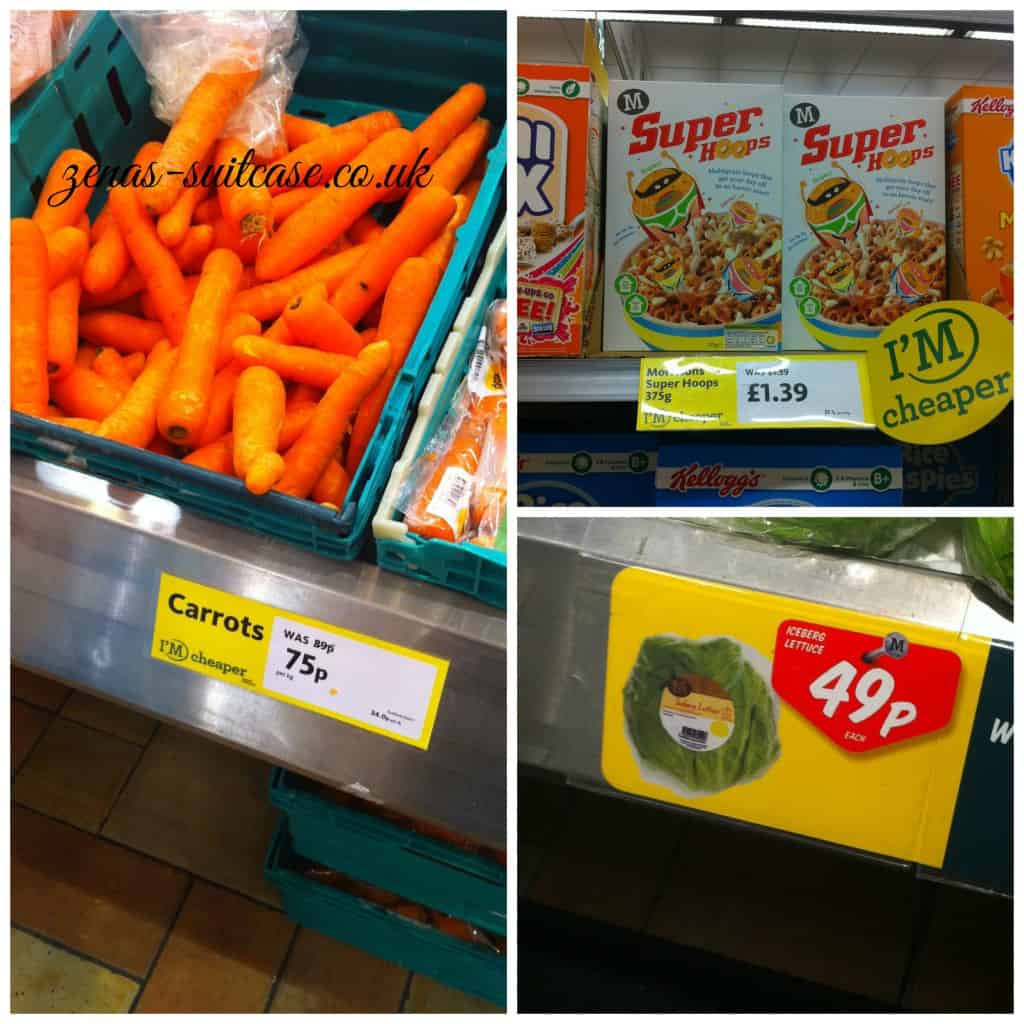 Friday night was Pizza night! 3 pizzas with some salad on the side followed by Chocolate Cake and C'arte Dor Ice Cream.  Naughty, but what every Friday night needs without the take away prices!  The price per head for this naughty little treat £2.85 per person for 2 courses! Result!
Saturday was a lovely sunny day, so what better than a BBQ with a bit of Alfresco dining.  The Morrisons Signature lamb & mint burgers were lovely.  Really meaty.  The Teen tucked into some chicken, but little Princess gave the mighty burger a go! She loved it.  A burger in a bun with a bit of salad, your looking at approx £1.00 per burger.  The quality of the meat was great, so well worth the money.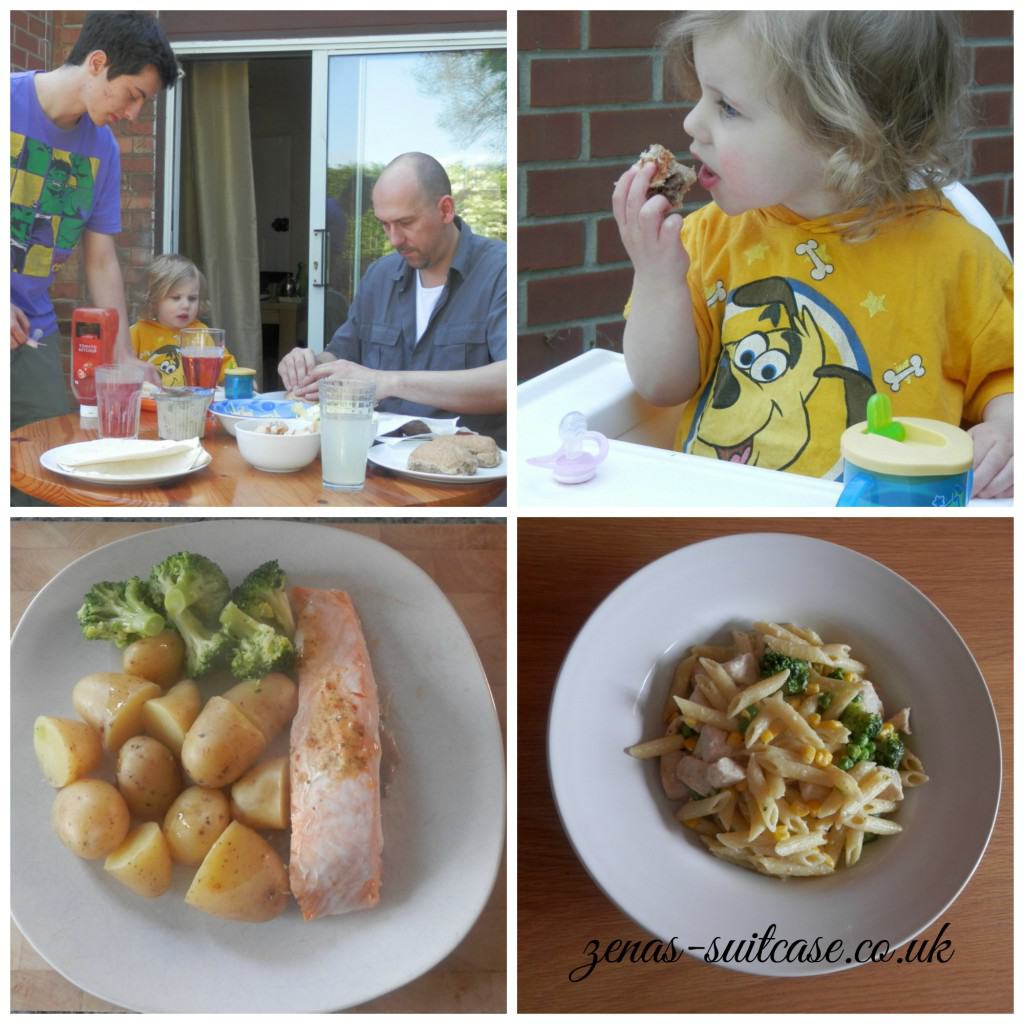 Teen abandoned us at tea time for another BBQ so he missed out on the lovely salmon with chilli and coriander butter from Market Street, with new potatoes and broccoli.  It felt a little bit special, but only took 20 mins to make.  That's my kind of fast food.  Price per serving, £3.40 per head. Not bad for the quality of the salmon, and it went down a treat.  Princess thought it was chicken mind, but she still got stuck in.  I wrapped the salmon in tin foil, putting the butter on top of the fish, and cooked it in the oven for 20 mins.  It was lovely and flaky, again great quality.  The butter melted and gave a nice sauce to pour over the potatoes and vegetables.  Yummy!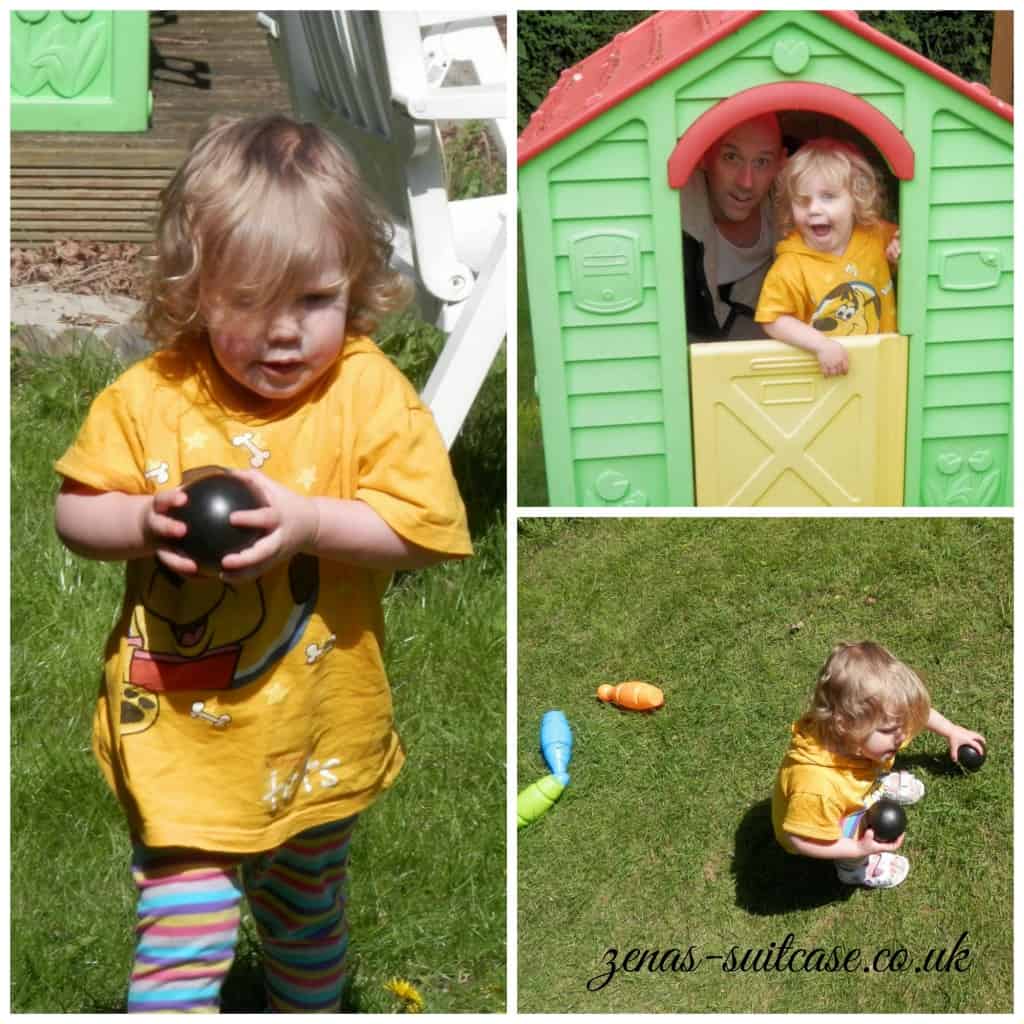 We had some great fun in the garden over the weekend.  Princess really enjoyed playing with her Skittles, which were only £3.00 from the seasonal isle.  She also manged to fit Dad into the playhouse, you can see just how happy she was about this!  He's over 6 foot, so this was quite an achievement!
After more BBQing on Sunday, we went for a simple pasta tea.  This is a great family staple, and can be thrown together in less than half an hour.
Chicken Pasta
3 Chicken Breasts
3/4 bag of pasta
small head of broccoli chopped into small florets
handful of frozen peas (defrosted in boiling water)
handful of frozen sweetcorn (defrosted in boiling water)
2 tablespoons of butter
2 tablespoons of plain flour
400ml milk
grated cheese
salt and pepper
wholegrain mustard
1. Chop chicken into bite size pieces and fry in a pan until cooked through
2. Melt butter in a saucepan, then add plain flour.  Add milk slowly, stirring continuously.  Then add cheese, salt, pepper and a teaspoon of wholegrain mustard to make the cheese sauce and heat gently til melted.
3. Add pasta to boiling water.  Cook for about 10 mins.
4. Drain peas and sweetcorn, then add with the broccoli to the pasta and cook for a further 4 mins.
5. Drain pasta and vegetables, add cooked chicken, poor over sauce, stir and serve!
Cost per serving: £1.83p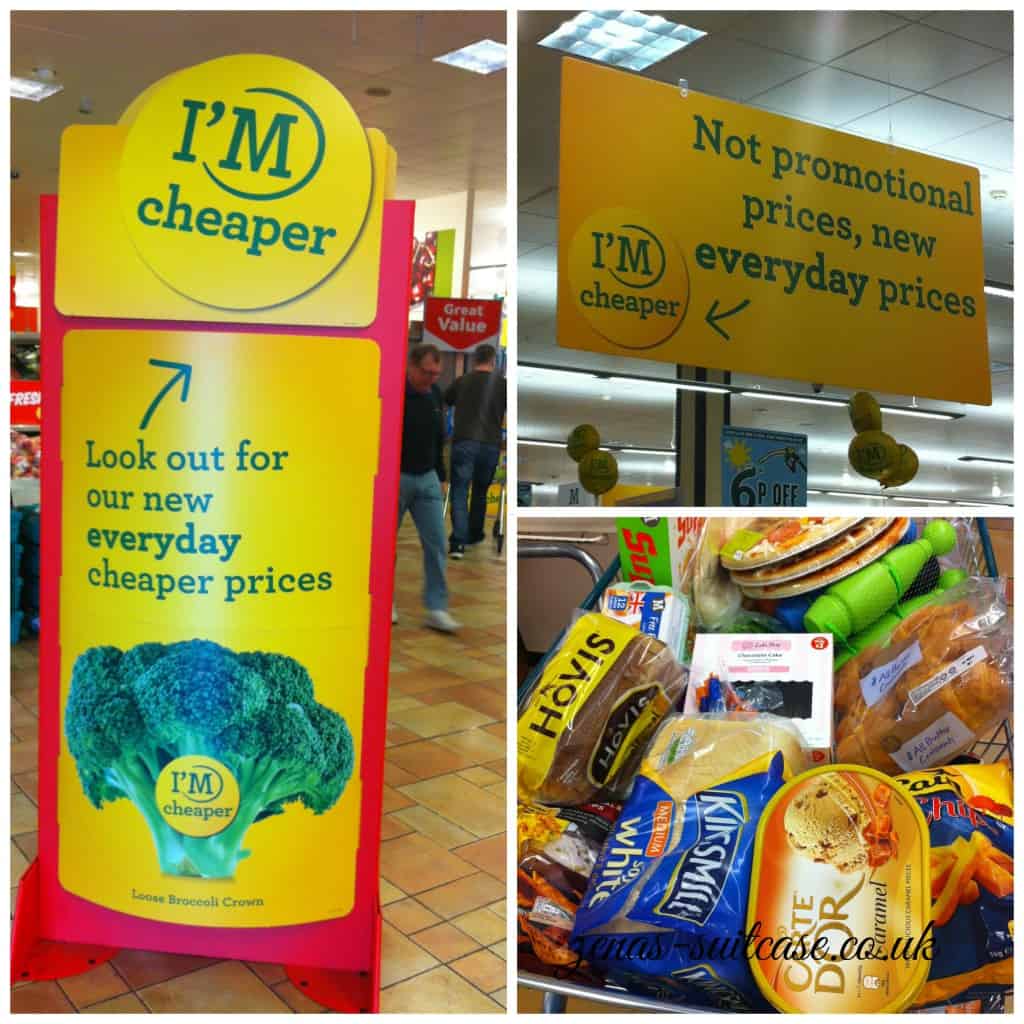 I definitely covered our weekend treats within the budget of £80.  We enjoyed cooked breakfasts with Morrisons Pork and Leek sausages, croissants and jam for the continental version and there's still things left for meals this week.  The price reductions were easy to spot and will make a difference to your Morrisons shop, I'm sure.  They aren't the cheapest supermarket, but they are cheaper.  I think they do provide better quality than most, especially when it comes to meat and fish and somethings are worth paying a little extra for.
We finished off our Bank Holiday weekend with an amazing Roast Beef dinner, it had to feature somewhere didn't it!  I slow cooked a piece of Brisket on a bed of onions for about 3 hours.  It was beautifully tender and really tasty.  Served with mashed potato, savoy cabbage, carrots, peas and sweetcorn.  Needles to say there was none left!  Price per serving £2.75 (serves 4)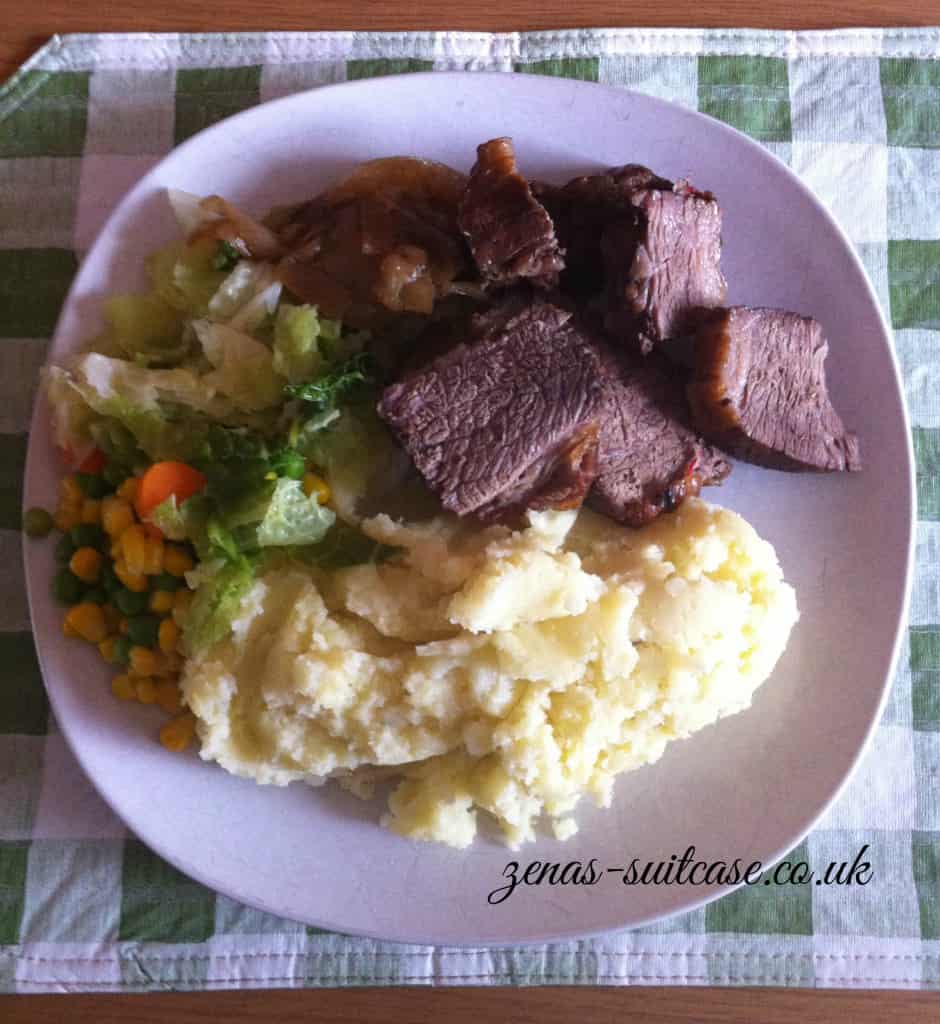 WITH GRAVY!