Heartburn has plagued me in all 3 of my pregnancies in varying degrees.  I don't know about you but that annoying acid burning sensation creeps up from the back of the throat and always seems to be worse at night.  It must be something to do with lying down.
When Gaviscon contacted me about writing a post about their products, it seemed a good time to find out why heartburn is so common in pregnancy and it seems it's another thing we can put down to all those hormones floating around the system.  I guess it had to be didn't it!  Gaviscon provide some really helpful information on their website here to explain what happens during pregnancy with heartburn and indigestion.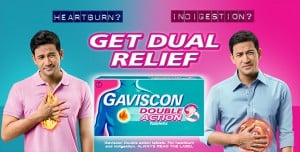 It's believed that the hormone progesterone which relaxes your muscles ready for labour, also relaxes the muscles separating the stomach and the oesophagus.  This effect allows the stomach acid to travel back up the throat causing that unmistakable burning and sometimes painful sensation of heartburn.  Later in pregnancy the pressure of baby on the stomach also plays apart.
Eating a healthy diet and avoiding rich foods can help reduce heartburn in pregnancy, and it's also an idea to prop yourself up at night with a few more pillows.  I find what I eat is a huge factor when it comes to experiencing heartburn, it's those little treats like chocolate that seem to do it.
Sometimes though it's difficult to avoid taking some medication to control the condition. I find heartburn completely distracting when it's at its worst and it's another thing that can disturb my sleep.  I spoke to my midwife and she advised me that taking Gaviscon Double Action would be fine to take during pregnancy.  If your considering taking medication, you must seek advice from your health professional as each case can be different.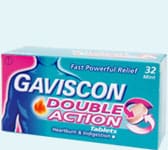 I found it to be highly effective as it not only stops the acid coming back from the stomach but it also neutralises the acid in the stomach itself making it quick and effective especially at night when I need as much sleep as possible.  If your suffering with heartburn it would definitely be worth talking to your healthcare professional about the Gaviscon range of products to see if they are safe for you.  One less pregnancy related symptom is a bonus as far as I'm concerned.
I have compensated for writing this post.