Little Tinkerbell is now 12 days old and everything seems to be going fairly well.  If her eyes are open, she generally wants to feed.  This is fine most of the time unless it's between the hours of midnight and 3am, then Mummy feels a little frazzled.  I'm still experiencing a little discomfort when she latches, but nothing has cracked yet! Phew! Thanks Lanolin 🙂
The house is pretty peaceful most of the time, when Princess is at nursery anyway.  We have no expectations.  If we make it out of the house great, but if we're in our pj's all day, that's fine too.  We're just trying to be in the moment, and not worry too much about what needs to happen next, unless next is dinner time!  Mouths still need to be fed, but Daddy seems to have this under control.
Keeping the house fairly tranquil and quiet can be quite hard though when managing the visitors.  In the early days  everyone wants to visit, don't they.  Of course they do, everyone wants to welcome a new baby into the world, but when your trying to get breastfeeding established, your recovering from labour and your all tired it can be a bit overwhelming.  It's definitely worth spreading visitors out especially while your building your breastfeeding confidence up and sleep deprivation is getting the better of you.
I've got the issue of having fairly large breasts and quite a small baby.  Even for 8lb 5oz she is quite delicate.  All her weight is in her long legs. Just like her Dad.  I find I'm fiddling around a lot getting her in the nose to nipple position and getting myself comfortable while we are both practising.  I think breastfeeding discretion comes a bit later.  Some days it's easier to be top naked for skin to skin and because a newborn baby can feed pretty regularly.  Sometimes she only lasts about 5 minutes between feeds.  In the evening it can feel like she is feeding all night.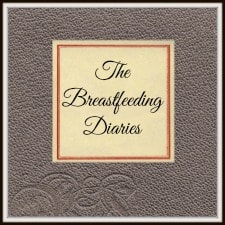 Now, I'm not usually bothered about feeding in public or in front of guests, but I seem to have a complete aversion to feeding in front of the grandparents.  Obviously they want to visit their new granddaughter, and so they should.  But I know that I'm going to spend most of the time feeding little Tinkerbell in the bedroom, and that is exactly what happened.  I'm not entirely sure that they would be entirely comfortable with me feeding in front of them, but it's not something we have ever really discussed.  I wonder if they think I only feed her in the house in a locked room.  I remember with Princess they seemed surprised I fed her in front of her teenage brother.
I find with some people if the sense you feel a little awkward and baby needs feeding, they will say something to put you at ease even if it's 'go ahead, I don't mind'.  This can be really helpful for a breastfeeding Mum and can put the whole situation at ease.  I think it's great if you can have a 'I'm going to feed my baby no matter what' attitude, but some of us Mums are a little more self conscious for a whole host of different reasons.
This awkwardness could become a bit of a problem, as we have a toddler too we like to make sure when they visit we go somewhere for Princess to burn of a bit of steam.  I'm not sure what they'd think if I flopped my boob out, however discreetly I did it!  I'm not entirely sure I want to find out.  Awkward springs to mind, at the very least.
I'm really not sure how to tackle this.  I'm not great at expressing so I don't think that's going to be the answer for me.  I could just be making mountains out of mole hills and I just need to get that first feed out of the way, sooner rather than later.  Is there anyone you find it difficult to feed in front of?  Were you able to get to a point you felt comfortable? How did you manage it.  Do you have any tips?
The Breastfeeding Diaries Linky starts next week! Click here to find out more!