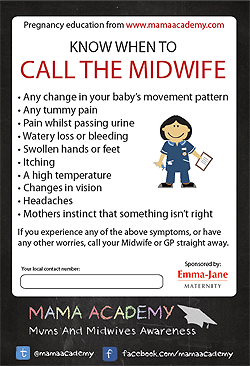 Back in April I was lucky enough to become a Mama Academy Ambassador and support this amazing charity.  It  aims to give every baby in the UK the best chance of arriving into the world safely.  They want to raise awareness amongst expectant Mums and Midwives about healthy pregnancies by promoting the latest research and best practise in Maternity Services.  The NHS needs support like this to get the message across to all it's Maternity staff just because of the sheer size of it's Healthcare operations and the number of services it provides across so many different departments.
You may be astounded to know that the UK has one of the highest rates of still birth in the Western world.  This still shocks me and this needs to change.  If you want to get involved with the work of Mama Academy and join the amazing #TeamMAMA and #mypositivepregnancy you can find out more .  This amazing list of bloggers helps to promote the Mama Academy message and raise awareness across the powerful world of the Internet.  It's really easy to get involved, just get in touch with Jenny at Mama Academy and she'll get you started.
Mama Academy  provide some really useful information for Mums that's both helpful and really easy to understand but most importantly can help Mum's to have a safe pregnancy for them and baby.  One of their key messages is knowing when to call the midwife.  This is such an important message as Maternity Services have changed a lot over the years.  You may not see your Midwife for weeks especially if this isn't your first baby.  Waiting to discuss your concerns at your next appointment might be too late.
Mama Academy have produced a great poster highlighting when it's important to get in touch with your Midwife in case there is a problem.  More often than not there isn't, but they would rather see you to make sure everything is OK.  If you experience any of these issues have a chat with the Midwife.  Sometimes, just by having a quick chat over the phone they can rule out any complications and you will not be bothering them in the slightest.  They will be happy to help you. #MyPositivePregnancy