Young Driver is apart of the Goodyear Driver Academy and provides driving lessons for under 17's so when we were given the opportunity to review a lesson with them we jumped at the chance.  Teen is going to be 17 in December so driving is a reality for him and me (his over anxious Mother) in the not to distant future.  As a Mum, the idea of him getting in a car for the first time on the road makes me feel a little nervous, so this seemed like a perfect introduction.
Road traffic accidents are one of the main causes of deaths for 17-24 year olds which is a scary statistic.  Goodyear Driving Academy promotes a graduated approach to learning to drive, aiming to improve road safety and challenge attitudes and behaviours towards being on the road.  It aims to be fun too, creating a great environment for young people to learn in.
Venue
Our lesson was at the Victoria Centre Car Park, Nottingham and to be honest I was a little sceptical at first but it turned out to work really well.  The space was huge and a few cars could go round at once giving a sense of other road users for the kids taking part.  It was in a central location making it accessible, and parents could stay and watch or go and do a bit of shopping if they liked.
Instructors
There was a small friendly team of instructors to take the lessons.  They were all CRB checked and some had experience of working with young people outside of the Goodyear Driving Academy at places like Scouts and Sea Cadets.  The culture seemed to be pretty fun and upbeat which added to our positive experience.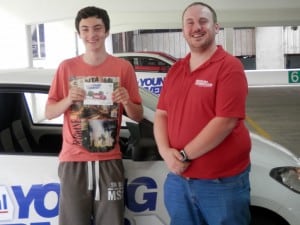 Goodyear Driving Academy Parent Pack
We were provided with a Parent Pack that is aimed at helping Mum's and Dad's encourage their children to think about driving before they get behind the wheel.  To be honest, it was a little young for Teen but it still was an excellent resource I wish I'd had access to earlier including games and activities to introduce kids to the Highway Code.  It's still helped me to think about the kind of conversations I should be having with Teen to help make him a safe and successful driver, things like road signs, driving conditions and car maintenance for example.
The Experience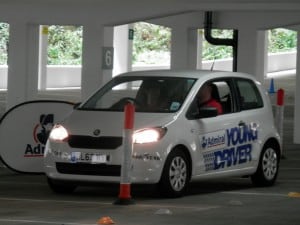 I found as a parent the whole experience was really positive.  The team were welcoming and friendly, they put myself and my son at ease straight away.  Teen was able to get on with driving the car really quickly, and as well as driving did a 3 point turn, a spacial awareness challenge and parked the car at the end.
As he took part in the lesson I'll let him tell you himself what he thought:
Cost
A half an hour lesson costs £31.99 and an hour costs £59.95 so I'm not going to pretend that it's cheap, but I will say that it's worth it if you want to invest in your child's driving education.  The lesson we had was well structured, the staff were experienced, the venue was suitable and it was a completely safe environment.  I will be booking more lessons for Teen in the months leading up to December so he can learn more about handling a car before he gets on the road.
Recommendation
You've already heard Teen say he'd recommend it to his friends, and I would have no problem recommending it to their parents.  When we were there there were young people who had had their lesson bought as a treat for doing well in their school report so it worked well as a one off experience or as regular sessions.
By attending sessions like this young people have the opportunity to learn how a car works so when they get on the road for real they can concentrate on the skill of driving itself.  Supporting this with the Parent Pack will also give them a sound knowledge of the Highway Code and the theory of driving.
We were provided with the lesson and in exchange for writing this review, but I will definitely be booking lessons direct to get Teen ready for the road and I have no regrets at all about providing this review.
If your interested in finding out more and booking a lesson head over to the Young Drivers webpage .
Further Reading
"I am a member of the Mumsnet Bloggers Network Research Panel, a group of parent bloggers who have volunteered to review products, services, events and brands for Mumsnet. I have not paid for the product or to attend an event. I have editorial control and retain full editorial integrity"