Babies aren't always the most exciting of things, and some days, dare I say it, they can be down right boring.  It's important to have a few tricks up your sleeve to get you through the cycle of feeding and nappies, as all too quickly you can find yourself isolated, lonely and just not enjoying it.
Firstly, get yourself signed up with Netmums and Mumsnet.  They are great resources for Mums whether your an old hat at it or a first timer.  Here you'll find lists of local baby groups in your area, and it makes such a difference meeting up with other Mums.
Then, sign up with your local council's what's on page.  They will regularly run local free events that might be suitable for you to go along to, but will also have information about swimming and other sessions in your area.
But what do you do on rainy days, when your stuck in the house, just you and baby.  How do you get the most out of the time you spend together.  I've put together a list of simple activities that will help you enjoy your baby, encourage their development and you can keep in your parent toolkit for those days when your stuck in the house waiting for the chap to come and fix the boiler.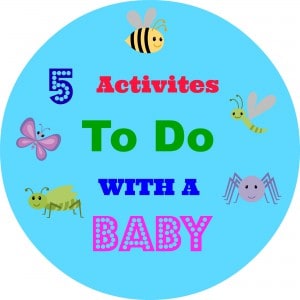 1. Silly Faces
Sit with your baby facing you so she can see your face clearly.  Make different faces and sounds, especially big smiles.  Make them exaggerated and slow so baby has chance to focus on you and copy.  It will really help bring along her smiles and cooing no end.
2. Black and White Plates
Babies love contrasting colours, and anything that resembles a face.  Use paper plates and a black marker to decorate plates with simple faces and patterns.  Sit them in a chair and hold the plates in front of them.  Moving them slowly from side to side encourages babies to focus and the patterns will help them recognise simple shapes.
3. Peep-Bo
This is a great game to get baby chuckling.  Use a blanket and hide behind it, then 'pop' out.  This game never gets old with babies of all ages.
4. Mirrors
Babies really enjoy looking at them selves in the mirror, it helps them develop a sense of self awareness.  Spend some time with baby, looking in different mirrors or anything reflective like spoons etc.  She'll start to reach for the items which really helps with those motor skills.
5. Signing
I'm a huge advocate for baby signing, almost as much as I am for breastfeeding.  It's a great addition to the parent tool kit and can save a whole heap of frustration for Mum, Dad, Baby and any Brother's and Sisters who know how to do it to.  It can make reading a book or singing a rhyme a bit more interesting and it will massively help you babies communication.
I hope you found this list useful.  What games and activities do you and your baby enjoy?