So little Pudding is now 3 months old!  I can hardly believe it, time is going so fast.  We've had a name change this month from Tinkerbell to Pudding.  Her big sister is called Princess, which completely suits her as she is a little Diva.  I chose Tinkerbell to fit with Princess, but it's becoming apparent that she has a completely different personality so from here on in it will be little Pudding.
So how's she getting along?  I'm so pleased with her progress so far.  She's happy, healthy and very very smiley.  What more could a Mum ask for.  I'll have a stab at breaking it down for you.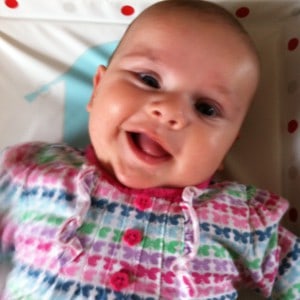 Feeding  We are still exclusively breastfeeding and it's going so well.  Pudding is thriving and we have definitely reached that sweet spot where it's no effort at all.  Holding her is so much easier now she is bigger, not anything like handling a delicate newborn.  She's got a great latch and is feeding for about 20 minutes at a time 7/8 times a day.  She's doing great, it's taken some effort but we have cracked it, for now anyway.
Weight  I have to confess I've still not actually had her weighed since her health visitor check.  We nearly managed last week but it was after baby massage class and she was so relaxed and sleepy it seemed cruel to drop her in those freezing cold weighing scales.  She's clearly growing and I have no concerns about her weight, but hopefully we will get her on the scales this week.
I thought it might be helpful to share the World Health Organisation's – WHO guidelines on how often it is recommended a baby is weighed when there are no concerns, as you can do it too much.  Obviously I'm not in that category at the moment but this makes me feel a little better.
No more than once a month up to the age of 6 months
Once every 2 months for 6 months to 1 year old
Once every 3 months over the age of 1, however most children will not need to be weighed as regularly as this.
Concerns Really none this month, apart from how quickly she is growing.  If she could slow down a bit I'd be really grateful.  My maternity leave will be gone in a blink of an eye at this rate.
Development We have seen a lot of changes this month.  She is gripping things like her rattle and the toys on the baby gym.  When she gets hold of her parrot boy doesn't he know it, she WILL NOT let go!  Her hands are a complete wonder to her at the moment and she's enjoying exploring what she can do with them.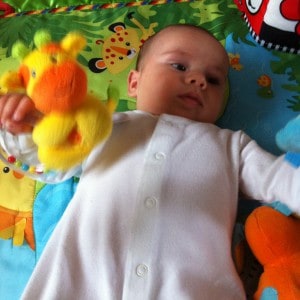 She's really trying to roll, but still not quite there.  There really is no rush.  She can pivot a whole 360 round the baby gym, and get herself onto her side with no effort at all.  As I'm typing this post she's almost done it, but can't quite get her arm out of the way!  She loves making noises and copying us.  We are always playing silly faces and she loves trying to make sounds.  She's going to be a real talker!
Sleeping I would call Pudding a good sleeper, even though she isn't sleeping through the night.  I do find it interesting that everyone asks if she's sleeping through when it's something rare for her age, especially being breastfeed.
She goes of to sleep anytime from 8pm onwards.  If she hasn't woken up by 11pm I dream feed her.  She wakes up again between 3am and 4am for a feed.  She'll generally feed from one side, then go back of to sleep and wake again for the other side about 6am.  I probably could get her to have both sides at 4 am, but we are happy with this little routine so far.  If it ain't broke, why fix it, hey?
Firsts  We have been doing baby massage this month which she has really enjoyed.  She loves being touched and the face to face interaction.  She is possibly the only baby in the room who likes to look at me the entire time, where the rest seem to look everywhere else but at Mum.  It's a lovely activity to do with your baby, and does help them sleep and can help with trapped wind and poo too.  We've found that after the tummy massage we get some very explosive nappies!
She's also had her first holiday.  We travelled up to Scotland by car with Teen and Princess for the bank holiday.  It took a long time due to having to stop every 90 minutes to give her a break from the car seat and feeds etc, but it was worth it.  Mummy needed a change of scene and we loved seeing Granny.  More on our Scotland trip later this week though.
We also have our first cold.  She's very bunged up at the moment.  It's time to get the snuffle babe rub on her chest and we've also been using some saline drops which is helping to shift some of the snot.  Princess has bought it home from nursery, but it had to happen sooner or later.  It will help her immune system along I guess.
How's Mum Doing?  Last week on Twitter I posted about my post-partum hair loss.  For the last few weeks it has been falling out all over the place.  It's inevitable being on my third child.   I'm taking vitamins regularly now to try and help.  I wash it as little as possible, but find that when I do it comes out in handfuls.  It's going to be pretty thin, but I have been recommended a product to try to slow it down.  Must find out what it was though and will report back.
Apart from this, I'm doing well.  I have found that I can become emotional again, but I think this is down to breastfeeding.  It's pretty intermittent and on the whole my mood is good so I'm not to worried.  I think it will settle down.
So this is the end of the forth trimester.  From here on in she will become more independent and her personality will begin to shine through more and more as she develops.  It's sad to see the back of the complete dependence they have, but amazing to see the journey of discovery they are on too.  Did you enjoy your fourth trimester?