We've been trying some new things this weekend and our first stop was a Sensory Play Centre called 'Look Inside'.  Unfortunately I didn't feel I could take photo's of this but here's a link to their gallery so you can have a quick look at what's on offer.
I find that weekends can be a blessing and a curse all at the same time.  We have a busy house and people start getting under each other's feet very quicky.  Getting out is the best way to diffuse what can fast become a stressful situation.
Look Inside was a lovely relaxing play environment that both Princess and little Pudding could enjoy together with play doh, arts and crafts, sensory lights, ball pits, musical instruments, relaxing music and some comfy seating for the grown ups. We all came away feeling really quite chilled.  We will definitely be back as the weather gets colder and it makes a nice alternative to the church of soft play (our soft play really is in a church!).
Our next stop was a nearby park for Princess to eat her picnic lunch and get some fresh air before heading home.  It all had the desired effect…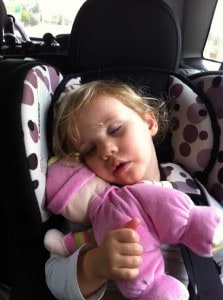 Inspired by the morning's Sensory Play session, I decided to buy some shaving foam for Princess to explore with.  When we got home I realised I'd bought shaving gel, much to my husband's amusement.  Never one to be defeated I put said shaving gel in the blender and whipped it up!  Voilà, we had foam and a great deal of mess on the decking when Daddy got involved.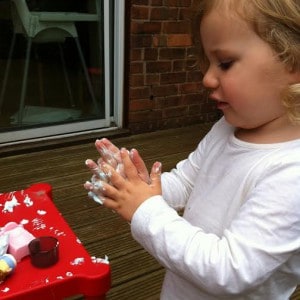 Princess also enjoys bubbles, and lots of them, so of course they made an appearance too.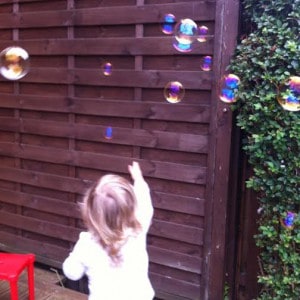 We had been looking forward to a visit to the theatre all week, well Mummy had anyway.  I really enjoy the theatre and I hope it's something my girls will come to share with me as they grow up. We had spotted that the Djanogly Theatre had productions regularly aimed at children and families and bought tickets to see The Magic Porridge Pot & Other Tasty Tales for Sunday.
Our performance was at 1pm, so we arrived early so we could have a picnic and Princess could play on the park before we went in.  Sorry, no pictures of this either as I was stuck on a bench feeding little Pudding.
We really enjoyed the performance, and I was amazed at just how much Princess was engaged with the stories.  It was only 55 minutes long, and cost £7 per ticket, so just perfect for little ones.  It was a one man show of 3 stories, with puppets to provide the animation.  Princess took a closer look at some of the characters before we left, the dog was definitely her favourite…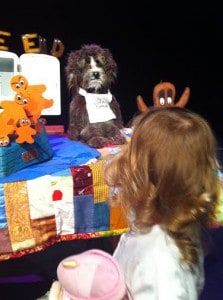 We decided it had been such a success that we'd buy the tickets to the next month's performance of Emily Brown and The Thing.  I think it's nice to have things to look forward to as the weather becomes less cheery. This production has been created by the same people who did the Gruffalo stage show and is based on a book by Cressida Cowel, author of 'How To Train Your Dragon' so I'm sure we're in for a real treat!
We have had such a busy weekend, partly down to the very fortunate weather we've been blessed with.  We've still been able to get out in the fresh air but we've found some lovely things to do when it gets a bit more gloomy.  What kind of weekend did you have?
I'm linking up with The Ordinary Moments for the first time, as well as some of my old favourites that I really need to make more time for!