I have always been a fan of Ella's Kitchen, since way before my blogging days.  I used their range regularly with little Princess.  It soon became a brand I relied on and trusted when it came to weaning and snacking for my little one.  I found their products complimented my home cooking really well and helped to add variety and sometimes convenience to the oh so difficult world of child eating.
I was pretty excited when I found out Ella's Kitchen had introduced a new range of snacks for age 12 months + (see what parenting does to you!) and we were going to be sent a box of treats to try out our selves.  With Princess (toddler) being at home more while I'm on maternity leave I really needed to think about some more varied snack options for her, so it came at the perfect time.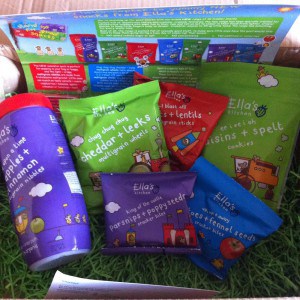 Princess and I loved the cute packaging.  We also found it caught the eye of other toddlers after a busy session at gymnastics too!  It's definitely designed to get your little one interested in the 'no nasties' snacks.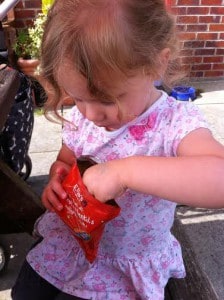 The packets are the perfect size for little hands as you can see!  Princess really enjoyed munching her way through the range, but she definitely had her favourites.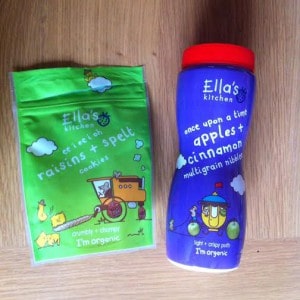 The raisins and spelt cookies and the apples and cinnamon nibbles were clear winners. I suspect this is because she enjoys snacking on fruit so these really appealed to her.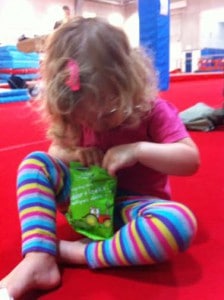 Her least favourite were the cheddar and leeks multigrain wheels, but we soon found a little person who did like them!  He was happy to finish the packet for Princess when she was done, so Princess was just exercising some 'fussy' tendancies here.
We love that Ella's Kitchen contain NO added refined sugar or salt, NO concentrates and NO additives or colourings and are super tasty too!  Mummy particularly liked the cracker bites!  These come in some great flavours, parsnip and poppy seed and tomatoes and fennel.
Ella's Kitchen are asking toddlers to shout about what they love about their snacks. They recently took over Hyde Park's Speakers Corner so toddlers could #StandUpForGoodSnacks.  It sounded like a fantastic event and you can see more on Ella's Kitchen youtube channel.
There's lots of fun stuff going on over at Ella's Kitchen so do pop over to their website and get your toddler shouting about their favourite snacks from the new range!
We were provided with a selection of samples from the Ella's Kitchen range in exchange for this review but all words are my own.