This month's update is a little bit late.  Little Pudding was 4 month's old on the 29th September.  The first three month's flew by, but something has definitely changed this month.  Things seemed to have slowed down, maybe it's because we are used to the routine or maybe it's the change in season's.
Now it's getting a bit colder and darker, getting out and about isn't quite so uplifting. That sense of making the most of the summer has definitely left us even though we really haven't had a bad September.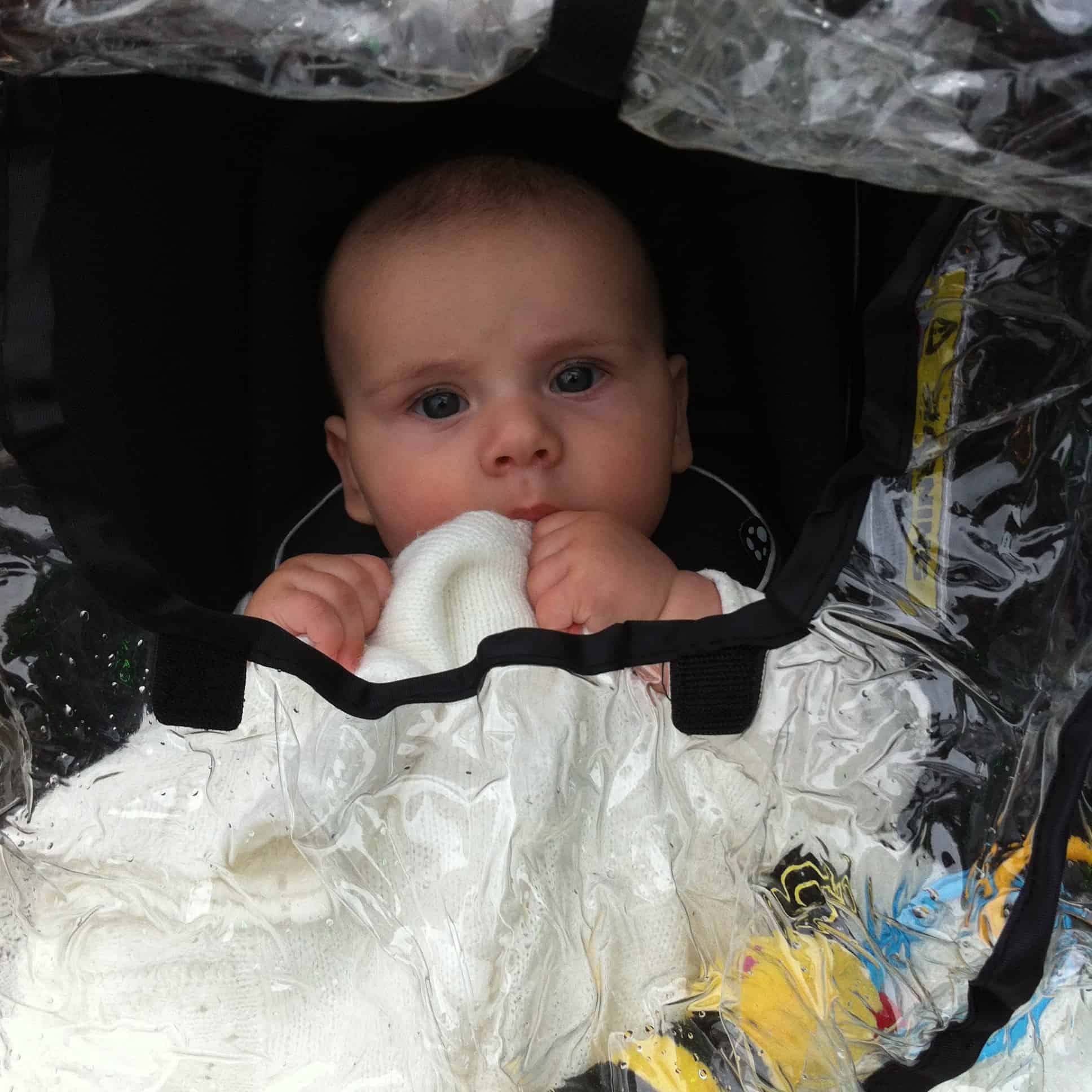 So how are we getting on this month?  I'll do the usual run down for you and let you know how we are both doing.
Feeding:  We are still exclusively breastfeeding.  This is going really well.  I don't express as I struggle with it, but I really don't mind that it all falls to me.  I won't get this time back.  She is starting to look at food with interest and she sits up very straight, but unless she literally grabs a piece of chicken of my plate she will only have breast milk up until she is 6 months old.
Weight:  Shall we skip this bit, I've still not had her weighed.  At baby group Mum's are constantly swapping weight and percentile details and I just keep quiet in the corner. Little Pudding looks at the other babies like, 'I don't get weighed, my Mummy blogs!'. She's growing and she's healthy so I don't feel the need to drag ourselves down to baby clinic so she can pee on the scales.  If you want to know the WHO guidelines on how often to weigh your baby, I wrote about it here.
Concerns:  Teething has definitely started.  She is dribbling a lot and sucks her bottom lip in.  When it seems to really bother her we give her some calpol and have been using Nelson's Teething Granules to sooth them.  The health visitor suggested they stick to the gums better, and they do seem to help her.
Development:  We have seen a lot of change from last month.  She was just figuring out how to roll in my last update, but now she has mastered like a ninja.  As with most things with this parenting lark, it's a blessing and a curse.  When she gets there, she doesn't like it or is sick because she's got a full stomach.  It's made play mat time less of a 'break' time for Mummy.
She is getting things to her mouth with real confidence.  She has a few toys that Little Princess has agreed to part with that she enjoys chewing on.  To be fair, Princess was never that fussed with them, so I'm glad Little Pudding is getting some use out of them. Here she is with her Bright Star's Elephant with handy rubber feet that she likes to play with.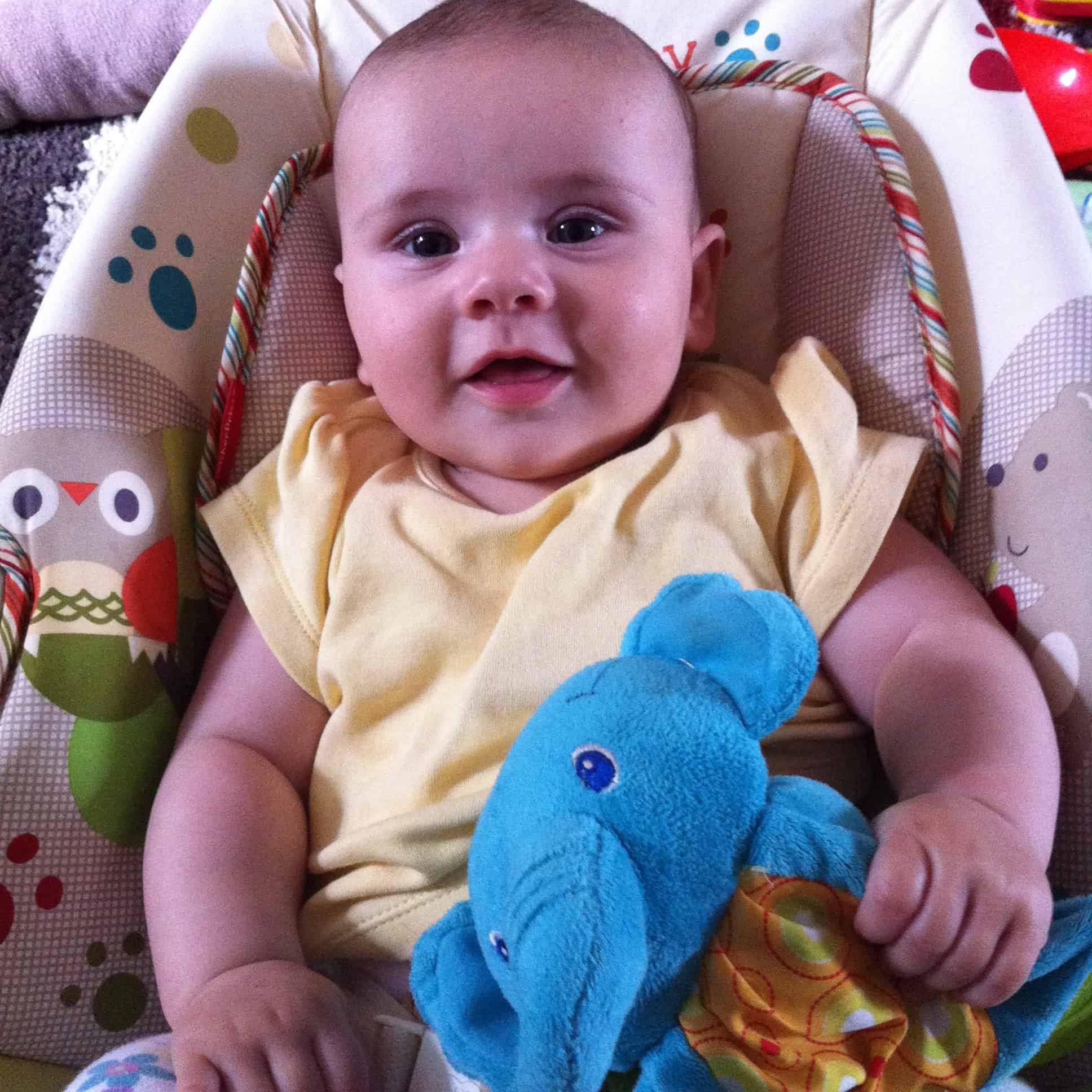 Sleeping:  She's still doing OK with this.  There has been the very odd disturbed night because of her teeth, but nothing major.  On the whole it's still bed around 8pm, dream feed around 11pm, a wake at about 3am then up at 8ish.
I think if Princess went to bed a bit earlier, so would little Pudding.  As the nights draw in I'm sure we'll see a change in bedtimes.
Firsts:  This month she has her first trip to the theatre with her big sister to see a collection of children's stories.  Just as well it went OK, as we are going twice this month.
It was Goose Fair this weekend, so we went for our traditional stroll round the rides, decided they were too expensive then left again.  It was pretty wet, but the die hard fair goers were out in force!
We have had some lovely meet ups, including afternoon tea at Colwick Hall and a breakfast date with Aunty at the Harvester.  Different kinds of experiences but both very enjoyable.
How's Mum Doing:  I think the rate at which my hair is falling out is slowing down.  It needs to as the receding has to stop!  Then the fluffy tufts will take over no doubt!  My Teen is always announcing he has hair in his dinner, it makes up for him not eating red meat is what I say!
My body is still recovering, I still have pelvic pain if I lift to much or push the pram to much.  My knee went the other day like something slipped in it, but it seemed to right itself in the end.  I hope it doesn't happen again.
Emotionally, I'm having a few up's and down's at the minute.  I don't think hormones help, but I don't think that's the root cause either.  Worries about the future are a huge part and I hope they get resolved sooner rather than later so I can get on with the rest of my maternity leave.