When HUGGIES® challenged us to get our little ones swimming this winter, I really wasn't sure how it would go.  If you read my last post you'll already know that I can't swim which makes motivation a little difficult.  I'm desperate not to pass on my fear of water to my children, and I have managed to make one confident swimmer, so getting two more shouldn't be so hard should it.
Our first swim went so much better than I expected, and I think the thing that made it the success it was was going as a family.  Little Princess was able to enjoy the activity with her Daddy, her Mummy and her baby sister.  It was lovely that we could really enjoy it as a family.
Learning our lessons from last time I streamlined the bags we took with us and knew exactly what the best arrangements were for changing and had the right money for the lockers.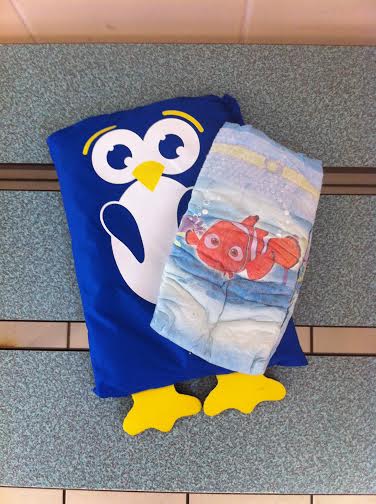 Little Princess had been looking forward to going all week.  We go to a gymnastics class in the week and to get to the hall we have to walk along the poolside.  Princess proclaimed she wanted to go swimming again with Daddy, so we had to harness this new found enthusiasm of hers.  To hear her be so enthusiastic after just one trip was amazing. It made the decision to go again so much easier.
She just wanted to play and splash, but what better way to build her confidence up by just having a bit of fun with her family.  Her little baby sister was so relaxed in the water again, she didn't bat an eyelid, even when Princess splashed her in the face.  That's good water confidence training in itself!
I take care of little Pudding while Daddy chases Princess round the pool.  It's really easy to encourage a baby to float on her back, and it can be useful to just say 'kick, kick, kick'. The idea of this is that if they ever were, heaven forbid, in trouble in the water if you shouted this out to them it would remind them to use their legs to stay afloat until someone could get to them.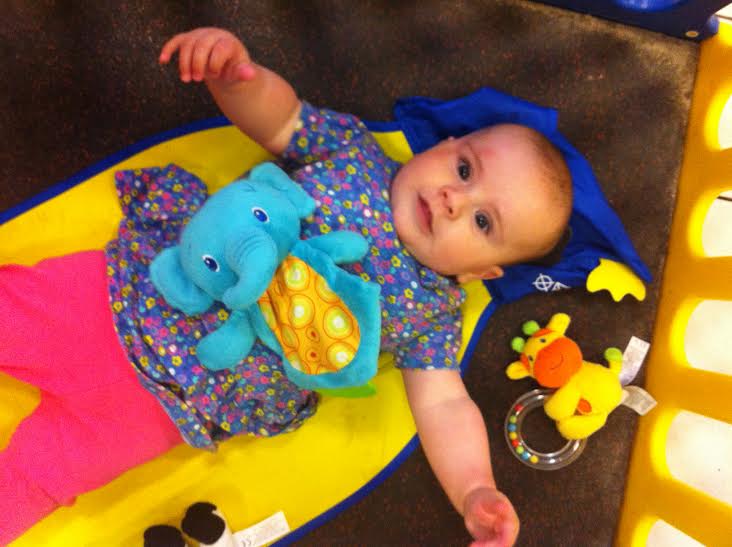 Next time I'm going to pack up some small bath toys to float in the water to encourage them both to reach out for them.  They will have fun while getting used to using their arms in the water.  That's the idea anyway, I'll let you know how we get on 🙂
The other great thing about swimming with children of all ages is it really wears them out. Even just the resistance of moving through the water and splashing about will tire out any toddler or baby.  You will be guaranteed to get an extra long nap out of them or a very good night's sleep, which all parents deserve every now and again don't they 😉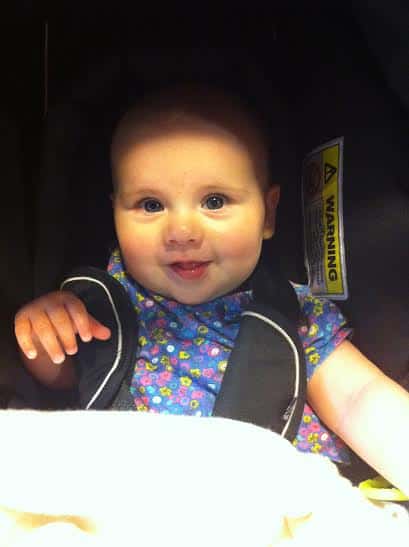 If you've been putting off going swimming, here's some tips to help you out from HUGGIES®
Take the brrrrrr out of baby swimming with these essential tips from HUGGIES® Little Swimmers®
 Just because you are now wrapping up warm and back in a routine it shouldn't signal the end of swim time for you and your baby.
We are encouraging parents to keep up the routine and enjoy swimming all year round.
HUGGIES has teamed up with celebrity baby swimming teacher Katie Matthews to discuss why swimming through the winter months is a good activity and most importantly how to stay motivated when there is a chill in the air.
'For many, summer seems the perfect time to go swimming but in fact swimming is important all 12 months of the year. Reducing baby's fear factor of the water and giving them the skills to be strong little swimmers takes time and consistency….so keeping going in all seasons can really make a difference.'
Swim kit essentials:
Avoid little accidents in the pool with good swimming pants such as HUGGIES® Little Swimmers® the only swim pant with easy open sides
Try and feed your little one 1-2 hours before the lesson: if they are fed any sooner a baby is likely to vomit in the water
Following the lesson, it is quite likely that your baby will be hungry so have some milk/food at the ready
Layers –  light layers for you and baby will make all the difference for the journey home
Taking an extra towel to put your baby on to change can be a faff,  Little Swimmers®  has a Hygiene Mat which means you can use and roll up after use
 Motivating yourself to go…
Let's be honest if you or your partner aren't motivated to get to the pool in the first place swimming is going to fall down the list of priorities.
Make life easier – have a kit bag packed and ready to go and   if you have room have it  by the door
Slot it in on your calendar – seeing a weekly reminder really does help and after a while it becomes second nature
Go with a friend – if the fear of letting a friend down helps you get to the pool use it!
Plan your day around your swimming lesson so that other things don't become more important
There is still time to enter the competition to win a years supply HUGGIES® Little Swimmers® swim pants and the cute Hygiene Mat here 
We have been supplied with Huggies Products in return for these posts.