Wow, five month's old already!  This is one of my favourite stages of the baby days. When they are all cute and squishy, full of smiles and giggles, but haven't realised yet that Mummy could leave them, if only just to nip to the loo or something.  When that reality hits her and she starts to notice my (short) absences then we are likely to face some more interesting challenges, me thinks.
It's been a busy month for Little Pudding, and this one seems to have flown by once again, but in a good way.  We went to our first and only blog camp together as next time she will probably be too big and active.  I loved having her with me so she could meet all the lovely bloggers who have been reading about her.  This picture was taken by the lovely Joy from Pink Oddy and I think sums up just how calm she was throughout the whole day.  It's such a lovely picture Joy, thanks so much for letting me share it for this post.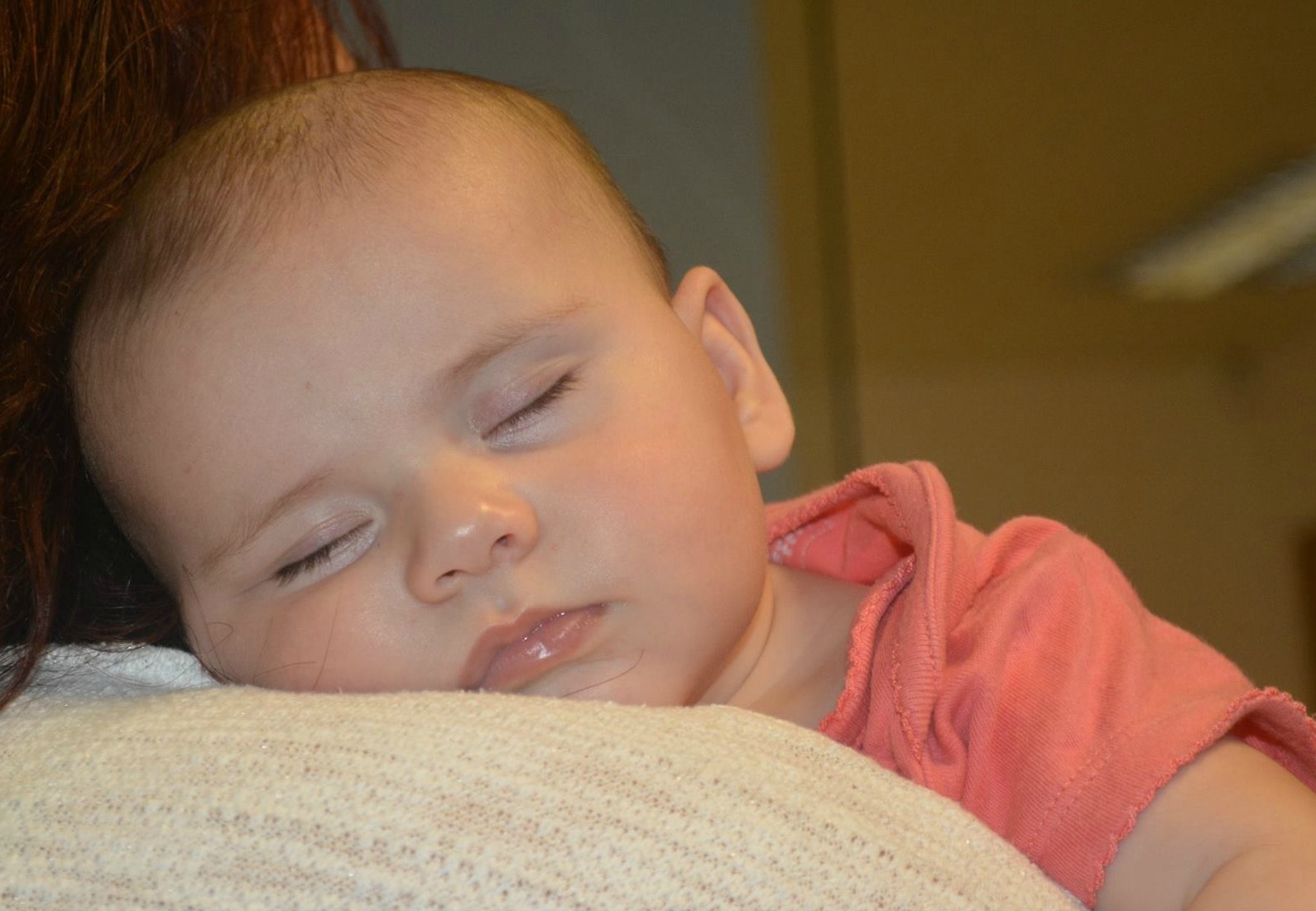 Little Pudding also met her first love at blog camp.  She only had eyes for Hannah's Toby from Budding Smiles and she is very much looking forward to meeting up with him this week for their playdate!  I'm also looking forward to coffee and chat with Hannah 🙂
Feeding:  I'm so proud to say we are still exclusively breastfeeding.  It works so well for her, me and the rest of the family.  She feeds every couple of hours in the day, and usually every 4 at night. We had a few nights where she was up what felt like every hour.  It would have been easy to assume this was because she wasn't being sustained by milk alone, but I think it's more likely to have been caused by teething and having a developmental growth spurt or wonder week, as her sleep has settled back down again now.
Weight:  It's no secret I have been rubbish at getting her weighed.  I'm still rubbish.  She is growing.  We have had to bring the 6-9 month clothes down from the loft.  She is really healthy, so I'm hoping the health visitor won't be knocking any time soon to say, 'why haven't you been at baby clinic?'.  I'll just have to say I've been a bit busy with my blog 😉
Concerns:  Last month there was a lot of dribbling, which I thought would last forever. She actually cut her first tooth Mid October, which really surprised me.  The second one is working it's way through too.
Development:  She has rolled from front to back a few times now, but not as often as I would like!  Mostly she gets on her front and gets cross until Mummy sorts her out.  She is making some crawling motions with her legs too.  She will be on the move soon, but I am certainly in no rush.  She is desperate to sit up, but can't quite manage it by herself just yet.
She is very vocal now, and makes lots of very strange noises as she practises with her vocal cords.  It can sound like a  stray cats chorus at some points but it's also very cute.
She recognises her family more and more and reaches out for cuddles especially with her big sister which is just adorable.
She is also discovering various body parts.  Her delight at having feet to play with is such a source of entertainment for her. Her hands are still a complete wonder and she often palms her face with them trying to figure out what they are for.  She also discovered her tongue a few days ago, and poking it out was a whole new experience.  Just look at the size of it!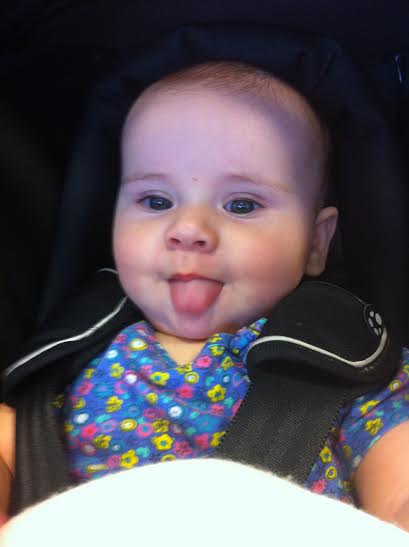 First:  So many this month!  We have been challenged by Huggies to take our family swimming for a winter activity.  This is going so well.  Princess is so relaxed in the water and we love going as a family, find out more here and here.
She went to her first blogging event in Nottingham which her Mummy helped to coordinate with the lovely people at Cineworld.  She enjoyed being pushed around the Sea Life Centre taking in all the fishes.  There was quite a lot for her to see from her pram, she definitely enjoyed it.  She has also been enjoying the theatre with us too.  We went to see Peppa Pig's Big Splash Tour and Emily Brown and The Thing too.  She seems to love watching the stage, and the beauty of taking a babe in arms is that they are often free!
How's Mum Doing:  I have had an emotional spell this month.  A bit of crying and frustration but it seems to have passed, for the minute any way.  It comes in waves so even though I feel fine at the minute, I can't be sure that it won't come back.  I'll just have to see I guess.  I'm glad I'm feeling a little bit more positive at the minute though.
When I look at this little face I know it's all worth it though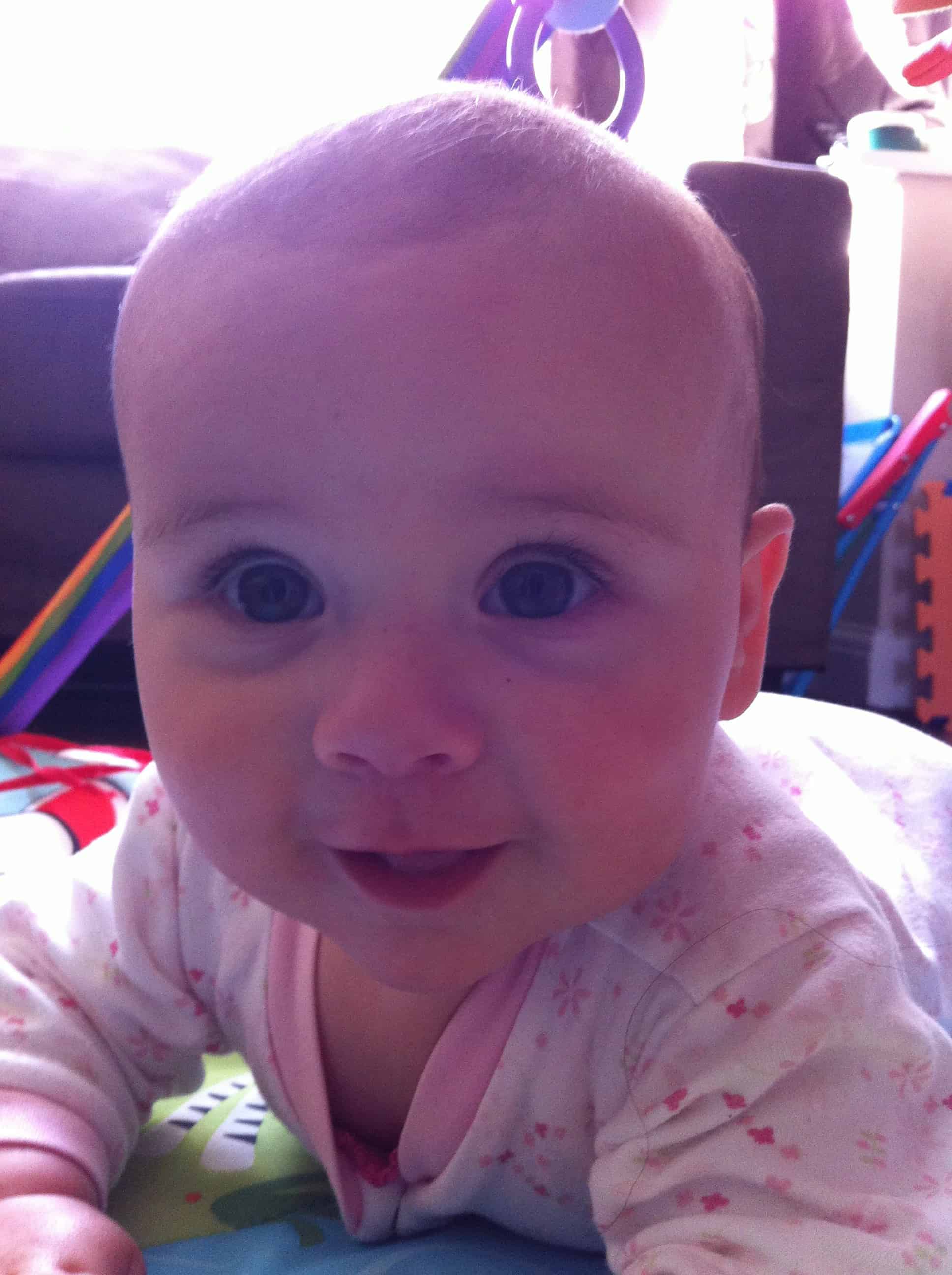 If you have a little baby, how are they getting on?  How do you record your child's milestones?