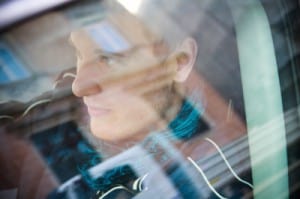 The countdown is most definitely on. My son is going to be 17 in less than 3 weeks. His provisional licence has arrived and his first on the road lesson is booked. He's all set to become a young driver and it's safe to say I am very nervous about the whole thing.
Driving now is second nature to me, I don't need to think about which gear to get in or which peddle to press. I remember all to well what it was like when I had to worry about the mechanics of driving a car AND worrying about what was going on on the road around me. It all made me so nervous that it took me 5 attempts to pass my test.
I found the thought of sitting next to the examiner so terrifying that I ended up visiting the doctor to see if there was anything he could prescribe me to calm my nerves. He did and I was finally able to pass my test with flying colours, but it certainly wasn't a cheap exercise!
One thing that is going to take us a while to find is the best insurance policy for him. We have looked at companies from Highway Insurance to One Sure Insurance, but it was only after going into our local insurance branch that we finally got the information we needed to set up a policy and now he is ready to go. It was not an easy task. Our friends had advised us that obtaining insurance is a time-consuming effort, but one that is well worth it if you take your time choosing one. We had to keep reading through a lot of paperwork before picking one that met our budget and was the best for him.
I hope my son's journey into driving on the road is a more successful one than mine as costs can soon mount up. He's been to driver awareness sessions that brought it home to him just how expensive running a car can be when you consider MOT, Tax and car insurance. Is there such thing as a cheap insurance quote for a 17 year old?
Of course, all you have to do is look at blogs about the best auto insurance in California (or any other state you live in) to find a slew of companies lined up with their best offerings in terms of customer service and claims processing.
I've got everything crossed that he takes his new responsibility seriously and becomes a safe and sensible driver. I know he's been looking at websites like https://www.ohiovalleypilawyers.com/distracted-driving-awareness/ to get more knowledge about driving which makes me feel a little better. Driving is a skill you can soon take for granted, but learning about road conditions and and being aware of other road users takes a lot of practise. I'm still wondering when the right time will be to take him out for practise lessons myself. Knowing what a terrible back seat driver I am the answer to that is probably never!
This is a collaborative post.
Image courtesy of graur razvan ionut and http://www.freedigitalphotos.net/