This year Christmas has presented me with a real dilemma for baby.  Having got 2 girls under 3, they have all the toys they need.  We have no room for anymore toys, as we are already drowning in stuff for a baby and a toddler.  We haven't been able to clear anything out as we have known it will get used again for little Pudding in no time at all.
This is why making a treasure basket is absolutely perfect for little Pudding this year,and I know she is going to get more out of it that another shop bought toy.  
What Is A Treasure Basket?
Baby's brains are developing quickly and they are learning about the world through their sense of touch, smell, taste, sight and movement.
A treasure basket contains a range of objects that are safe and interesting for babies to play with that will help their sensory development.  Try to include as many natural objects in the basket as possible as they are already exposed to a significant amount of plastic in the toys they already have.
Items should be easy for baby sized hands to explore and cover a range of experiences, i.e. heavy, light, rough, smooth etc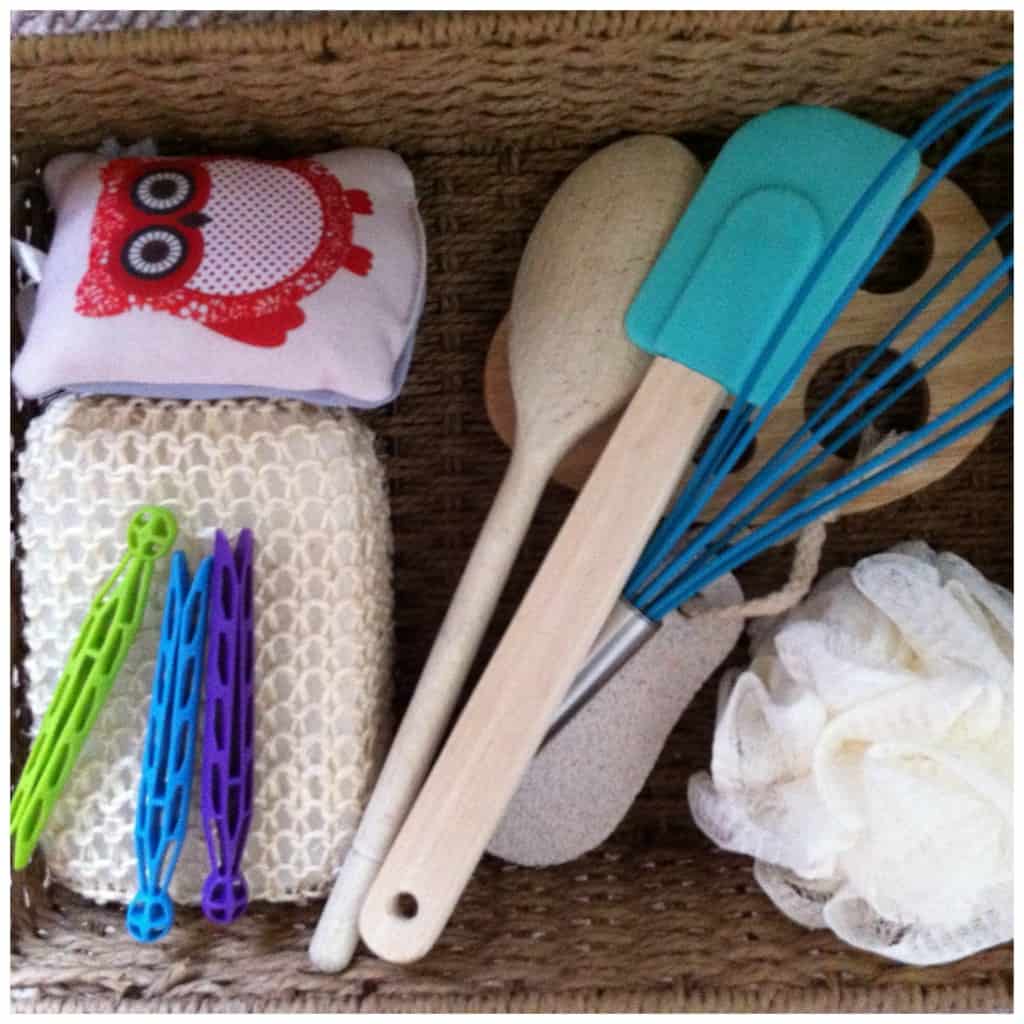 I've included items I've found around the house like egg cups, wooden spoons, a spaghetti holder and clothes pegs.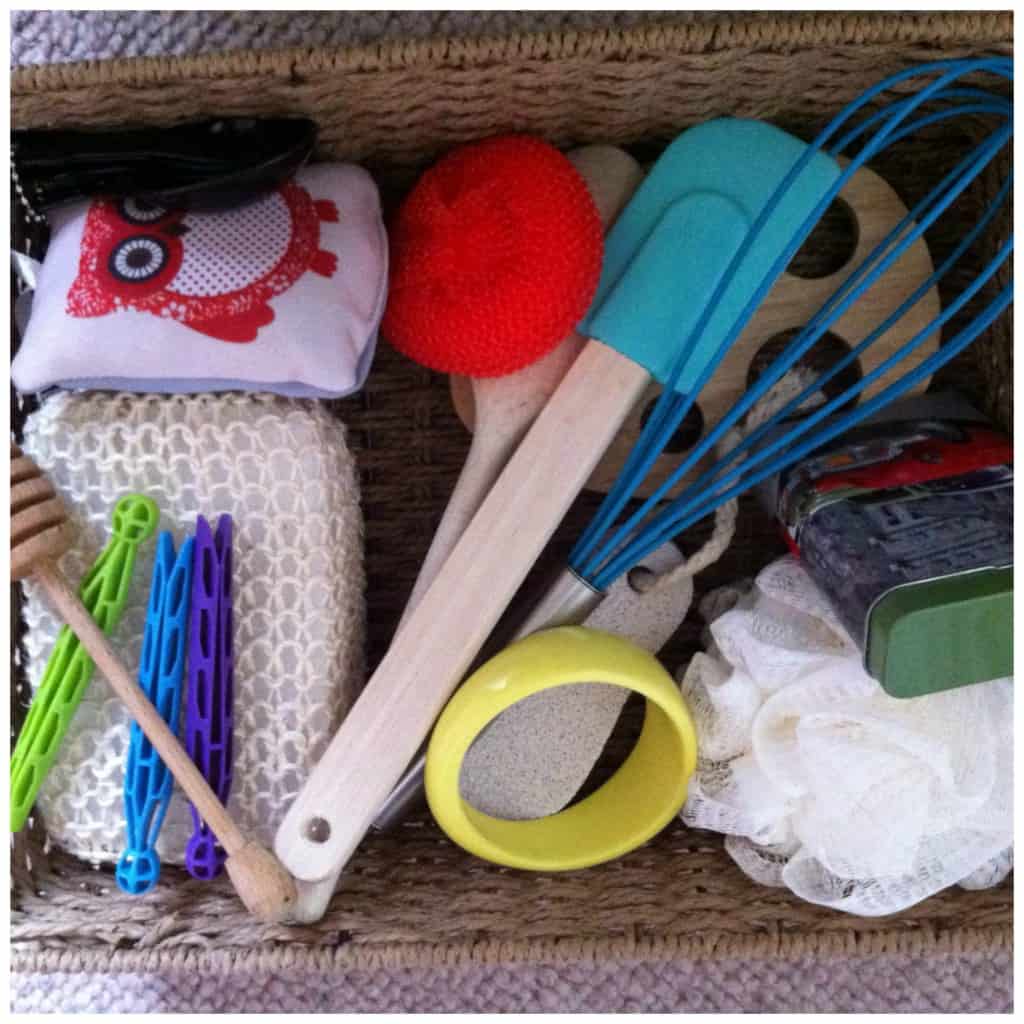 I also found quite a few objects in the local Pound Shop, local charity shops and the chemist.  The idea is that baby will rummage through the treasure basket and select what she would like to play with independently, whilst being observed by the parent or carer.
What Does A Baby Learn From A Treasure Basket?
This simple idea helps baby to develop a range of sensory skills that will help their progress.  They are able to choose what they want to play with and learn about it's texture, size, shape, weight and smell.  This exploration helps them to develop a sense of concentration.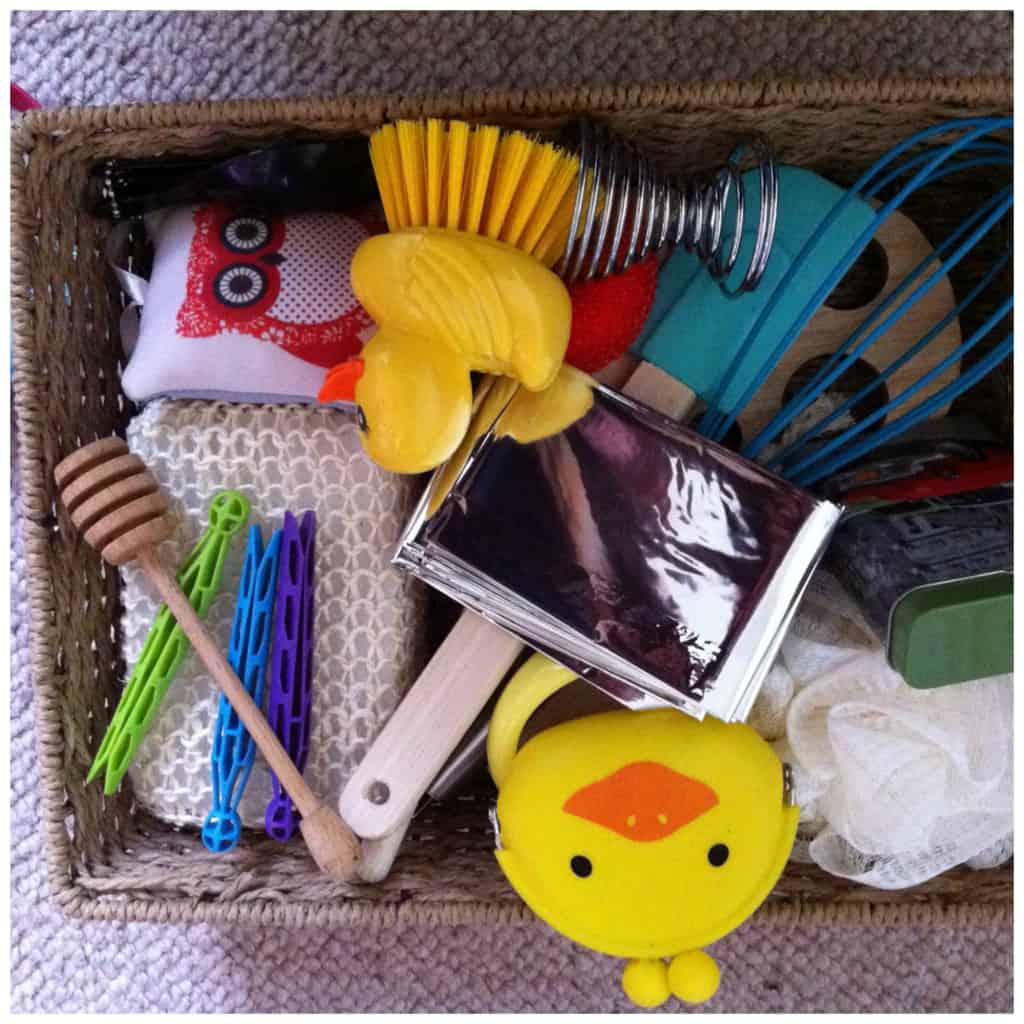 They begin to explore different uses for objects as their confidence grows.  They put objects inside other objects, and start to find alternative uses as their learning develops. All this helps with their mathematical reasoning and problem solving development.
Ideas For Including In A Treasure Basket
There are so many possibilities, and as baby grows you can change the contents to meet their developing needs.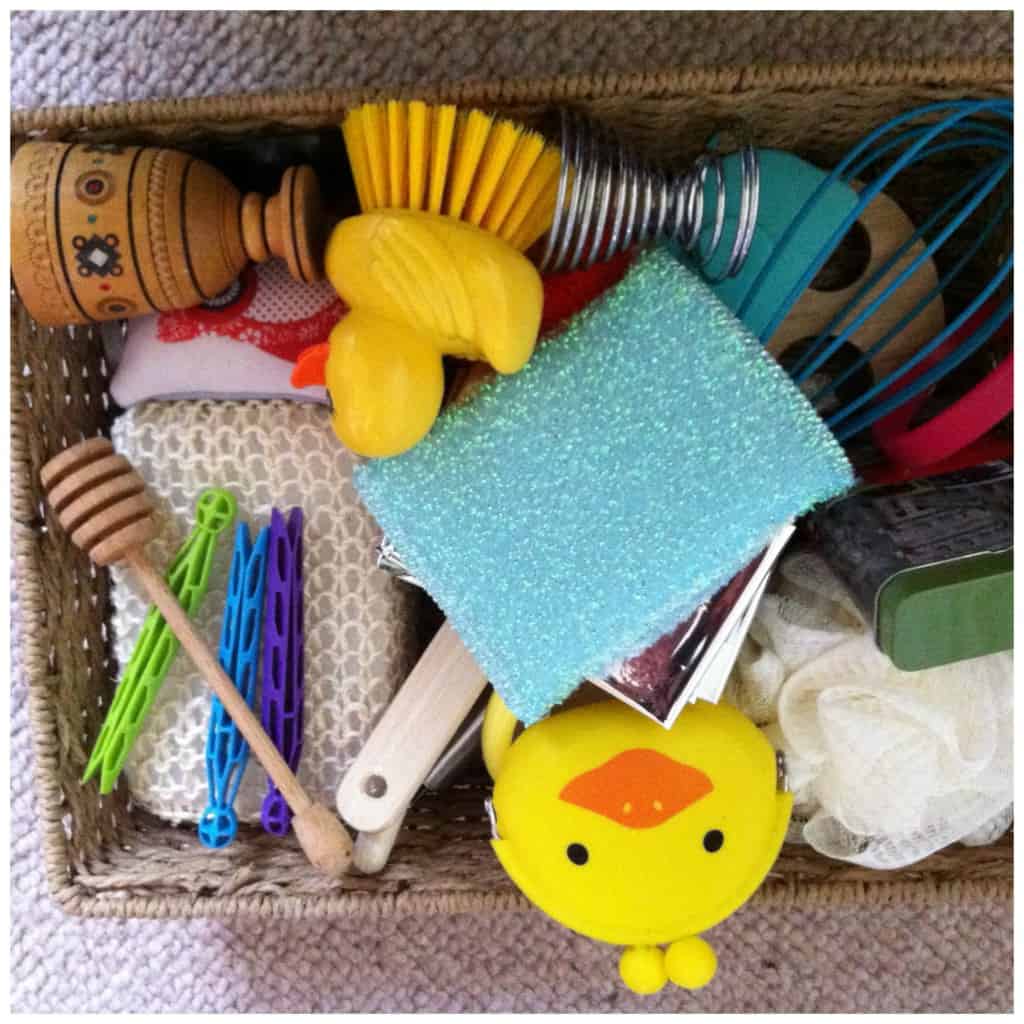 Natural Items: Shells, Pine Cones, Pebbles, Feathers, Natural Sponge, Fruit, Pumice Stone.
Wooden Items: Dolly pegs, spoons, nail brush, egg cup, bowl, castanets, curtain rings.
Metal: Spoons, egg whisk, bunch of keys, tins, egg cup, tea strainer, cup.
Textiles: Knitted square, cloth bag filled with lavender, purse, leather box/case, teddy
Paper: Cardboard tubes, notebooks, boxes, greaseproof paper.
The list really is endless, but be careful to make sure there are no small pieces or sharp edges.  It's also a good idea to check your box regularly for broken or damaged items.
A Great Gift
This would make a lovely baby shower or new baby gift.  I love that you can put it together yourself giving it a unique and handmade feel.  I would recommend adding a card with an explanation just incase they didn't know what a treasure basket was and thought you'd just given them a box or random stuff 😉