Babies can throw you all kinds of challenges when you least expect it.  The more children you have the more it throws you, as you get right on in that comfort zone of 'I've done this before', then your little one decides things are going to be very different.  This has caught me out with breastfeeding in the past and now it's weanings turn.
My son was weaned very differently to my daughters as the advice was to start much earlier back when he was a baby.  It was a messy job, but slowly and surely we got there. There were no real issues, we just worked through purees, textures and lumps as we were advised to.  He's a bit on the fussy side, especially when it comes to veggies!
I waited until 6 month's old with Princess, and she was raring to go by then.  She went from no food, to 3 meals a day in no time at all.  She was happy to try most things and she's a really good eater now with a pretty varied diet.
We have had a completely different story with Little Pudding, fraught with teething and illness.  Our weaning journey has been a rather bumpy one.  It is only now at nearly 9 months old that we are making any real progress, thanks to Cow & Gate Friends.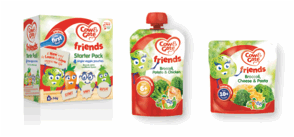 I'm absolutely blaming the winter and the string of sore throats and snotty noses that Princess brought home from nursery.  I don't think there has been one week where someone hasn't had a sniffle of some description.  I've really found that feeling under the weather has affected Little Pudding's ability to start enjoying exploring with food.
We've been trying our Cow & Gates new Friends range which is designed to get your little one to learn to love veggies.  We've started with the single flavours of peas, carrots, broccoli and cauliflower to tempt little Pudding into enjoying her vegetables.
Little Pudding has been difficult to encourage to eat so the approach of offering single flavours regularly has been a great way to encourage progress with her.  I've offered her tastes of the different vegetables every day, and at first she just turned her head, as she did with everything we offered her.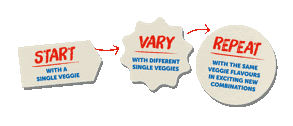 Slowly but surely she has started to come round and now she will try some peas and carrots, which for her is real progress.  By consistently offering her veggies everyday, we have managed to get her to try them and now we can start introducing different tastes with confidence.
We really like the new weaning pouches from Cow & Gate and the simple approach to encouraging little ones to enjoy their veggies.  They are simply made of vegetables and the water they are cooked in.  There's no extra's to try and sweeten their flavour so you know your baby is just getting all that veggie goodness!
We were provided with a selection of Cow & Gate Friends Pouches in exchange for this review but all views are my own.