I haven't met a Mum yet who isn't a little bit nervous about flying with a baby for the first time.  It's completely understandable when you think about it.  There's negotiating check-in, the airport lounge, take off and all whilst hoping your baby doesn't become upset and you can tend to all their needs during the trip.
I'm going to be honest though and say that travelling with a baby on a plane is a whole lot easier than flying with a toddler who doesn't want to wear his belt and wants to spend the whole time walking up and down the aisles.  Baby travel is a lot simpler because they are relatively still and contained during the flight.  Honestly, flying with a baby can be easy with a little planning so get your holiday booked and check out these tips to help get you there.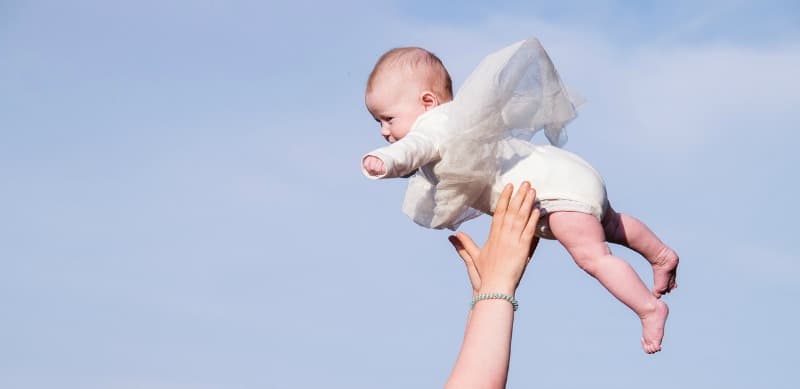 Having been flying with a baby a few times now here's some things I've learned that will make your trip a whole lot easier for all of you.  I promise you will sail through it and by the time you are on holiday with your baby you will wonder what off the fuss was about.
10 Tips for Flying with a Baby
1. Don't Worry About Other Passengers:
You are probably going to be flying to a family friendly destination so it's very likely there are going to be other people travelling with infants, or people who have had families at some time in their lives.  They won't mind if baby gets a little crabby, and if they do, well it's their problem to be honest. Don't worry about what other people think if your baby does get upset.  This will only cause you to get more stressed about the situation, which probably isn't going to help.  A calm mum or dad is much more conducive to helping calm a baby on a plane.
2. Take Their Favourite… 
Make sure you have their favourite book, toy, or comforter.  What ever it is they enjoy to play with take it.  In fact take a few toys as these will help to keep them entertained during the flight.
3. Get Your Singing Voice Out:  
Babies love a chorus of 'row, row your boat', they find it soothing and being on a plane is no different.  Cast those inhibitions aside and knock out a few nursery rhymes, no one will mind!  It's what flying with a baby is all about.
4. Pack Plenty of Food and Snacks for the Flight:  
Food can pass quite a bit of time so if your flying over a meal time, all the better.  Toast cut into bite size squares for breakfast for example or baby pouches are really convenient.  Check with your airline what you can take on the plane and what the rules are about liquids for children.
There maybe somewhere you can buy baby food in the airport lounge which you'll be able to take on the plane.  Our local airport has a Boots which has a great baby food selection and I always stoke up there.  Beware coming back though, not all airports have shops that sell handy supplies for infants like this.
5. Drinks/Things To Suck:  
What ever your baby uses for comfort or drinking, make sure they have their dummy for example or favourite cup.  Offer a drink or the dummy at take off and landing as the sucking will help with their ears. I have always found that these hardest part of flying with a baby, but they are short lived.  Once baby has been comforted, they will be their happy usual selves again.
6. Changing: 
There are baby change facilities on planes, but they are cramped on some flights.  If you can take your baby to the changing room before you board and hope they don't have a dirty one while your in the air!  If they do though, you will cope.  Just have your nappies, wipes and mat in a small bag ready to go if you need them.  I know this goes without saying, but have a change of clothes to hand also.  Keep the baby clothes simple, like baby grows or onsies.  It will be easy for you to change if there is an accident and baby will be comfortable while they are travelling.
7. Seats:  
Find out what the arrangements are for your flights regarding seats.  If you want to guarantee sitting together you may want to reserve your seats or fast track your boarding.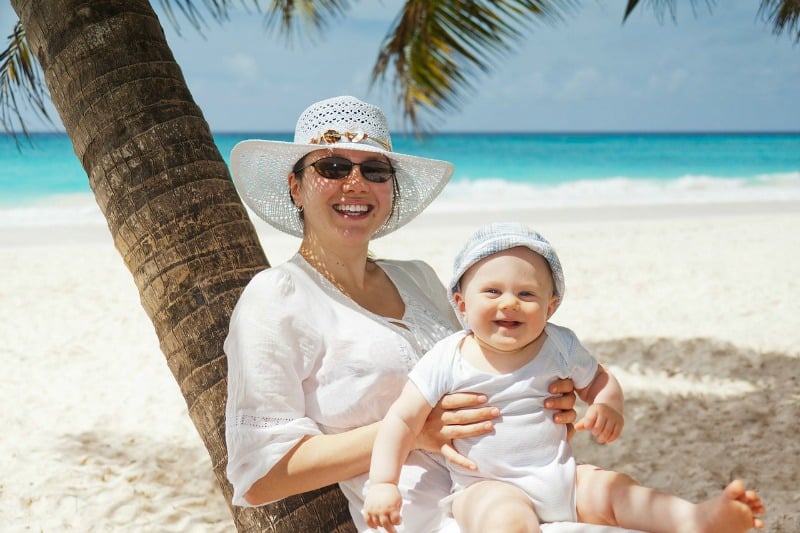 8. Buggy:  
You'll be allowed to take your buggy or stroller through right up to the steps when you are boarding the plane, which can be very handy for all the kit you need to carry with you!
9. Hand Luggage:  
Just in case something goes wrong with your luggage, make sure you've got enough food, clothes, nappies, wipes etc to manage with your baby for at least a day or until you are able to reach a shop.
10. Enjoy Your First Family Holiday!  
Your first holiday as a family is a special time, make sure you look forward to it and enjoy it.  Don't fret about flying with a baby, you'll be surprised how easy it is, it's when they get bigger the fun really starts! It's good to start traveling with a baby now though so that you get in the habit of taking flights as a family as soon as possible.
Do you have any tips for baby travel?  Let me know in the comments below.
This post contains affiliate links