We have been buying tickets to go to the Children's and Families events at the Djanogly Theatre since September last year, and everytime we go we have been buying the tickets for the next production.  Last time I was feeling a little rushed, and made a snap decision to by the family tickets to the dance production, Innocence.
The chap at the Box office explained that there were no allocated seats for the performance, and this made me really curious about what to expect.  A few days later I started to wonder whether it was going to be something my daughter enjoyed, so I fired up this youtube video to find out some more.
It looked like something my daughter would enjoy, so I decided not to cancel our tickets after all!  Aimed at children up to the age of 5, this was a gentle and inspiring introduction to the world of contemporary dance inspired by the Songs of Innocence from William Blake.
The music and singing in the main was provided by Paul, who played along side the interactive journey of dance and artistry.  The performance was intriguing, drawing in the children and their parents to become apart of the overall dance.  This really appealed to my daughter who enjoys interaction with the world around her.  She was a little shy at first, but with a little encouragement from me she was soon taking part in 'jumping from leaf to leaf', and was singing along when the dancers invited us too.
What was astounding about the piece was the ability the dancers had to control their movements amidst the little people running randomly under foot.  At no point did they stumble over a passing toddler, or their parent for that matter.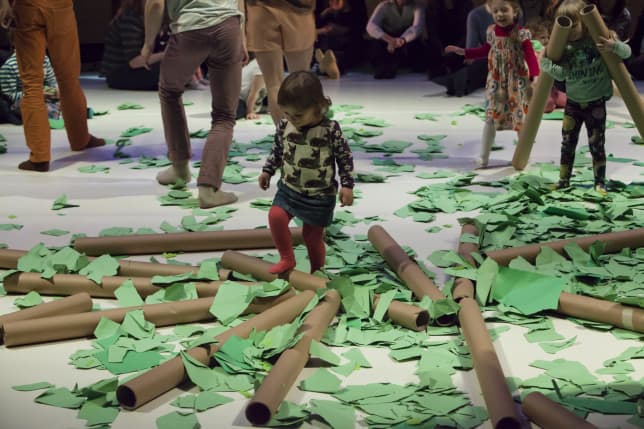 As the performance unfolded, more and more of the audience joined in the 'playroom', finishing of with creating a tree that was then theirs to play with.  All the children took full advantage of this imaginative space.
The young theatre goer's were all given a sticker as they left, and invited to make masks and leaves in an activity afterwards.  Never one to miss the opportunity to be creative, my daughter was there, colouring and cutting.  This bought a lovely dimension to the event and gave us the opportunity to talk about the parts of the performance she really enjoyed.
The performance was engaging and unique, and I particularly enjoyed watching how my daughter became apart of 'Innocence' as the story unfolded.  The dancing was exceptional and Fleur has choreographed and enchanting piece of dance theatre that brings the world of contemporary to the youngest of audiences.  I would recommend this any families who enjoy the performing arts, and are keen to share dance with their little ones.