Recently the lovely folk down at Scoff Club got in touch and asked me if I wanted to try their new subscription service.  When they said it was to have a box of tasty retro sweets sent to my door every month, I got myself signed up straight away.  From that moment on I was looking forward to what tasty treats were going to be turning up at my door.
Your specially selected box of sweets is sent out at the beginning of every month, and there are three subscription packages to choose from.  The website is great as it allows you to easily select your preferences so that you know you're going to be getting something you love.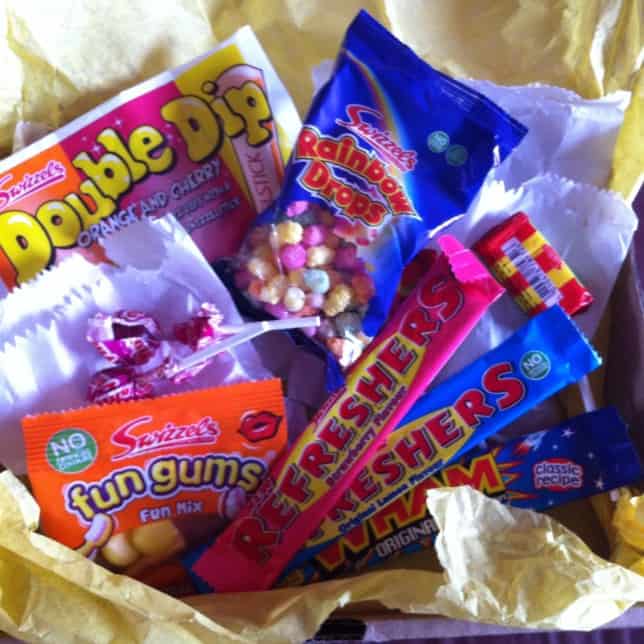 When the box arrived, I was like a kid in a sweet shop!  Sorry, I couldn't resist that awful pun.  The box was packed with a variety of tasty treats to get stuck into.  Scoff Club certainly know their retro sweets and as soon as I saw the Wham Bar I was transported to my school days, spending my pocket money in the local shop on my favourite sticky treat.
When Daddy got home, he was soon snooping through the box too.  He dug out the Flying Saucers before anyone else could get a look in.
The teenager was next to spy the cool box of sweets that had arrived.   There's no flies on that boy that's for sure.  Well, he just liked everything and preceded to work his way through the rest of the sweetie haul.  There was no doubt that Scoff Club was a winner with him! If your struggling for a present for a teenage boy any time soon, a Scoff Box subscription is definitely the way forward!
So, in short Scoff Box was a real hit in our house this month, and we're really looking forward to seeing what arrived next month.  This would make a lovely gift if you're looking for something a little different, and would be a great alternative to Easter Eggs. Their subscription service is really flexible and you'll love seeing what's going to be arriving every month.