We were lucky enough to be invited along to the launch of Brewers Fayre's new play area along with local families and bloggers at the Castlewood restaurant in near Mansfield the other week.
We were given a friendly welcome at the door, and instantly the whole family were made to feel at home.  The restaurant had a cosy feel inside, with a touch of the rustic about it giving it lots of character.  It was great that it had a large car park, there was plenty of spaces.  I like this when you're planning a meal out with the family, it really takes the hassle out of it.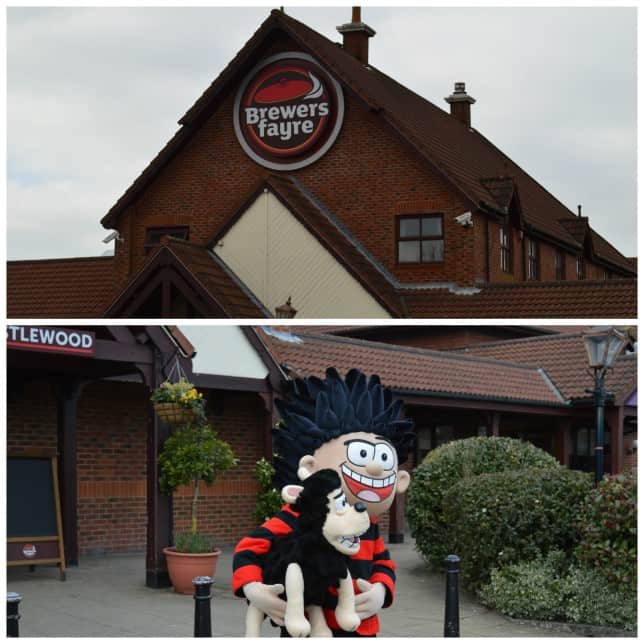 We headed through to the new Beano play area, and it was perfect for us as there was a section for small babies and toddlers, so Little Pudding had a space to play in, while Princess took to the toy cars and charging round the soft play.  They both had lots of fun.  When Princess was tired, she did some colouring.  There was face painting too, which the older kids really enjoyed.  Mine are just a bit too small to embrace it yet.
We were visited by old favourites, Dennis the Menace and Gnasher.  I have to say they were both looking very good for their age, if only I had weathered the years so well! Princess warmed to them in the end, giving Gnasher a friendly stroke over dinner.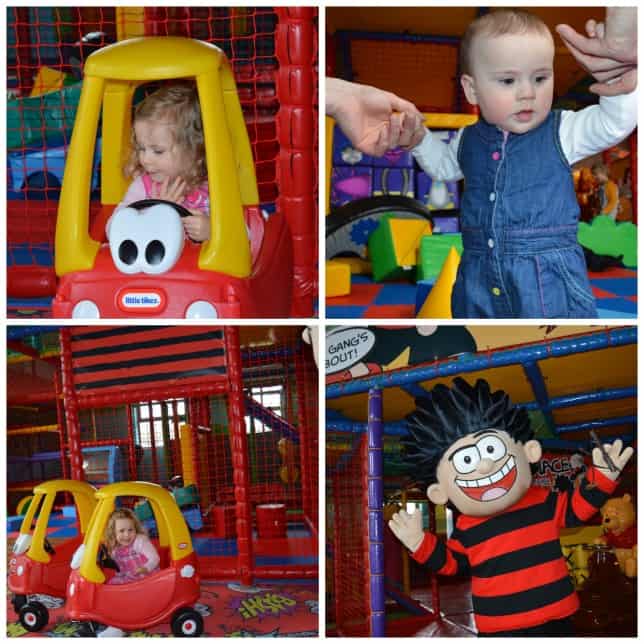 After lots of play, we took the girls to our table when they needed a rest.  We were really impressed with the large glass windows, as you could see everywhere in the play area, which would be handy when you had older children.  The glass was really sound proofed too, we honestly couldn't hear a thing even though we were sat right next to where the kids were playing.  It was great.
Our food was lovely.  Princess had the sausages, and they didn't touch the sides. These had a big thumbs up from her.  My Fish and Chips was lovely, and Daddy tucked into the Smothered Chicken.  We all had clean plates needless to say.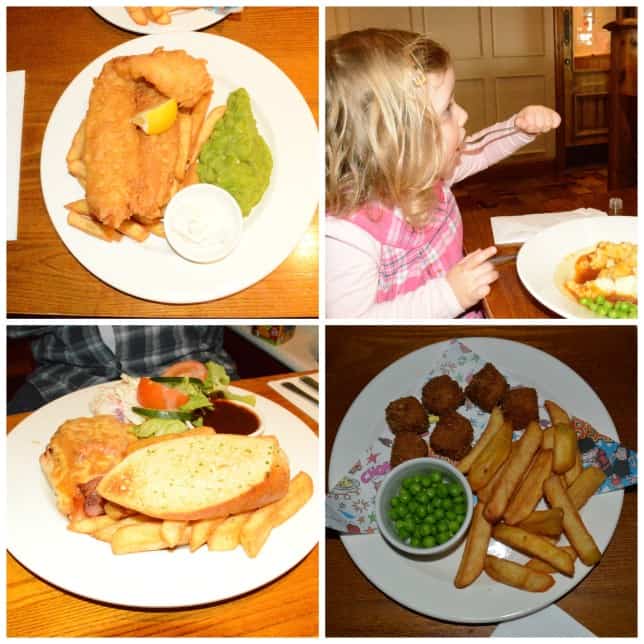 Pudding was something else!  The lemon cheesecake was delicious, and was a very generous portion.  Daddy polished of his chocolate fudge cake, despite feeling a little flu-ey!  Princess was very impressed with her jelly.
It's quite safe to say, we all had a lovely time.  It was a really friendly family restaurant, the service was lovely, we all enjoyed our food and it's definitely somewhere we'd consider going back too.  Will you be joining Dennis and Gnasher sometime soon?
We were provided with a complimentary family meal and play session in return for this post