It's time for a bit of a rant, it doesn't happen often, but something got mine and my husband's goat this week and something needs to be said.  We were shocked by the inconsiderate nature of some people who smoke, I'd even go so far as to say disgusted and it takes a lot to ruffle our feathers.
I don't want my children exposed to secondhand smoke, be it indoors or when we are out and about.  If you have to smoke then why don't you try vaping at least? It's not the most healthiest option but it's better for you then smoking. You could even try out something like MagicVaporizers to give you an idea of what you could get. I want to minimise the amount they see people smoking and I welcome all the measures in place to remove advertising from TV and remove shop displays to reduce the numbers of smokers in the UK, but from what we've seen this week more could be done.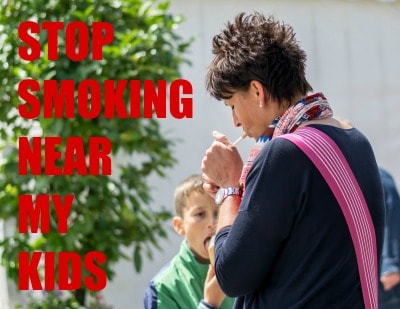 It is well documented that the less a child is exposed to smoking, the less likely they are to start smoking when they are older.  Statistically the numbers of young people have reduced year on year, so we know this strategy works.
Breathing in other people's smoke is pretty disgusting from an adult point of view, but when a baby has to do it, that's just awful.  We had a family day out to Thomas Land this week, and were shocked at the number of people that were smoking cigarettes in a family theme park.  I appreciate it isn't illegal to smoke, but it's also not illegal to drink in many public place, yet I didn't see anyone with a can of lager in their hand, so why is it acceptable to smoke?
When people are moving around, it's probably not such a big deal in terms of second hand smoke, but when a smoker comes and sits on a bench you are with your baby and lights up, that's an entirely different matter. That is absolutely inconsiderate, and beyond unacceptable.  Sadly, it's difficult to ask people to refrain from such behaviour from fear of repercussions these days, so our only alternative was to move ourselves. Personally I think the woman in question should have known better, but was clearly to lazy to go else where.
On the same outing I watched a smoker stand at the opening to a ride, and even though they were outside, a cloud of smoke bellowed up into the Drunken Barrel ride which was fully enclosed. A ride full of families with children, who I can only guess didn't want to breathe in her smoke either.
Now, I'm all for protecting free choice and civil liberties, but when I've chosen to go to a family day out, I don't want me or my family subjected to cigarette smoke.  If you smoke, please be mindful of where you do it at venues like this, as there aren't many people who are going to appreciate you smoking near their kids either, and I hope you don't smoke in front of your own.
Just because there is a seat on a bench, don't go and smoke right next to the baby. Just because you want to go and watch the ride, don't go and blow smoke over the thrillseekers who can't get away from you.  Take a moment to think about the fact not everyone is OK about smoking, and with good cause.  We have as much right to smoke free air as you do to light up, but my biggest request is not to do it in front of the children.
I would argue that smoking should be banned from areas where families are attending, as all steps to reduce the normalisation of smoking help to reduce the numbers of smokers.  In some parts of the country, parks and open spaces receive a smoking ban to help promote an active and healthy life style.  I absolutely agree with this concept, and think it should be extended to any family orientated open space.
If I have paid to go to a theme park or other outdoor activity, I would also like it to be smoke free so I don't have to worry about where I'm taking my children.  If those that smoked, were more considerate to non smokers this wouldn't be an issue, but seeing as there is a minority of people  who chose to put their own needs before others, more needs to be done.  Perhaps it's time for designated smoking areas, so those that want to, have a place to go, and those that don't can avoid it.  Whatever the answer is, in the meantime, if you do smoke, please don't smoke near my kids!
If you agree that smoking should be banned in some open spaces, please leave me a comment and share this post with your followers.  Lets have a conversation about this!
Image courtesy of Freedigitalphotos.net