I am lucky enough to be able to look at my life at 40 and say I have achieved what I set out to.  It's not because we have the biggest house, because we really are short on space these days.  It's not because of my high flying career as that's been turned on it's head.  It's not down to the fancy holidays, as there has been a bit of a draught in that department for a while now.
It's because my dream has always been to have a family, and with a loving husband and 3 wonderful children I think it's safe to say I have that.  On days when I don't feel so great, and the tears run a bit too freely for my liking, they get me through. They make me smile and help me realise my glass is a lot fuller than most people's.
When I was a girl, my life was fraught with challenges.  My Mum had mental health issues, which bought more chaos and drama to my life than I could possibly share with you in one blog post.  She was unpredictable and picked the wrong men, every time.  I knew I didn't want to be like her, but working out what I did want was a challenge all in itself.  Knowing what I didn't want was as good a place to start as any. I wanted a life without drama, and it's a dream I've chased ever since.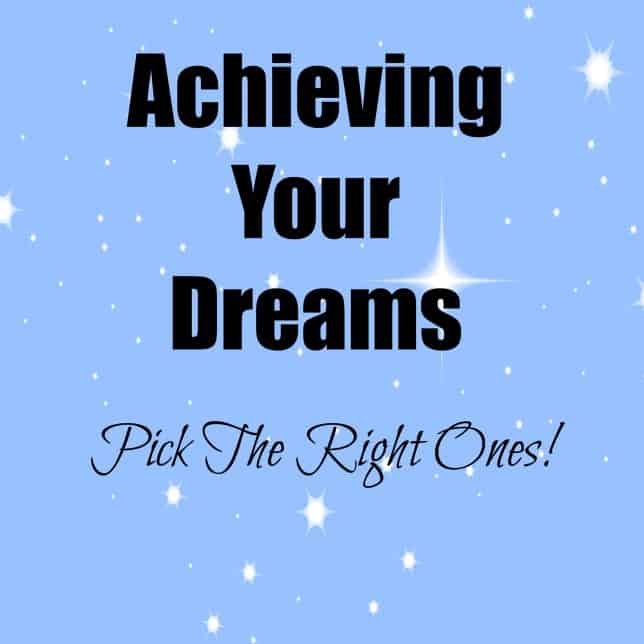 In the early days I had big ideas of working in the City, and making it in the advertising sector.  My dreams were material, and I wanted to make lots of money and not worry about having to put money in the electric ever again.  Unfortunately, my legacy left me with more issues than enough and it soon became clear I was chasing the wrong dreams.  What I really wanted was what I'd never had, a family that loved me.
Never one to mess around, I'd had my first child by the age of 22.  It felt young, but I knew I could do it.  I was going to be a better Mum than my Mother had ever been.  I gave my son the best start I could.  I went back to college, I got a job, and I worked really hard so I could give him a life I never had.  We were going to have stability, and I focused on every goal that needed to be achieved until we had it.
I am immensely proud of the years I raised my son by myself, and the teen that he has grown into.  There were challenges along the way, but I have been the better Mum and it's given me a son I can be proud of.  That's the stuff dreams are made of isn't it?
In 2010, I was lucky enough to meet my now husband Darren.  It was a mission to find him I can tell you.  There was some frog kissing along the way, remember that legacy of picking the wrong men. It was something I had to be aware of!  I'd decided to give online dating one last go, and if I didn't find my Prince this time, it was time to call it a day.
Darren was potentially my last date, but actually it was my first, of many.  I knew as soon as I met him he was the one, but I tried out my new found skills of taking things slowly.  We were married in 2011, and our first child arrived in 2012.  That's pretty slow right?  Well for me it was 😉
I love him so much, he is everything I have ever dreamed of.  Loving, loyal and reliable, things that I could only wish for when I was young.  He gives me strength every single day, when I feel like I have none.  Achieving my dreams has been about knowing what I need in my life everyday and what I don't, and at 40 years old I can say I have all the security and stability I need.  I know the rest will follow.
Dreams aren't always about the next big holiday, or having a fancy car as you can find yourself always waiting for the next fix.  Being happy every day is a true sign that you have achieved your dreams, if you're not then maybe it's time to work out what you really need in your life.