I really feel it's important for my children to be able to swim.  My teen can swim, and I took him to the pool regularly when he was a baby, even though I couldn't swim.  I didn't want him to be like me.  I haven't been nearly so on the ball with Princess or Little Pudding, as life is a lot busier juggling two.  We did get into a habit over winter, funnily enough but as soon as we broke the pattern we slipped into our old ways.
Now Princess is 3, she can go to swimming lessons ALL BY HERSELF, this has go to appeal to her independent nature I thought.  I bit the bullet and booked her into a class, thinking this can literally go one of two ways!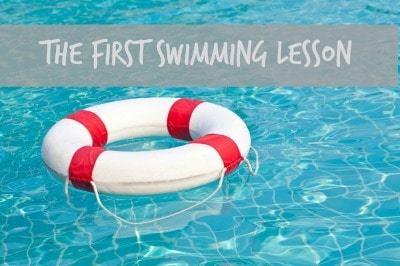 The morning arrived of the first class and we all had to be at the pool for 10am.  We arrived early as I had no idea how it would pan out getting Princess ready for a swim and placating Little Pudding at the same time.
On the way to the pool she spotted a cool pair of Peppa Pig goggles.  Now not one to miss a trick, I saw the opportunity to offer a bribe.  If you do your swimming lesson (without Mummy), followed by your gymnastics lesson (without Mummy) you can have those really cool goggles.  The deal was made and off we went poolside.
Being early, Princess got the chance to watch a lesson in action,  and she seemed intrigued.  To a three year old, it simply looked like they were playing games and having fun.  What wasn't there to like?
The change passed uneventfully, and Princess was ready for action at exactly 10am. There were only 2 other children in her class which was a huge bonus.  With a little coaxing and the words 'Peppa Pig goggles' whispered in her ear, she was soon in the pool blowing bubbles and using floats.  She even jumped in at the end, without any hassle whatsoever.
Her first swimming lesson was a huge success, it really couldn't have gone any better considering how little she has been in the pool these last few months.  I was so incredibly proud of her for being so brave and listening to what she had to do.  From now on our Monday mornings are going to be pretty busy, but it's going to be worth it.  She definitely earned her Peppa Pig goggles, I just hope she realises she only gets one pair!  We'll find out next week.