Stopping breastfeeding because of the pain should have been an easy choice, but it was still hard and very emotive for me as a Mum to a one year old baby.  A few months before, Brook and I ran into problems with breastfeeding. Everything had been going fine until this point, but then I started to experience significant pain in one breast while I was breastfeeding.
I ended up with mastitis, thrush and a rather nasty crack in my nipple which required 2 lots of antibiotics, cream and my old faithful, lanolin, to help treat the problems caused by breastfeeding.  We ended up just breastfeeding on one side, which left me with one monster boob. Great!  I'm not overly vain, but this was pushing it even for me.
Then monster boob also ended up with thrush, and started to show signs of cracking. It was becoming equally as uncomfortable to feed her from this side and as much as I tried to deny it I had to ask myself whether it was a good idea to continue breastfeeding in this amount of pain.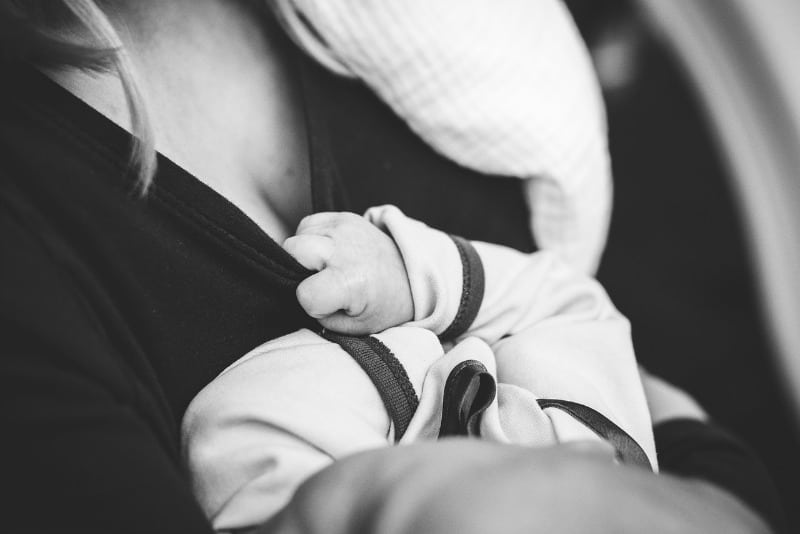 Our feeds had stopped being that close precious time we had once enjoyed, and breastfeeding had become fraught with pain, distress and a lot of tears.  It wasn't pleasant for either of us.  I would always reach a point in the feed I couldn't continue and she would get upset that she couldn't finish her feed.  It was heartbreaking for us both.
Someone said to me that these aren't feelings that you should experience in your parenting relationship, and of course they are right, but I am still sad.  It wasn't how I wanted our breastfeeding experience to end, neither of us were ready for it and we were not in control.  The end felt forced upon us because of the breastfeeding pain.
That being said, she is practically 1 years old, and getting this far with breastfeeding in itself is a huge achievement.  She has struggled with weaning and eating and we needed to get more food into her, and the stopping breastfeeding has some what forced the issue.  She is definitely eating a lot better than she was before we stopped.
But that is it, our last feed was at 2 am Thursday morning.  It was fairly pain free, which is something I guess, but breastfeeding has definitely stopped for me. Forever!  It seemed like a monumental moment at the time, but now we are onto the next milestone and we are all consumed with when she's going to start walking.  The sadness of stopping breastfeeding seems to have petered into insignificance already.
It was helpful that Daddy was able to step in and help us manage the change and took over her bedtime routine so she didn't have the association of me and breastfeeding at night.  I give her water if she wakes up in the night, but to be honest she has slept so much better since we stopped the feeds.  She is teething now though, so is a little more restless than she would be normally.
Stopping breastfeeding did feel like such a big deal at the time.  Feeding a baby, however you do it, is such an emotive issue for a Mum.  We just want to get it right don't we?  I think in our case, nature was telling us it was time, and it's worked out for the best.  There's no time to dwell on it, as parenting a child is far too busy and never stands still.
Did you struggle with stopping breastfeeding?