I've lived in the UK all my life, and I have to say I feel both lucky and privileged to have been born here.  I believe that UK residents enjoy a great quality of life when you look at people's living standards globally.  Here's a few of the reasons I think it's great to live in the UK, and why so many people enjoy coming to settle here.
1. Culture
People from all over the world have come to settle in the UK for many generations.  This has made many parts of the UK rich with a unique and diverse culture.  You can buy food pretty much from around the world and come into contact with many different nationalities just by walking down the street.  It makes for a much more interesting place  for all of us to live.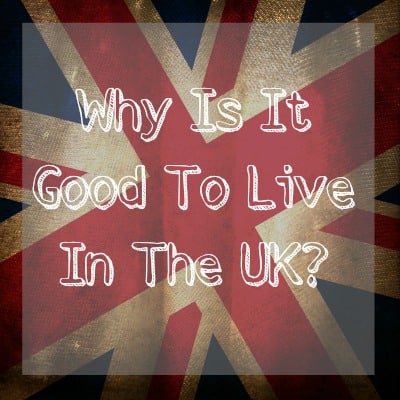 2. Quality Of Life
Generally speaking the majority of UK residents enjoy a better quality of life than most other developed countries according to the Better Life Index.  Taking into account housing, income, community, education etc life in the UK exceeds standards against similar countries.
We enjoy free health care, reliable water supplies and utility services, excellent transport links and a good infrastructure, all of which contributes to our standard of living.  We might have niggles from time to time, but compared to poorer countries, the standards are high.
3. Being Part Of The EU
The UK has been able to retain it's attraction to those seeking to settle outside of their home country partly because of it's place in the European Union.  Being part of the EU secures the UK's place on the global playing field when it comes to negotiating things like trade agreements with larger countries like Russia, United States and China.  Without being part of the EU, it would probably get forgotten about.
4. Opportunities To Prosper
The UK is an excellent place for the Entrepreneur or business man as we benefit from being part of the single European Market.  This is a huge bonus for British businesses as it gives access to a potential 500 million consumers.  This has a huge impact on the UK's wealth as well as individuals living in the UK.
5. Lots Of History
The UK is steeped in history and historical sites.  This is celebrated across the UK in Museums,  Visitors Centres and many tourist attractions.  Some are even free to visit, like the National History Museum.  In every city there will be free tourist attractions allowing everyone to sample a piece of British life.
6. We Make The Best Cuppa
It is well known that a good cup of tea can put the world to rights, and for that reason a lot of it is drunk in the UK.  You've not had a proper cup of tea until you've had a 'Builder's Tea'.
7. Beautiful Scenery
The UK has some of the most gorgeous scenery in the world.  Whether your visiting the seaside or the Lake District, the views can be quite breath taking.  There are so many landmarks to visit, like Land's End or John O'Groats and everything in-between there is always a new spot to go an explore, be it for a holiday or weekend break.
8. British Food
The UK used to get a bad rap on the food front, but these days it can really hold it's own.  British chef's have really put it back on the map and have taken British cuisine to the next level.  There will always be a place for the classics though, who doesn't love a Sunday Roast, hey?
9. Freedom Of Speech
In the UK every citizen has the right to express his or her opinion without fear of punishment or censorship.  There are so many places across the world where people don't enjoy this freedom, that many of us take for granted.  Without it I could share this post with you right now!  Where would that leave us bloggers, hey?
10. Equality
The UK has some of the best Equality legislation in the world, and acknowledges that no one should experience a disadvantage on the grounds of race, religion, gender, marital status to name but a few.
As a country we value diversity and challenge intolerance to make the UK a fairer place for all to live in.
These are just a few of the reasons I think it's great to live in the UK, ranging from the serious to the more light hearted.  I think these are some of the reasons why so many people have come to settle in the UK from less fortunate countries.
If you live in the European Union, it is relatively easy to live and work in the UK, but if you live outside of the EU you will be required to apply for a UK work permit.
You can find more information about how to apply for a UK work permit at Lebara – UK Work Permit: A Basic Guide To Getting One
This is a sponsored post/Image courtesy of freedigitalphotos.net and zdiviv