It's been all change here at Zena's Suitcase these last couple of month's, and things are on the up, mainly!  As there is so much going on I thought I'd give you a family update, and let you know how we are all getting along.
Teen has just finished his A/S Levels, and fingers crossed it all went OK.  He played it all very cool, as he usually does.  He gave very little away after each exam, but I know he's a very bright lad so I have the utmost faith.  I learnt from the GCSE's experience, I spent months worrying that it didn't all go his way and he surpassed all my expectations.  Fingers crossed it's the same story this time round.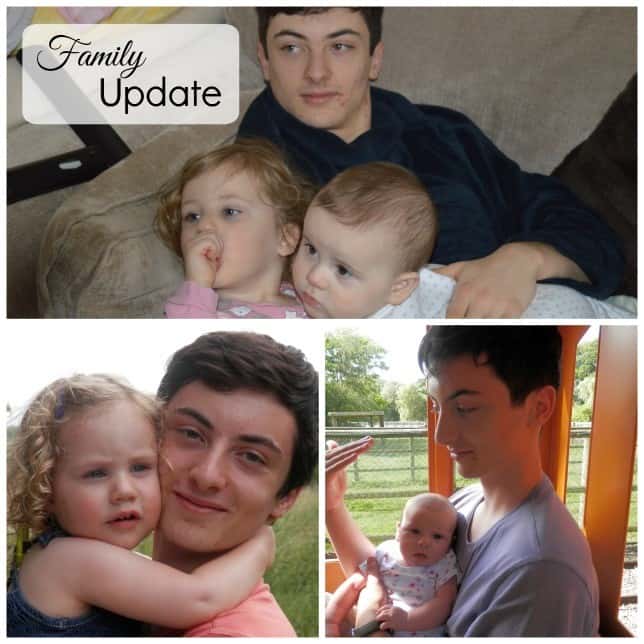 He's been off visiting Universities these last couple of weeks.  He went to the University of Birmingham last week, and ventured round the colleges at Cambridge University today.  I've had very mixed feelings about not being able to go with him.  Apart of me feels like I've let him down, but it's just transpired that the dates have clashed with things that had already been arranged.
I know it's mainly my own history that is making me feel that way, and I think he would find me completely irritating if I went with him.  It's about taking a step towards his independence, so he should be venturing off and deciding which Uni he wants to go to.
He's still got a few left to visit in September, so as we can plan these visits together I can be free to go to a few later in the year.  It marks such a big step in his life, I'm so proud of him and I know he will do well, what ever he puts his mind to.  I think it is my duty to be the irritating parent at least once.
On the flip side though, he took his driving theory test and failed by 6 marks.  Of course he tried to sell this to me as some kind of success as he only spent 40 minutes on preparation time.  As I pointed out it only cost me £30, that's £30 worth of chores he'll be doing for me!  He wasn't quite so cocky when I pointed that out.
Princess has had some challenging moments recently.  We had some feedback from nursery about her pushing another child.  There was an incident in the toilet a few weeks back when there was a small flooding.  She gets quite overwhelmed with her emotions and can hit out sometimes.  Especially when you tell her no.
It makes me really sad when she gets like this, and I've struggled to come up with a strategy that will work for her.  We discussed that if she was starting to feel angry or grumpy that she should come and sit with me and have some time out before we went to soft play the other day.  It was worth a try wasn't it?
I had no idea whether she's be able to process this concept, but low and behold mid morning she came across to the table and declared 'I feel cross Mummy!' and came and sat with me to calm down.  I'm hoping this avoided an incident.  I think there is something to build on here, as she is clearly quite bright and hopefully working on understanding her emotions will slowly start to break this negative behaviour.
On a more positive note, Little Pudding started nursery a month a go, and she has settled in so well.  There were just a few mornings when we had some tears, but by week 3 she was throwing herself at the staff for a cuddle in the morning.
She had her 1 year injections last week, and she is suffering with them today.  I think it's the meningitis one that surfaces a week later and she has had an awful temperature and has not been herself.  We been using calpol to keep her temperature down, and hopefully she'll be back to her old self pretty soon.
I've been blogging my little heart out after officially being made redundant.  Now both the girls are in nursery 3 days a week, I can get really stuck in.  It still doesn't feel like enough time though.  You know those chores I mentioned teen owes me, guess where I'll be cashing those in.  Who needs a personal assistant, hey?
Who could forget it was Britmums Live.  I won't bore you with it again, but it was just the best time ever.  I will be going again, without a doubt.
I've been to a conference talking to the Mumpreneur and Female Association about blogging and working with bloggers.  It's was a bit daunting heading to Birmingham for the event as I haven't done any public speaking for a while.  When I got up there, it just came back and I actually really enjoyed sharing why working with bloggers is a great prospect for a small business and how running a blog alongside a business site can really help sales.  It went down well and I got to meet some really inspiring women.
Daddy is doing great too.  He went off to Germany on a work jolly.  I don't think anything work like actually happened as they were at a theme park called Phantasia Land, and he bought back lots of stories that seemed to feature a lot of German beer.  And there was me struggling at home with the kids!
So that's where we are at.  I'm feeling like things have struck more of a balance.  It's nice to have the girls in nursery, so I've got time to spend growing my blog, but more importantly, when I'm with them I'm focused on making sure we have a good time together.  On the whole things feel like they are on the up and as doors have finally closed on my old life, doors are swinging open on my new one.