When I visited the Mumpreneur and Female Association recently to talk to them about my life as a blogger I realised very quickly that there are a group of business women out there keen to work with us, but don't have much of an idea of how to work with bloggers.
Blogging was a new concept to me about 18 months ago, so I can completely empathise  with people who are starting up a new company and are keen to tap into this new way of exposing their business.
There are two aspects to using blogging to increase your visibility on line.  There is running your own blog along side your website and then there is reaching out to bloggers to build a working relationship to spread your message.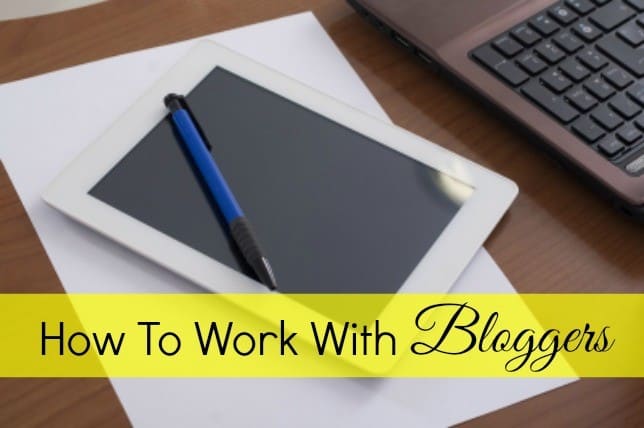 Why Work With Bloggers?
Bloggers are already speaking to the people you want to reach out to.  Bloggers are constantly building their audience across their social media platforms in their specific niche.
Parent bloggers are already talking to a family friendly audience that might be interested in your product of service.  Beauty bloggers are sharing their make up advice with women who love to buy cosmetics.  You can tap into these audiences by working with bloggers on a regular basis.
If you have a product or service you want exposure for, consider this.  What is more powerful than you saying your product is good?  It's someone else sharing how good it is with their online community!
Where Can I Find Bloggers To Work With?
I would say Twitter is a very good place to start, so if you haven't got an account for your business now is the time to get one.  Most bloggers hang out on Twitter and love to be reached out to on this platform.
You can use Twitter's search function to start looking for bloggers you might want to work with.  Using hashtags will help you find bloggers very quickly.
If it is parent bloggers you are after, these are great hashtags to search:
#mummyblogger, #mummybloggers, #pblogger, #pbloggers ,#mbloggers, #mblogger,  #mblog, #pblog
Here's some other useful hashtags:
#lblogger – lifestyle blogger, #fblogger – fashion blogger, #bblogger – beauty blogger
Will Bloggers Come To Me?
The answer is yes.  They will come to you, if you have a product of service that is of interest to their audience.
Bloggers may contact you directly through your webpage 'contact us' section or they might reach out to you on Twitter of Facebook.
If you have a campaign you'd like to run and are looking to see if there are bloggers that would be interested in working with you, you can reach out to them on Twitter too.  This can save you a lot of time in making sure the blogger is the right fit for your campaign.
You could send a tweet or shout out like this for example:
Looking for #mummybloggers who'd like to review our latest toy range #bloggerswanted
These hashtags will also get noticed as bloggers regularly search twitter for potential opportunities:
#prrequest, #journorequest,  #bloggerrequest
How Do I Pick A Blogger That Will Suit My Brand
There are a few things you need to look at to make sure you get the right blogger to support your marketing campaign.
Make sure you read their blog first.  Reading a few posts will give you an idea of their writing style, if they like to share pictures and if they talk about products or services that you think your target market will connect with.
Always take a quick look at their about me page.  You will find out a lot more about the person, and maybe be family behind the blog.  It's usually a good place to find out if they are open to collaborations, what kind of products they enjoy and the ages and gender of their children.
Once you are confident that you have a product that would suit the blogger or a member of their family, the next thing to do is check out their social media feeds.  You should be able to do this from the blog's home page.
The blogger's social media feeds also represent their brand, and you want to make sure they are representing their brand consistently across their channels.  Make sure all the tweets and posts they are sharing are content you are happy to be associated.
Brands who are experienced at working with bloggers will check through a person's social media feeds to see if they get into rants or openly criticise brands in the public domain.  If this is something that bothers you, they may not be the blogger for you.
You will also get an idea of their social media reach and following by popping onto their social media accounts.  Remember numbers aren't everything though, seeing a loyal engaged audience is a far better gage of influencer that seeing 10K followers that never speak to the blogger.
How To Approach A Blogger
If you have found a blogger you would love to work with, the next step is to build up a relationship with them.
Follow them on their social media platforms.  Comment on posts they share that are of interest to you either on their blog or on Twitter.
Check out their contact page and see how they prefer to be contacted.  Most bloggers use a variety of contact methods, so choose which is the best for you to make your pitch.
Tell them what you love about their blog, and why you'd love to work with them.  Introduce  your product or service and ask them if it's something they would be interested in.
If they are keen to review your product they will let you know, or they may come back to you with other ideas.
Be clear with the blogger what it is you are offering, and what you'd like in return.  If you have a deadline you'd like the post published by let the blogger know at the earliest opportunity so they know what they are agreeing to.
If you keep your communication clear and agree what is being offered and what you expect in advance then this will save you a lot of issues later on down the line.
Helpful Websites To Help You
There are some websites that will help you establish whether working with a blogger is going to help your campaign. Here's a few free websites that will give you some important information about a blogger's performance online.
MOZ – Open Site Explorer gives you information about any web page including Domain Authority.  DA is a website metric developed by Moz that indicates how well a website will rank in search engines.  The greater a websites DA, the more likely it is to have strong traffic and high rank.
Tweetreach is a great tool for seeing how many accounts a twitter handle or hashtag are able to reach.  If you add your blogger's twitter handle it will give you an idea of the potential exposure of your campaign.
Teads Ranks provides you with a rank of all the blogs listed, and it can be used for specific genre's of blog like parenting and lifestyle.  This will give you an idea of how the blog performs in relation to other influencers in it's field.
Be realistic about who you approach.  High ranking bloggers with significant reach will expect you to come to the table with a large budget, where as more modest ranking bloggers may consider reviewing your products as long as they get to keep them or will have more reasonable rates.
If you are a business looking to work with a blogger, I hope you have found this helpful.  Please do feel free to contact me if you'd like to discuss a collaboration or leave me a comment below if this post has been of use to you.
If you think this post would help your following, please do share it!