Summer is a time for relaxation. Pimm's in the park, deck chairs on the beach and lazy evenings in the setting sun with a glass of wine in hand.
But when you've got children that need attention, bills that need paying and carpets that need vacuuming, it's pretty hard to find the time or mindset to enjoy summer while it lasts.
So here are a few ideas to help you unwind, renew and recharge.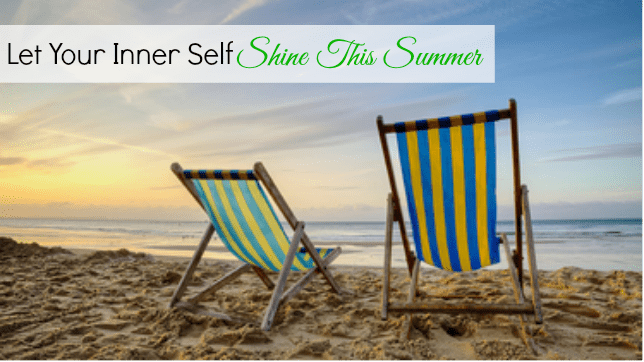 Mind
Immerse yourself in a good book or even just flick through a magazine. You'll be amazed at how easy it is to switch off the outside world and enter into someone else's. Absorb yourself in a game like solitaire, a crossword puzzle or online Sudoku. Search around for an activity that fills your brain to the exclusion of all else. Online bingo games for UK players are easy to play, great fun and utterly engrossing. Or try one of the many memory training apps you can simply download to your phone and play whenever the mood takes you.
Body
It's much easier to eat healthily when the weather is warm. Cravings for stew and dumplings are replaced by a strong desire to detox and cleanse from the inside out.
If you don't have time for a week-long detox, try replacing your usual breakfast with a bowl of fruit and a spoonful of yoghurt or whiz up a health-boosting smoothie like mango and ginger or blueberry and banana.
Always try and incorporate five fruits and vegetables into your day. You'll be amazed how quickly your energy levels start to perk up.
Give your body a bit of TLC and get the blood flowing with a bracing walk on the beach or a gentle jog in the park.
For a more restorative exercise kick try Kundalini yoga, which relies on meditation and deep breathing. It's a perfect antidote to busy days in the office or frantic rushing around with the children.
Soul
When you've got kids, a stressful job or both, it's hard to find time to simply step away from the dramas of the day and give yourself some precious "me" time.
Studies show that devoting a little time and energy to yourself makes you a more productive and efficient person in the long-run.
So get that pedicure, have lunch with some friends or wile away an afternoon browsing junk shops.
Taking yourself off to places where silence is required is a good way to force yourself into quiet contemplation. Sit in a beautiful church, wander aimlessly in the woods or visit an art gallery. You'll be well on the way to an even better you.
"Me time" doesn't necessarily mean "alone time". One of the best ways to feed your soul is to remind yourself how lucky you are and spending time with the people you love is a great way of achieving that. Make time for a girly gossip with your best friends, organise a simple and (hopefully) stress-free family outing or have an uninterrupted chat on the phone with your mum.
Collaborative Post