Designing a girls bedroom is exactly what I'm going to be doing for the next year. I want to get this right for when the girls move into their room together. I want them to have a space that feels special to both of them, so it needs to be carefully designed to make sure both of their personalities can shine through.
How come I've got a year to work on this project? Well, teen is off to University next September and when he vacates the girls will be packed and waiting to move into his room. As he was the eldest by a long stretch it seemed right for him to have the biggest bedroom while the girls were both small.
He really needed a space he could call his own for the teenage years, but when he moves out it will become the girls bedroom. I'm sorry if you're reading this teen, but we can't keep the bedroom free for you just in the hope you come back to visit us from time to time. There will still be room for you though of course.
Choosing Furniture For A Girls Bedroom
The part of designing their bedroom I'm looking forward to the most is picking all the furniture. To provide enough storage for 2 girls clothes and toys is going to take some careful planning. It's also the part I'd like to take the most time over, finding the right style and design to suit 2 very different personalities is going to be the biggest challenge, but luckily we can shop now online which makes things 100x easier.
As child I longed for a girls bedroom that felt like it had been designed with me in mind. I would often look through the catalogues long before the days of online shopping and pick out bedroom suites that I loved in the hope that my Mum would take the hint, but sadly she never did.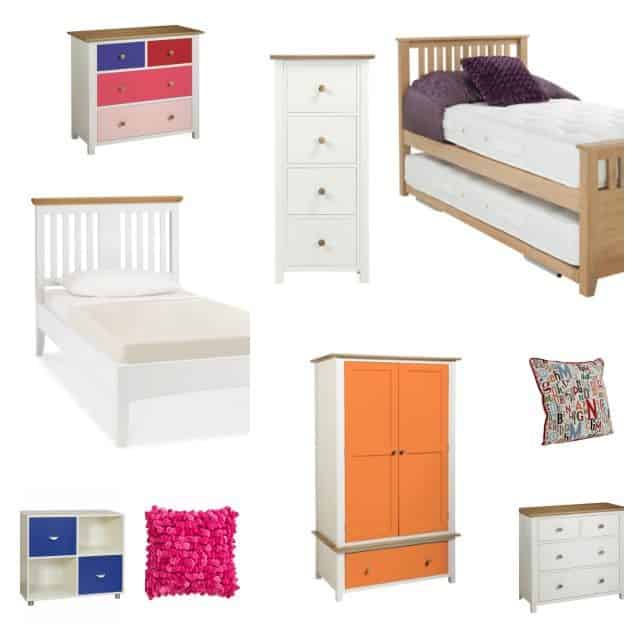 I really like a modern look when it comes to single beds, and have always preferred wooden over a divan style. I think this will suit the girls too, and both in being practical and adaptable as their tastes change as they get older.
Cool Styles For Big Personalities
Both children have big personalities, and what better way to bring that out but in splashes of their favourite colours through out their new room. I will be inclined to keep the walls fairly neutral as this is always a better prospect when it comes to putting a house on the market. There are so many ways to add colour and personality to a room these days, apart from decoration.
For my sons room, I'm opting to go with a bedroom planetarium, as I think these are quite cool and great for bringing out his creative side. I'll be opting for one of these bedroom planetariums, to effectively turn his bedroom into an amazing space-room every single night. How can he not love that?
I also picked up some blinds from Shuttercraft (on their website) because the old ones looked well and truly old. The blinds help to enhance the room, and there's a good reason I went with blinds over Curtains – because Curtains seem to pick up stains and dirt, whereas blinds don't.
Furniture comes in so many cool funky styles these days, choosing the right pieces soon brings a room to life. Teamed up with the right curtains, cushions and bed covers I'm sure I can create a space they will love to sleep and play in.
Mood Board
I've really enjoyed putting this mood board together with designs that have caught my eye already. I love the idea of splashes of colour through out the furniture. I hope it will bring a fun cool look to their room without being too old for them. I'd like to have a girls bedroom that will last them through to their teenage years before walls start disappearing behind posters of their favourite idols.
Have you been designing a bedroom recently? Do you have any tips to help get me started?
This is a collaborative post