These last few weeks I've been back on my weight loss mission.  I've been sharing weekly updates of my challenges and how I'm trying to overcome them in my series, Thinking Thin.  If you've haven't stopped by yet, you can catch up with all the posts right here.  I'm sure you'll find some nuggets of inspiration, if weight is something you struggle with.
One thing that has really hit me is how much we reward ourselves with food, or use it as a way of cheering ourselves up after a bad day with the kids, at work or after something else hasn't gone quite to plan.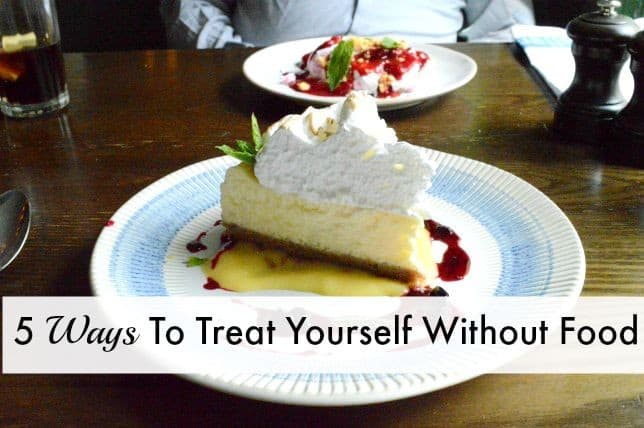 When Food As A Treat Gets Out Of Hand
As someone who carries extra weight, this is something I have done a lot.  Sometimes, just getting through the day deserves a piece of cake.  Sometimes it's the witching hour that sends me into a complete spin, and I need something to cheer me up after the kids have gone to bed.
I think there is a time and a place for food to be a treat, but it can soon get out of hand if your not careful.  For me, I've been busy with 2 small children and a family so fitting in other ways to be kind to myself has been a challenge.  In fact I'm completely out of the habit of taking care of myself.
All of a sudden, food has become my only reward or treat.  I don't think I'm the only Mum who has fallen into this trap.  We are forever putting everyone else's needs first, and we leave ourselves with little time or energy to care of our own.  If I'm going to win this weight loss battle I need to change these habits sooner rather than later and find new ways to treat myself.
[bctt tweet="You Deserve More Than Cake After A Bad Day!"]
Make A Plan To Change
I've come up with 5 ways to treat myself without food, that I'm going to put into practice over the next month.  It takes a month to form new habits and thinking around our behaviours so this seems like a reasonable length of time to make a lasting difference.
I want to see food as a way of taking care of my body and looking after myself, and move away from sugary treats as a reward.  Chocolate and cakes are not good for our health and diet in large quantities, so seeing them as a reward is a bit of a false economy if you think about the damage they do.
I enjoy many more things than food, so I'm hoping it won't be to difficult to change my perspective on this.  I love days out with my family and weekends away.  We love holidays, and are due one before the year is out and lots of other small things too. Here's my plan to change how I reward myself.
5 Ways To Treat Yourself Without Food
1. Take Up A New Hobby, Or Resurrect An Old One There has always been a creative soul inside of me dying to get out, which is why I find blogging so rewarding these days.  Now blogging has become apart of my freelance career, and less of a hobby, the time I spend doing it doesn't feel like a treat in the same way anymore.
I have knitted in the past, and tried to teach myself crochet, both of which I've enjoyed.  Unfortunately they can be rather time consuming activities, especially when you've got out of the habit of doing them.  If I had more time, I would definitely do these again, but for the moment I need something quick and simple that I can get straight into.
I've treated myself (without food!) to some adult colouring in books and some pens and I'm going to spend a little time using them each week.  Maybe 2 separate 1/2 hour sessions to start with.  I think it really helps to focus our mind on something different and when a picture is complete, there's the whole sense of satisfaction to go with it.  It's a simple new hobby, that will give me a bit of downtime away from work and housework.
2. Get Some Exercise One of the down sides of working for yourself, and from home too, is that you want to spend every possible minute you can on developing your business.  I can see already I'm struggling to set boundaries with it.
When I worked in an office, I would make a point of getting out for some fresh air and taking a walk most days.  Before the girls arrived, I would go to exercise classes regularly.
These things have become more difficult to fit in, but I need to make them a priority.  I'm going to start with walking and when I'm working from home, I will take a walk each lunchtime for at least 30 minutes.  I deserve a break after all.
3. Buy Some Flowers For about the same price as a coffee and a cake, I can buy myself a nice bunch of flowers to cheer me up and my home.  Who says we need to wait for someone to buy them for us.
I enjoy flowers, and I enjoy having them around.  With working from home, it will make for a nice change to the decor and I can pick them up while I'm out for that walk I just talked about.
4. Plan Something Nice I think we all need something to look forward to, and I've really appreciated that recently with our weekend to Liverpool and visit to Larmer Tree Festival.  We are off to York very soon too.
Princess has been talking a lot about going on holiday, and knows her friends are going away very soon.
I'm going to make it my mission to get us something booked, with a beach and a pool for Princess to show of her new swimming skills, but with lots of other things for us to do too.  We love a bit of exploring.
I enjoy looking for holidays too, so this in itself will be a treat.
5. Plan Some Pampering A friend of mine took me to Eden Hall Spa for the day when it was my birthday.  Again, with being so busy with the children and breastfeeding this was something I hadn't done for a very long time.
It was a lovely day and she had got a great deal with Groupon so it wasn't too expensive.
It was lovely going from steam room to cold shower, to hot tub to sun lounger.  It was a day of pure indulgence, which sometimes is just what's required.  I read my magazine, had my nails done and didn't worry about anything more than whether to steam or sauna all day.  It was much better than a slab of cake.
I'm going to make some time to either just have soak in the bath, polish my nails or put my makeup on and straighten my hair.  I deserve to look nice, we all deserve to look nice don't we ladies!  I'm also going to keep an eye out for another deal to visit the spa, as it's something that should happen, a few times a year at least.
How do you reward yourself after a busy week?  I'd love to hear your suggestions too.
If you think this post would help your followers, please do share it.  Lets all start feeling good about ourselves without food.