Teen is enjoying his summer break so far.  Chilling out with his girlfriend, playing too much Counter Strike and being my blogging assistant.  OK, so he's not enjoying the last one so much but if he wants me to keep paying for his driving lessons, a few hours a day to help his Mum isn't too much to ask is it?
He likes hanging round in his joggers, not making too many plans and not worrying about what might happen next week, let alone preparing for going back to college.  He might be 17, but he still needs his Mum for somethings and sorting out his college wardrobe is one of them.  Leave it with me son, I'll have your back to college style sorted!
Why Do I Pick Teens Clothes?
If I didn't have enough on, chasing around after the girls, worry about the DIY jobs, I've got to kit out what is essentially a fully grown man in new clothes for going back to college.
Now, if I was feeling mischievous, I could pick a whole heap of clothes that I knew wouldn't fit the bill and perhaps he'd start worrying about his own jeans and T-shirts.  But, he'll be all grown up and worrying about this stuff for himself soon enough (or get a girlfriend that will do it for him) so while I still can, I'm going to make the most of choosing his college style for him.
Of course, I know what he likes and doesn't like clothes wise from the very few shopping trips we've had together.  I also have a pretty good idea of what suits him.  So, it's not an entirely blank canvas.
Shopping Online
He hates going shopping, it would mean missing valuable Counter Strike time after all.  That's where online shopping saves the day.  I can browse through clothes and shoes until I find something he will like and I am willing to pay for, and just show him the things I've picked.
Normally, I'm not to far of the mark, but if I am my basket can be updated with a new hoodie pretty quickly.  No harm done.
So, I've spent an afternoon browsing for some key items he'll need for September and here's what I've come up with.  I kind of figured I wouldn't be the only Mum still shopping for her teenage son when it came to clothes so hopefully it will provide a few of you with inspiration too.
Back To College Style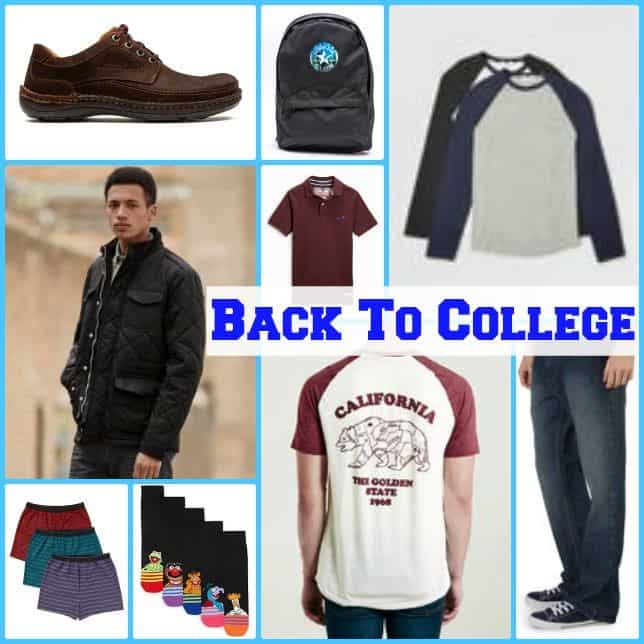 1. Nature Three by Clarks from Cloggs – Ever since I received my Fly Sandals from Cloggs teen has paid a particular interest in their website.  Their range is great for students and back to school styles.  He walks to and from school everyday, and he needs a shoe that will last.  This casual shoe from Clarks looks perfect, and will go nicely with jeans.
2. Commuter Bag from Converse – Cloggs aren't only great for footwear but do a great range in accessories too.  This was a bit of a two birds with one stone moment.  This rucksack will be perfect for all his folders and stationary.  It's simple too, which will go down well.
3. 2 Pack Raglan T-Shirt From Top Man – Teen looks good in these raglan style t-shirts, and the ones he has are definitely due an upgrade.  They suit his shape, and they are great with jeans.  They have a nice amount of detail without being fussy.  He really doesn't do fussy!
4. Black Memory Quilt Jacket From Next- Jackets are something I have got notoriously wrong in the past, and have had to return several until I've found the right one.  This is a winner though. Practical, but with enough detail still to be stylish I know it will be well received.  I like the idea of memory fabric too, it means no matter what he does with it, there's a good chance it will return to it's original shape.
5. Superdry Short Sleeve Polo Shirt From Next – One thing I have been heavily criticised for in the past is choice of colour.  Without thinking, all of a sudden all his tops are blue.  I didn't even realise, but teen soon piped up and made a request for some different colours.
We bought a polo shirt from Next last year, and it's been a real hit, but it's a dark blue.  I like this one from Superdry, I think the colour is great and it's going to really suit him.
6. Printed Raglan T-Shirt From TopMan – I wanted to throw a bit of detail into his new college wardrobe, and I think this Raglan T-Shirt from TopMan will suit him perfectly.  In the hope there will be a few warm days when he heads back in September, this will do just the trick with jeans or shorts.  It's a little unusual with the bear motif, and print on the rear.  I think he's going to like it.
7. Dark Tint Boot Cut Jeans from Burton – Teen has been asking for some new jeans for a few weeks now, and it's the one item of clothing I really need to get right.  He prefers jeans over all other trousers, and they need to be comfortable.
He's not a fan of the skinny jeans, and to be honest the just don't suit him.  These boot cut jeans from Burton are great.  The shape looks perfect and the colour gives them a really funky look.  I think they will go well with the Clarks shoes, and all the t-shirts I've chosen.  I'm good at the back to college style, aren't I?
8. Marks and Spencer Striped Boxers – Yes, I still buy teen's underwear.  And while I do there's only one place to shop, and that's Marks and Spencer.  These are practical and do the job.  If he's after something with a little more pulling power, he's going to have to sort that himself out.
9. Muppets Socks From Marks And Spencer – Now, while I'm doing the shopping I can have a little fun right.  I love these Muppets socks from Marks And Spencer and I think his little sisters will love them too.  Socks are the bane of my life.  My husband and my son have the same sized feet, more or less.
One or the other is always complaining they haven't got any socks.  I've tried buying just black socks, but someone always ends up with them all.  I've tried subtle patterns, but I never remember who's is who's, and someone still ends up with them all.
All that is left to do is go for outrageous, then I'm bound to remember who's socks are who's.  I think a set of Muppets Socks will do it, and these are great as the characters are on the toes so no one else will ever know, except you and I that is!
So, I think I've covered it.  I'm thinking teen will look pretty cool when he goes back in September.  I bet he doesn't tell his mates I shop for him though.  Kids, hey?