Well I've been busy again, dreaming up new interior ideas for my kitchen makeover.  What ever you do, don't tell my husband.  He'll have a fit.  I have to approach these things very gently if I'm to get some changes around here.
I really enjoyed putting my bathroom makeover ideas together, and I think that it's great that anyone can get a Pinterest account and start collecting ideas to improve their home.  I love being able to search the web, and store all my ideas in one place.  It really helps me visualise the changes I want to make to my home.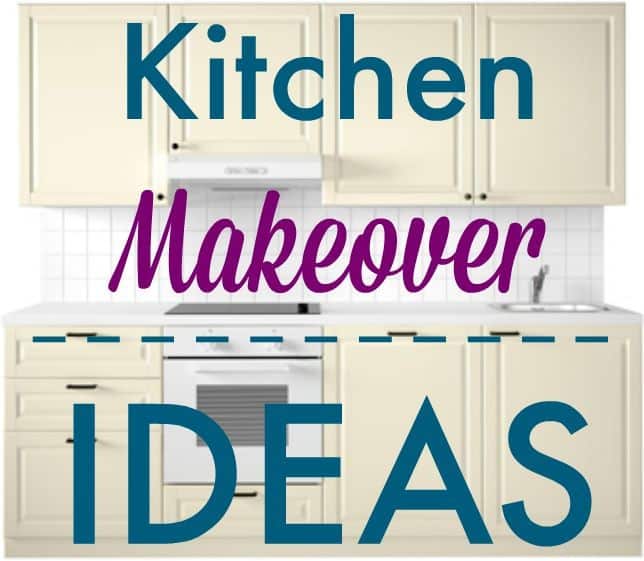 Our kitchen in very old and tired, and needs a complete overhaul.  Ideally I would like to see an extension to make the kitchen bigger, but that would send the other half into a complete spin.  You never know though, one day we might win the lottery and all my home renovation dreams will come true. Imagine if I could have the quartz countertop value work surfaces that I have always wanted! A girl can dream.
In the meantime, I'll keep pinning and slowly coax the other half into thinking that getting a brand new kitchen was his idea.  If you have any tips on how to do that, could you share them in the comments, as it's not a skill I've mastered yet.
WhenI do though, this is what I'm thinking out kitchen makeover will look like.  I want something that will date well, with some interesting features.  I've only got one crack at this kitchen makeover so I need to make sure it's going to last a while.  I think it's always worth bearing in mind what will happen if you sell a property.  I don't want my kitchen makeover to be so flamboyant that it puts someone off buying the house in the future.
Here's my new look kitchen, stylish and contemporary I think.  I hope you'll agree!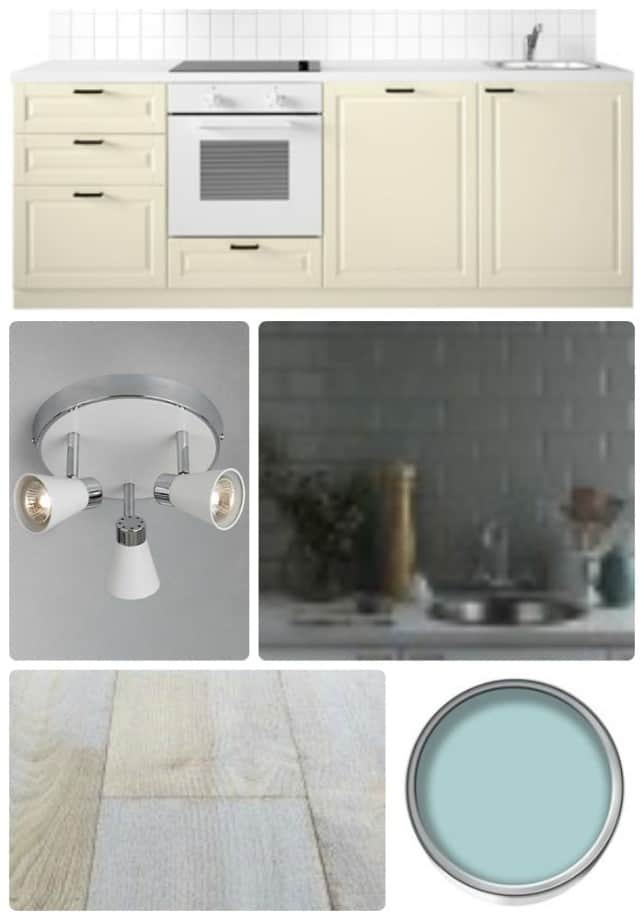 Kitchen Makeover Part 1
These Ikea Off White Kitchen Cabinets are just what I'm looking for.  They have enough detail to be interesting, but are not over the top in any way.  I like the idea of a light cabinet, in a kitchen with darker features from the work tops and tiles.
At the minute we have tiles, but I much prefer Vinyl Flooring.  It's much more practical in a busy home, and is better for heat insulation.  Tiles always feel so cold don't they?
After the success we had in the bathroom, I've gone for a kitchen paint from Wilko.  The Wilkinson Duck Egg Kitchen Paint will go perfectly with the cabinets, airing on the side of a country feel but with a modern twist.
These John Lewis Spot Lights really caught my eye.  Very simple, but stylish.  I think they will be the perfect addition to my kitchen makeover.  A few on the ceiling will be perfect.
I'd like to have some tiles around the kitchen.  I think you can get some lovely colours and designs these days.  These Grey Wall Tiles will look fantastic next to a dark wood work top, but more about that in a minute.
After looking through Pinterest, I found some of the best home water coolers were in trend right now for the kitchen! I need to get my hands on one when I have completed my kitchen makeover! Along with a Kitchen Aid, apparently these things are life savers!
Kitchen Makeover Part 2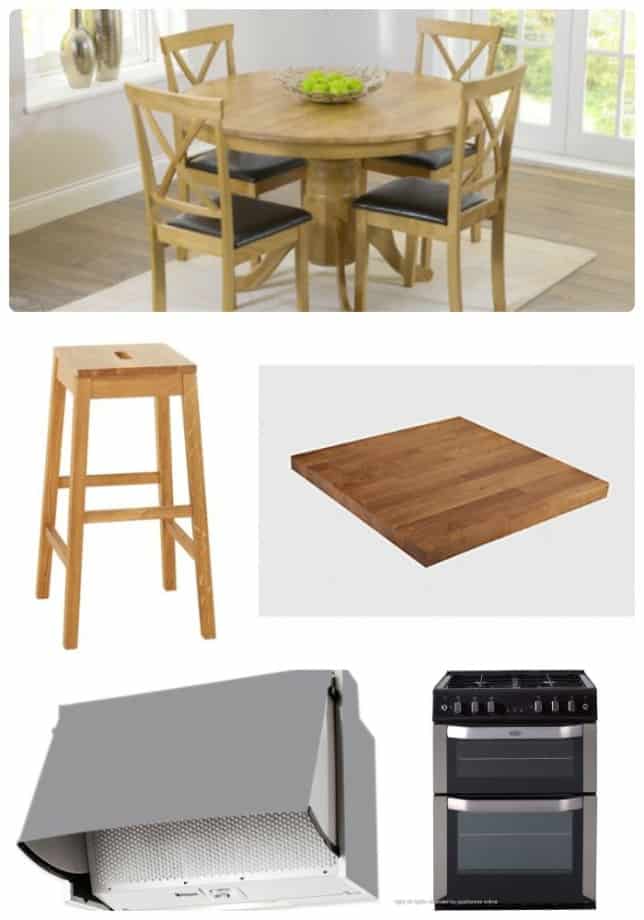 Every new kitchen deserves a new table.  I love this Round Wooden Kitchen Table, I think it will be perfect to eat breakfast at on a lazy Sunday morning, or share a cup of coffee with friends over a natter.
If we can possibly stretch to it, I'd love a breakfast bar too.  On busy mornings, before work and school I can see the kids perched on them eating cereal and toast.  I like these Habitat Bar Stool from Homebase, I think they have a nice relaxed feel about them.
At the minute we have an electric cooker and it drives me potty.  I much prefer using gas, and I am in love with this Beling Freestanding Gas Cooker already.  The kitchen makeover will have to include plumbing for a gas cooker, to make it a job worth while.
We have a cooker hood at the moment, and I use it a lot, but it's big and bulky.  I much prefer this Integrated Cooker Hood that folds neatly away.  It feels much more discreet, don't you think?
And finally, the Wickes Dark Oak Work Top.  I am really excited about this, and think it will look perfect with the whole colour scheme.  I dream of a an oak work top in my kitchen, they make such a difference to the look and feel of the room.  I think my other half make take a little convincing though.  I suppose I might need to be a little flexible on some points.
So there you have it.  These are the elements that I think will make the perfect kitchen makeover in my home.  I could have gone on forever, choosing all the finer details too, but I decided to reign myself in?  What do you think my kitchen will look like?  Do you use Pinterest to bring your home decor ideas to life?
For more details head over to my Kitchen Makeover Pinterest Board
Collaborative Post